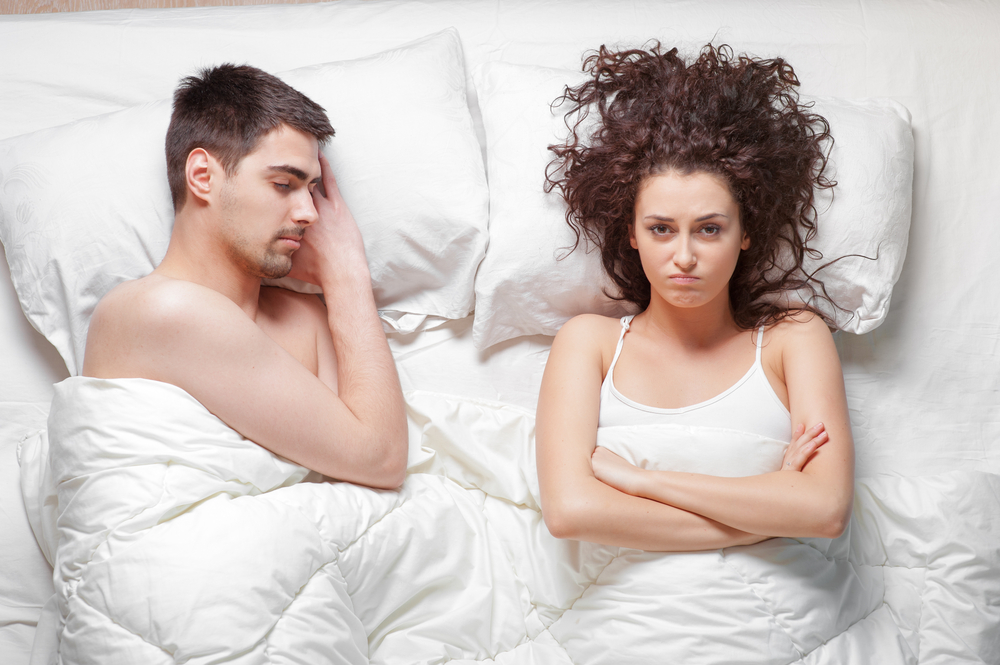 Loss of libido (commonly referred to as sex drive), a common reason for strained relationships, is a major concern among young couples. Tight schedules, sedentary lifestyles, unhealthy dietary habits and of course stressful work hours are some of the common reasons for most of us to sideline our overall health, of which sexual health forms an important part. However, there are effective ways by which we can manage sexual problems such as reduced libido in men and women. But before we share some simple tips and tricks to improve your sex drive, read more on the common reasons for reduced sex drive
Common Reasons For Low Sex Drive
Low libido (commonly referred to as sex drive) is one of the most common problems affecting both men and women and can be a major cause for strained relationships for many couples.  It may also influence a person's mental well-being and self-esteem. To solve the problem, it is important to know the root cause for the same, which could be several. However, some of the most common causes are:
1. Mental Stress
When one is stressed, the body releases hormones such as adrenaline and cortisol that can play an important role in reducing libido in both males and females.
2. Altered Hormone Levels 
During menopause, the estrogen level in the body drops. Similarly, a dip in the testosterone levels could also be a reason for the loss of libido.
Get Better Performance, Endurance, And Stamina. Check Out Our Latest Sexual Wellness Store For Men & Women.
3. Depression
Depression has been found to be linked with medical conditions such as erectile dysfunction and sexual problems such as loss of libido.
4. Substance abuse
Excessive use of mind-altering substances such as alcohol or other drugs negatively impacts the nervous system which makes it harder for the body to respond to sexual arousal and needs.
5. Restless Leg Syndrome (RLS)
An uncontrollable urge to move one's' legs is a common problem among many males. Men with RLS are at an increased risk of sexual problems compared to others.
6. Lack of Sleep
Lack of sleep leads to an increase in the cortisol levels in the body and therefore affects the sexual drive. It is important to catch up on sleep, as and when needed, to avoid such complications.
7. Certain Medications 
Consistent use of certain medicines to treat medical conditions such as depression, high blood pressure, and diabetes can also affect the sexual drive negatively.
Tips To Boost Your Sexual Health
Here are some practical ways by which you can manage the loss of libido and boost your sexual health:
1. Talk It Out 
It is important for an individual to connect verbally before the physical connection takes place. Make sure you are aware of your partner's likes and dislikes to avoid any kind of awkwardness at that time. In case of an argument with your partner, make sure you communicate and resolve it rather than building resentment within. You can even take professional help to clear the differences in your sexual relationship.
**Consult India's best doctors here**
2. Watch What You Eat
Foods rich in omega-3 fatty acids and arginine help in increasing circulation and stimulate your zeal to have sex. Include aphrodisiac foods such as spinach, dark chocolate, peppers (especially red), pomegranate, watermelon and pesto in your daily diet. Stay away from animal proteins. Instead include fruits such as walnuts, avocados, berries, broccoli and beans and legumes to your daily meals in different forms.
3. Stay Active  
Studies suggest that sexual wellness is directly related to physical fitness of both men and women. Post a workout, with high blood circulation, it is recommended to have sex after exercise. Opt for an exercise regimen for at least 5 days a week. During work hours choose stairs over the elevator.
4. Practice Mindful Meditation
Stress is a major buzz kill for sexual desire and meditation has been found to be very helpful in reducing it. Meditation helps to improve your focus, improves blood circulation and increases DHEA levels in the human body. Increased DHEA levels of the body eventually help to improve the mental and emotional well-being. Studies also reveal that DHEA also helps to increase the sexual drive by normalizing the testosterone levels.
5. Try Alternative Therapy
Different forms of alternative therapy such as acupuncture (involves penetrating the skin with thin, solid, metallic needles manually or by electrical stimulation), chiropractic therapy (performed using hands), Tai Chi (includes postures and movements that involve breathing, relaxing and mental focus) and massage therapy has been found to effectively help in case of reduced libido.
"Trust Ayurveda, Get Lasting Relief, It Is Not Slow" Visit Our Ayurvedic Sexual Health Care Store Now..!!
6. Monitor Your Hormone Levels 
Studies suggest that deficiency of testosterone in men can lead to reduced libido. Make sure you get your hormones monitored regularly. You can try different ways to improve the testosterone levels in the body such as artificial supplementation via injections, patches, and diet changes. However, it is best recommended to consult the doctor before taking these medications.
7. Get Enough Sleep
Poor sleep cycle can put the body in a state of distress and cause reduced libido. It lowers testosterone levels, increases emotional stress, increases fatigue and contributes to depression and anxiety. Make sure you get a sleep of 6-8 hours each day to help your body restore its instinctual needs.
8. Try Natural Herbs
Instead of opting for chemical preparations, opt for natural herbs and medicinal plants such that support a healthy sex drive. Literature suggests herbs such as Ashwagandha, Maca root, Ginseng, and Damiana.
Recommended Reads:
Set The Mood Right: 6 Indian Herbs To Boost Sexual Health
What Is Erectile Dysfunction? Read To Know!