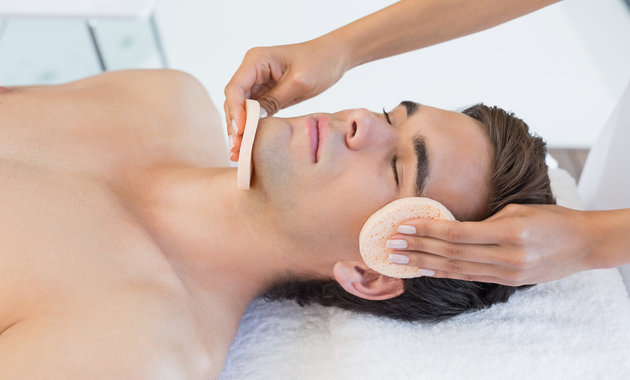 Gone are the days when only brides used to be the center of attention and grooms were restricted to a corner. The time has changed and so have the need to look good, especially on your wedding. And why can't a man look like a million bucks in front of a camera on his wedding? Definitely, he can but not without following a strict skincare routine before the D-day arrives!
5 Skincare Tips For The Groom
So this wedding season, shed your inhibitions and rev up your beauty regimen with simple skin care tips to rock your wedding and give your bride a tough fight for looks. Here are five tips shared by Dr. Anurag Tiwari, Dermatologist on Skin Diaries.
1. Follow a proper skincare regimen: A lot of men think that visiting a parlor or trying out home remedies just before their wedding date is all they need to do to have clear and glowing skin. However, this is not right because it is difficult to get the desired results in just a day. Moreover, you need to figure out the skincare products that suit your skin which can never be achieved overnight.
Remember that the smartest outfit you wear on your wedding may not justice to hide your dull skin or blemishes on your skin. So it is important to kickstart your skincare regimen at least three months in advance so that you look presentable on your D-day. It is best not to leave things until the last moment.
2. Consult a dermatologist: If you suffer from any skin problems such as acne or blemishes but want to have clear and glowing skin on your D-day, it's time to get in touch with a dermatologist. This is because he/she is the one who will help you find all the right things that your skin requires right from a moisturizer and sunscreen to anti-acne or skin-lightening cream. Do not use the same products as that a woman uses as a man's skin might require different products as compared to a woman's skin. Therefore, your skin regimen should be tailored to what your skin requires and there's no best expert than a dermatologist to help you out in this.
**Consult India's best doctors here**
3. Do research on your treatment plan: If you are planning to try out any specific skin care treatment such as microdermabrasion or skin polishing, get your basics right with your dermatologist. There are numerous options available to take care of your skin and improve your overall look. You can opt for skin peelings, laser hair removal or even a full body makeover before your wedding to look the best.
Though these skin treatment options may sound very big, in reality, they don't take much time. For example, skin peels are very simple and safe. All it requires is an application of a simple solution on the skin, which is kept for some time and then removed. Laser toning, laser tightening and laser facial are certain other procedures which are worth a try depending on your skin needs.
Moreover, most men want some quick-fix and these procedures are the best as you have to hardly invest around 15 or 20 minutes to get it done. So, do plan with your dermatologist on how to get a clean and glowing face before the D-day.
4. Follow everyday skincare ritual: When it comes to Indian weddings, there are a lot of rituals which takes place before and after the wedding. And to look your best throughout these rituals, it is important to follow a strict skin care regimen without fail. You do not have to invest in high-end products nor do you have to spend hours on taking care of your skin. All you have to do is wash your face with water regularly, use a good moisturizer to keep your skin hydrated and do not forget to apply sunscreen before you step out of your home. These simple rules can prepare your skin to fight against dirt, sun rays, and heat, all of which can damage the skin in the long run.
Beautiful Skin Begins With Exceptional Skin Care. Shop For Premium Skin Care Products Today.
5. Eat a healthy diet: Yes, the last but the most important tip to take care of your skin whatever the season and the occasion are to eat a healthy diet. And if you are preparing for your wedding, then it goes without saying that your diet plays a key role to keep your skin hydrated, look fresh and glowing and prevent dullness.
Weddings are a time when you have a hectic schedule that causes you to run errands to get things in place for yourself right from clothes and accessories to arrangements. And this causes you to ignore your diet which can not only affect your skin but your overall health. So have a balanced diet with lots of fresh veggies and fruits, drinks lots of water and juices, eat in moderation and do not skip meals. Also, exercise regularly and do not forget to follow the skin regimen given to you by the dermatologist.
Follow these simple skin care tips before your wedding to have a nice glow on your face and complement your bride on your D-day. Wish You A Happy Married Life!
(The article is reviewed by Dr. Lalit Kanodia, General Physician)
Recommended Reads:
7 Essential Skincare Tips For Men
Skincare Mistakes That Make You Look Older