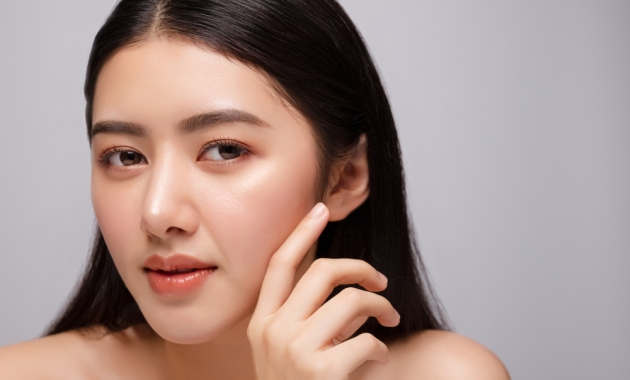 Thanks to your hectic work schedule, unhealthy eating habits, and stressful life coupled with environmental pollution and the ever changing weather, our skin has to bear the brunt. And if we miss out on our regular skin care regimen, over time the skin becomes dull and deprived of moisture.
While there are countless skincare products available online that claim to restore the radiance and shine, products that contain natural ingredients are quite popular. So if you feel stuck on what to pick and how to choose a skincare product for that glowing skin, here are a few common ingredients you can look for!
1. Shea butter
It is the most common ingredient in skincare products such as creams, moisturizers and lotions. Shea butter is packed with moisturizing and emollient properties, which makes your skin soften and helps rejuvenate the skin by soothing and healing the dry and rough skin. It also helps clear dead skin cells, increases the cell regeneration process and improves collagen synthesis [1].
Shea butter is a good sun screening agent as it absorbs or reflects some UV radiation from the sun and prevents it from reaching the skin. It can help in fading dark spots, discolorations, stretch marks, and wrinkles without clogging pores.
2. Almond oil
Almond oil is a rich source of antioxidants which protect the skin from free radicals. It also contains alpha-tocopherol and polyphenols which help protect the skin from damage due to exposure to UV radiation. It is rich in fatty acids which makes it a good moisturizing agent for dry and normal skin.
Regular use of almond oil can help improve dark spots and overall skin tone [2]. Its skin rejuvenating property keeps the skin healthy from deep within. It can be used as a moisturizer all year round. It deeply nourishes the skin making it soft and supple.
3. Hyaluronic acid
You must have come across various ads shedding light on how beneficial hyaluronic acid is for the skin. And if research is to be believed, the hype is not wrong. Hyaluronic acid is a humectant which means a substance that can retain moisture and hence, maintain the plumpness of the skin [3]. It also helps in cell regeneration, rejuvenation and firmness, which in turn helps delay the symptoms of aging such as wrinkles, rough skin, dullness and dryness.
Following a healthy skin care routine from a young age can keep your skin healthy and glowing. Shop Biluma Advance Day Cream to kickstart your skincare regimen today!
4. Licorice
Used commonly as a flavoring agent, licorice is packed with medical and skincare benefits. It not only helps with improving dry skin but also helps with skin lightening due to its antioxidant properties. It contains glycyrrhizin, a compound which is known to fight against free radicals and prevent skin damage. It is also known to offer UV protection and help maintain your skin tone and health [4].
5. Vitamin E
Most of us are aware of the fact that Vitamin E is good for the skin. It not only protects the skin from the harmful UV rays but also prevents the skin from tanning and sunburn [5]. It also acts as a natural antioxidant which helps remove harmful toxins and make your skin smooth and healthy. It also nourishes and moisturizes the skin, slows down skin aging and improves skin tone and appearance.
6. Curcumin
Our very own home remedy – turmeric – is packed with countless benefits for the mind, body, hair and skin. It contains curcumin, an active compound, which not only has anti-bacterial and anti-inflammatory properties but also powerful antibiotic properties. This is why curmimin is widely used to fight various skin problems such as acne, pimples, skin pigmentation, wrinkles and tan. It is also known to inhibit bacterial growth and improve the texture of your skin [6].
Here's something to make every day a "good skin day". Explore our Biluma Advance Night Cream here.
7. Kojic acid
Skincare products containing kojic acid are a rage now thanks to its ability to treat hyperpigmentation and melasma. Popular as an anti-pigmentation ingredient, kojic acid is a natural metabolite produced by fungi which inhibits the production of melanin, skin pigment [7]. It also possesses antioxidant, UV protective and skin-lightening proportions which makes it a best fit for people trying to improve their skin tone or fight blemishes.
So the next time you shop for skincare products, make sure you look for these ingredients in the label and pick the ones that best suit your skin type and needs.
Disclaimer: This is a sponsored article powered by Galderma India Pvt Ltd. The information provided in this article in the form of text, tips, suggestions, and products comprises general advice for consumers. Tata 1mg does not endorse any brands and is not responsible for their efficacy.
References:
1. Izideen Maanikuu PM, Peker K. Medicinal and Nutritional Benefits from the Shea Tree- (Vitellaria Paradoxa). Journal of Biology, Agriculture and Healthcare.2017; 7(22):51-57. https://iiste.org/Journals/index.php/JBAH/article/view/39675
2. Ahmad Z. The uses and properties of almond oil. Complement Ther Clin Pract. 2010 Feb;16(1):10-2. https://pubmed.ncbi.nlm.nih.gov/20129403/
3. Juncan AM, Moisă DG, Santini A, Morgovan C, Rus LL, Vonica-Țincu AL, Loghin F. Advantages of Hyaluronic Acid and Its Combination with Other Bioactive Ingredients in Cosmeceuticals. Molecules. 2021 Jul 22;26(15):4429. https://www.ncbi.nlm.nih.gov/pmc/articles/PMC8347214/
4. Damle M.Glycyrrhiza glabra (Liquorice)-a potent medicinal herb.International Journal of Herbal Medicine.2014;2(2):132-136. https://www.researchgate.net/publication/305465442_Glycyrrhiza_glabra_Liquorice_-a_potent_medicinal_herb
5. Michalak M, Pierzak M, Kręcisz B, Suliga E. Bioactive Compounds for Skin Health: A Review. Nutrients. 2021 Jan 12;13(1):203. https://www.ncbi.nlm.nih.gov/pmc/articles/PMC7827176/
6. Vollono L, Falconi M, Gaziano R, Iacovelli F, Dika E, Terracciano C, Bianchi L, Campione E. Potential of Curcumin in Skin Disorders. Nutrients. 2019 Sep 10;11(9):2169. https://www.ncbi.nlm.nih.gov/pmc/articles/PMC6770633/
7. Saeedi M, Eslamifar M, Khezri K. Kojic acid applications in cosmetic and pharmaceutical preparations. Biomed Pharmacother. 2019 Feb;110:582-593. https://pubmed.ncbi.nlm.nih.gov/30537675/