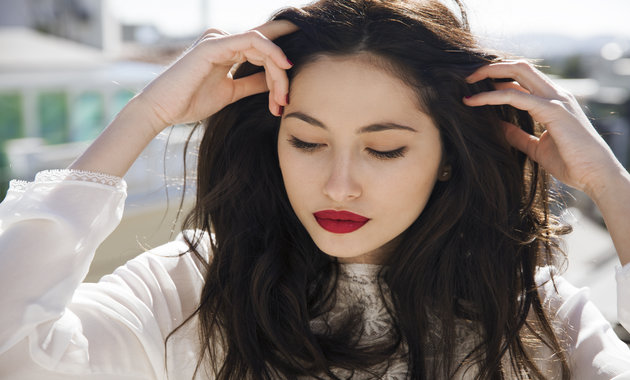 The moment you spot hair strands in your comb, you become petrified. Well, there is no need to worry every time you lose a few hair strands. NO-NO, not because it is a good thing but it is quite normal to lose around 100 to 150 strands of hair in a day. Yes! You heard it right. But the real struggle begins when you tend to lose more than this. 
Tips For Healthy Hair
There are many causes for hair fall right from the use of chemical-laden shampoos to not eating the right nutrition. However, there are few simple tips and tricks that can help you to maintain healthy hair and get long and strong hair without shelling a bomb on your hair. But remember that you need to follow these hair care rituals without fail to get the most of it.
Protect your hair from sun damage: Hair, as we all are aware of, is our crowning glory. But exposure to the harmful radiations of the sun can cause severe hair damage. It not only removes moisture from the hair but also makes your hair frizzy. Hence, if is important to protect the hair from the sun. You can do so by covering your hair with a scarf when out, especially in the hot weather and during summers.
Prevent Further Hair Fall And Greying. Act Now. Shop Now.
Always use conditioner on your hair: Conditioners are used to seal the moisture in the hair, which helps to maintain the right fluid balance and also prevent the hair from becoming dry, which is the key reason for hair loss. Hence, missing out on this step could be the key reason why your hair is dry and frizzy.
Learn the right way to use a conditioner: Always remember that a conditioner is meant only for the hair and not for the scalp. So make sure you are applying conditioner to the hair strands. To do so, ensure to use it about 2 inches away from the scalp. Applying a conditioner on the scalp can lead to a greasy scalp, which in turn can increase the risk of infections in the long run. In addition, try to apply a conditioner along with shampoo as it is shown to give better results.
Choose the right shampoos and conditioners for gorgeous hair. Order hair care products Now!
Always wash your hair with cold water: The use of cold water for washing the hair is highly recommended as it prevents loss of moisture from the hair. But if you are not comfortable with cold water, then use lukewarm water. Never use hot water to wash your hair as it can remove moisture from the hair.
**Consult India's best doctors here**
Follow these simple tips and tricks for healthy hair and prevent hair fall. Let us know in the comments section to share your hair care secrets with our users.
Here are a few expert tips for healthy hair. Watch the video to know more.
(The article is reviewed by Dr. Lalit Kanodia, General Physician)
Recommended Reads:
Steps For Hair Fall Management by Dr. Richa Sharma (MD Dermatology)
Hair Loss Treatment: Medicines For Hair Fall And Hair Regrowth