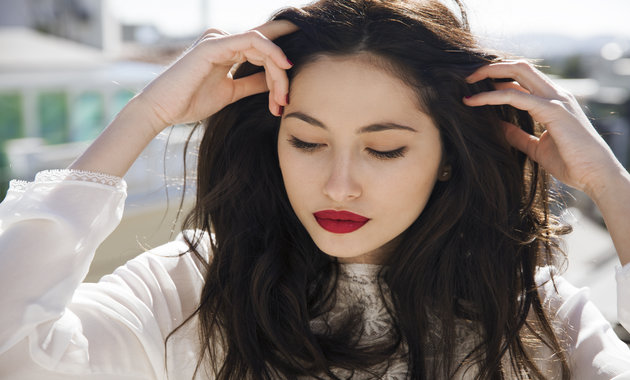 The moment you spot hair strands in your comb, you become petrified. Well, there is no need to worry every time you lose a few hair strands. NO-NO, not because it is a good thing but it is quite normal to lose around 100 to 150 strands of hair in a day. Yes! You heard it right. But the real struggle begins when you tend to lose more than this. You need to panic if you always spot a bunch of hair crawling on a floor or every time you run your fingers through your hair only to see a considerable amount of strands in your hand. If this is the case with you, then here are few healthy hair tips that can be of great use for YOU. Read the article to know more…
Tips For Healthy Hair
There are many causes for hair fall right from the use of chemical-laden shampoos to not eating the right nutrition. However, there are few simple tips and tricks that can help you to maintain healthy hair and get long and strong hair without shelling a bomb on your hair. But remember that you need to follow these hair care rituals without fail to get the most of it.
Protect your hair from sun damage: Hair, as we all are aware of, is our crowning glory. But exposure to the harmful radiations of the sun can cause severe hair damage. It not only removes moisture from the hair but also makes your hair frizzy. Hence, if is important to protect the hair from the sun. You can do so by covering your hair with a scarf when out, especially in the hot weather and during summers.
Prevent Further Hair Fall And Greying. Act Now. Shop Now.
Stay away from polluted areas: Most of us are unaware of the fact that pollution can severely harm the hair leading to excessive hair fall. This is because, polluted air contains dust, dirt and particulate matter which gets accumulated on the hair, which over time causes these particles to build-up on the scalp. This can cause the hair strands to become more susceptible to infections along with causing excessive dryness of the scalp and hair, which can lead to hair loss. Hence, it is advised to protect your hair from pollution by tying a scarf of a stole over your hair when going through polluted and congested areas such as traffic signals, industrial areas, etc.
Comb wet hair with extreme care: This is one of the common mistakes that most of us need to know to prevent hair fall and ensure healthy hair. It is of utmost importance to deal with wet hair with proper care. Whenever you are out of a shower, let your hair dry a little bit before you comb. This is because wet hair is fragile and is most vulnerable to damage and breakage. Also, it is advised to use a broad toothed comb when combing hair as it helps to restrict friction and knots. When combing your hair, run it from the roots to the ends of the hair as gently as possible to reduce the risk of breakage. Follow this practice to ensure healthy and strong hair.
Always use conditioner on your hair: Conditioners are used to seal the moisture in the hair, which helps to maintain the right fluid balance and also prevent the hair from becoming dry, which is the key reason for hair loss. Hence, missing out on this step could be the key reason why your hair is dry and frizzy.
Learn the right way to use a conditioner: Always remember that a conditioner is meant only for the hair and not for the scalp. So make sure you are applying conditioner to the hair strands. To do so, ensure to use it about 2 inches away from the scalp. Applying a conditioner on the scalp can lead to a greasy scalp, which in turn can increase the risk of infections in the long run. In addition, try to apply a conditioner along with shampoo as it is shown to give better results.
Choose the right shampoos and conditioners for gorgeous hair. Order hair care products Now!
Avoid overuse of heat-based styling tools on the hair: As you might be aware of, use of heat to style your hair can cause more harm than good. Heat not only removes moisture from the hair but also makes it more prone to damage by making it dry and frizzy. Hence, it is advised to sparingly use straighteners, ironing tools and curlers to minimize the effect of heat on the hair. Also, it is a good idea to use styling equipment after applying a heat protectant spray as it can help lower the damage caused by heat.
Follow proper hair care ritual every day: For healthy and strong hair, it is important to follow a proper hair care routine that involves the use of hair oil regularly, washing the hair properly, combing the hair the right way and maintaining the hair health not just during the day but also at night. At bedtime, do not tie your hair tightly as this can cause hair breakage. You can either opt for loose braids or keep your hair open at night to prevent hair breakage. Also, don't tease your hair, even if it increases the hair volume as it can ruin the texture of your hair. Make sure you brush your hair properly so as to spread the natural oils secreted by the sebaceous glands all over the hair.
Always wash your hair with cold water: The use of cold water for washing the hair is highly recommended as it prevents loss of moisture from the hair. But if you are not comfortable with cold water, then use lukewarm water. Never use hot water to wash your hair as it can remove moisture from the hair.
Load up the intake of iron and protein in diet: The last but not the least tip for healthy hair it to eat a healthy and balanced diet. What you eat can have a significant impact not only on your body but also on the hair. For healthy hair growth, it is advised to include nutrients like iron, proteins, and vitamins as it not only nourishes the hair but also makes it strong. Hence, pack your diet with all these healthy nutrients for better hair care. However, if you fail to meet the requirements of these nutrients, then you can consider supplements. However, do consult your physician before you take these supplements for effective results.
**Consult India's best doctors here**
Follow these simple tips and tricks for healthy hair and prevent hair fall. Let us know in the comments section to share your hair care secrets with our users.
Here are a few expert tips for healthy hair. Watch the video to know more.
(The article is reviewed by Dr. Lalit Kanodia, General Physician)
Recommended Reads:
Steps For Hair Fall Management by Dr. Richa Sharma (MD Dermatology)
Hair Loss Treatment: Medicines For Hair Fall And Hair Regrowth