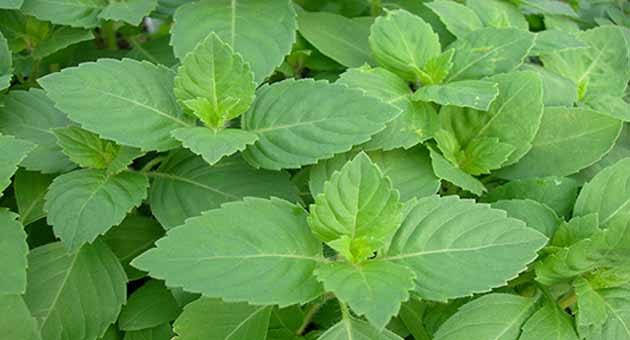 'Cancer', the very word spells terror in the human mind. In spite of all the scientific advances that the century has witnessed, a cure to this deadly disease eludes us. The cause, experts say is mainly genes but it is said to be triggered by external factors like pollution, improper diet, sedentary lifestyle, obesity and hormonal imbalances.
Studies have shown that there are certain herbs that possess cancer fighting and preventing abilities. Adding these herbs to your daily diet is a good way to help your body fight the cancer causing triggers. Here are some herbs that you should try:
1 .Holy Basil
The holy basil or revered tulsi is packed with medicinal properties and has been widely used in India for ages. Experiments have shown that daily consumption of a few raw tulsi leaves can prevent the occurrence as well as slow down the spread of cancer.
2 . Ginger
An ever-present herb in the Indian kitchen, adding fresh or dried ginger (adrakh) to any dish ups its taste quotient greatly. While fresh ginger is rich in gingerol, the dried or powdered version contain zingerone. Both of these compounds are powerful antioxidants and have anti-inflammatory qualities that are understood to protect against cancer. Besides cooking main dishes, ginger and lemon tea is also particularly beneficial.
3 . Turmeric
No dish is quite complete without a dash of turmeric powder (haldi) in this curry-crazy nation. As a fact, it does much more than add colour and flavour to our cooking. The compound 'Curcumin' present in turmeric is a potent anti-inflammatory agent and prevents cancer cell from growing and spreading. We recommend eating a small piece of turmeric root raw every morning on an empty stomach for maximum benefits.
Also Read: Turmeric Benefits
4 . Coriander
This herb ( dhaniya) is packed with anti-oxidants that fight cancer causing free radicals in the blood. A compound 'Apigenin' found in this herb is an effective tool to prevent blood-cancer. So next time you are in the kitchen don't forget to garnish dinner with coriander leaves and shoot. The coriander chutney is also a very healthy option to consider.
5 .  Garlic
Another staple of the Indian palate, garlic (lahsun) is packed with a compound 'Organosulfur' that has anti-carcinogenic and anti-inflammatory qualities. Besides preventing cancer from occurring and spreading, it also plays a major part in boosting immunity. Though along with ginger, it is used widely in cooking, we recommend having two cloves of raw garlic in the morning to unlock its healing powers.
6 . Black Pepper
Black pepper ( kaali mirch) is a versatile spice used across the globe to season dishes. Along with the heat, it adds medicinal goodness to our diet that is helpful in deterring cancer. It is very rich in the anti-oxidant 'Piperine' that works best with turmeric in stopping the growth of cancerous cells. Pepper is especially efficient in checking breast cancer. Including the humble black pepper in your diet to spice things up thus, is a healthy thing to do.
7 . Aloe Vera
The soothing effect of Aloe Vera gel ( grithkumari) is a well-known health benefit besides which the plant extract is a very strong anti-inflammatory agent that inhibits the growth of cancer. It also is rich in an important polysaccharide, 'Acemannan' that studies have shown destroys cancer cells. Edible Aloe extracts can be had every morning to reap its rich benefits.
Also read: Aloe Vera Gel Benefits
People are also Reading:
8 Amazing Health Benefits Of Almonds
So, go ahead and add these amazing herbs in your diet and help your body fight cancer causing agents. Eat Healthy, Stay Healthy!