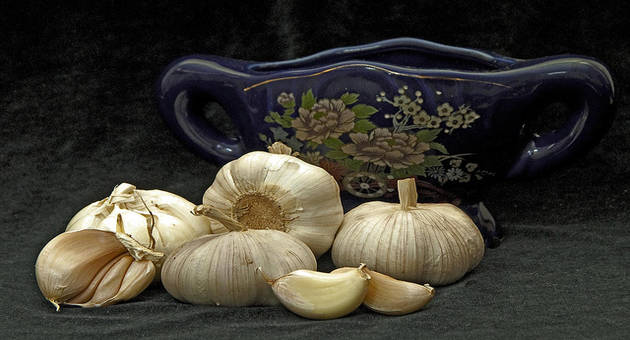 Garlic,the pungent cousin of the onion is part of the Indian culinary world since ages.  Our Indian cooking seems incomplete without adding one or two crushed garlic cloves. But there is a lot more to this wonderful pod of health than just adding some flavor.
HEALTH BENEFITS
Garlic is packed with heart healthy, anti-inflammatory, and blood pressure loweing compounds.
-Garlic cloves contain a compound Allicin which reduces cholesterol production by inhibiting an enzyme within the liver cells.
–Allicin also helps in relaxing blood vessels and lowering blood pressure.
-Garlic is also known for its anti-bacterial, anti-viral, and anti-fungal properties.
-Garlic bulbs are one of the richest sources of potassium, iron, calcium, magnesium, manganese, zinc and selenium.
-It contains many flavonoid anti-oxidants like carotene,  betaxanthin, zeaxanthin, and vitamin C.
–Vitamin C helps the body develop resistance against infectious agents and scavenge harmful, free radicals.
WAYS TO USE
Garlic is most beneficial when consumed raw. So while you may consume garlic in your food regularly, here are some ways one can incorporate raw garlic in their daily life to improve health.
1 . Start the day with garlic tea, add 2 crushed cloves of garlic to a pot of black tea, add honey for flavor and watch your weight reduce, immunity boost and skin improve.
2 . Crushed garlic cloves mixed with honey and salt is a great remedy for cough and colds.
3 . For severe cough of inflamed tonsils, crush 2 cloves of garlic, mix with atta to form a paste, and apply this paste directly onto the tonsils, this mix applied twice a day gives immense relief from severe throat ailments.
4 . Rub a slice of garlic on zits and pimples to banish the blemish, or purchase some store bought garlic oil and dab on zits or skin ailments such as psoriasis for instant relief.
5 . Garlic oil is a terrific remedy for ear aches & infections. For infections of the ear, put a couple of drops in the ear and plug lightly with a cotton ball, the infection will heal in no time.
6 . Dip a clove in honey and eat the entire clove, just once a day for a boost of Vitamin C, Vitamin B6, reduce cholesterol and prevent cancers.
7 . Baby Garlic, which looks a lot like small spring onions, is a lot easier to consume than the mature spicy cloves, chew 2-3 springs of young garlic before meals, to avoid flatulence, aid digestion and control acidity.
THINGS TO REMEMBER
Although Garlic is packed with medicinal benefits, its usage must be moderate and much care must be taken when consuming raw.Adults should not consume more than three cloves a day, children no more than one.Asthma patients should avoid using raw garlic.For those with sensitive skin, application of garlic may cause reactions.
So, reap the benefits of this pod of health and say yes to a healthier you. Stay Healthy, Stay Happy!