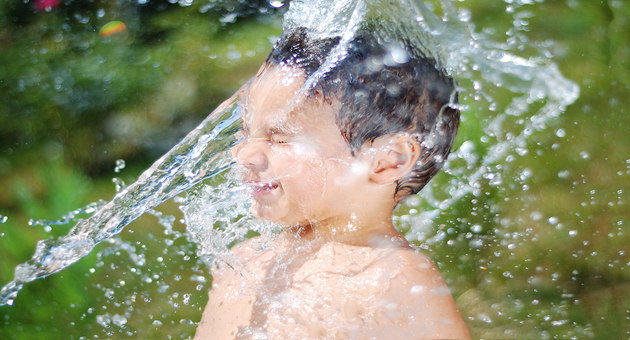 The scorching summer heat is hard on the skin, the body and of course the mood as well. Heat exhaustion and heat stroke occur when the body is unable to adjust to the external temperatures. Prolonged exposure to heat spikes the body temperature to 104 F or above causing fever, inability to sweat,  nausea and in severe cases, damage to vital organs.
Thankfully, there are some good old recipes that shall effectively help you beat the heat:
1 . Onion Paste
Onions have been used in Rajasthan as a cooling agent for years. Onions are known to contain anti-inflammatory and anti-allergen properties that help to heal the cells post the sun stroke. Applying onion juice behind the ears and on your chest can help bring down your body temperature. You can also roast some raw onions with cumin and honey and have it. Raw onions in chutneys or salads can also cool your system.
2 . Aam Panna
One of the good things about summers in India are the delicious mangoes. They are nature's way of helping us fight heat better. Mangoes are a rich source of pectins that enable the body to fight heat stroke effectively.The famous Indian drink aam panna made from boiling raw mangoes in water is a common pick. This drink should be consumed at least two to three times in a day. You may choose to add sugar, salt and cumin upon cooling and consume it multiple times a day.
3 . Aloe Vera Juice
Aloe Vera is a magic plant and the paste is known to effectively heal cells that are damaged by sun stroke. You can consume aloe vera pulp in the form of smoothies and snacks such as porridges. You can also use the pulp on your skin to cool and heal sunburns.
Also Read: Benefits of Aloe Vera on Face
4 . Buttermilk (Chhaachh)
Buttermilk is a rich source of proteins, calcium, minerals and vitamins. Packed with electrolytes from curd and lots of water, buttermilk is the next best thing you can give your body to fight dehydration caused in summers. Take 2 spoons of curd, add ½ glass of water, add black salt, pepper/green chillies, ginger and coriander.Mix and store to drink throughout the day.
5 . Tamarind
Tamarind, a common ingredient in the South Indian cuisines, helps to regulate body temperature. Place tamarind pulp on the forehead to immediately reduce body temperature. You can also make a sauce, juice, chutney etc. by soaking tamarind pulp in warm water and straining it. You may also choose to grind the tamarind seeds to extract the juice for consumption.
6 . Indian Herbs
Certain Indian spices such as mint, fennel (saunf), cardamom, fenugreek, coriander, and pepper have been found to aid in regulating the body temperature. Mint is packed with menthol, fennel is a rich source of Vitamin C and cardamom has been found to balance all the three energies of the body. You can add these spices to your food or also consume them in the form of cooling drinks and tea.
Also Read: Green Cardamom Benefits
7 . Coconut Water
Tender coconuts are a rich source of electrolytes that help to rehydrate our body. It will help to keep you energetic and refreshed. To a glass of coconut water, you may choose to add some lemon and mint leaves and help yourself on a sunny day.
In addition to wearing loose comfortable clothing, applying sunscreen, and avoiding going out during the wee hours, make sure you keep yourself hydrated and make an umbrella your partner to beat the heat effectively. Stay Happy, Stay Healthy!