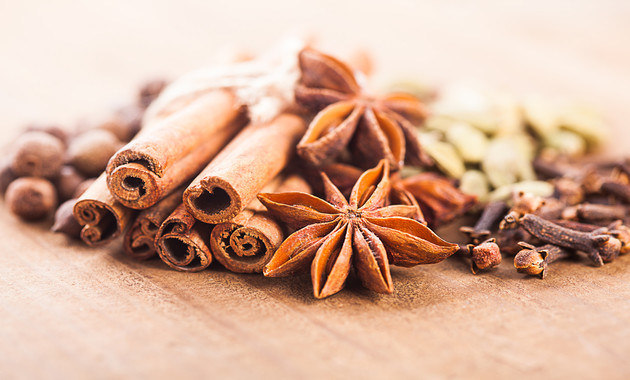 Acidity, characterized by heartburn (a burning sensation in the chest region), is generally caused due to an excess or imbalance of digestive acids produced by the stomach. Some of the common reasons for acidity are spicy food, lack of exercise, irregular eating habits, stress, and frequent alcohol intake.
HOME REMEDIES TO FIGHT ACIDITY
Here are some common ingredients from the Indian kitchen that can be used to fight acidity:
1 . TULSI LEAVES
-With its anti-ulcer properties, they reduce the effect of gastric acids and stimulate the stomach to produce more mucous.
-Boil about 8 to 10 tulsi leaves in a cup of water. When reduced to half, strain it and have it lukewarm.  Sweeten with honey.  Do not add milk.  Sip frequently.
-Chew on 5 to 6 tulsi leaves whenever you get an acidity attack. Chew thoroughly and let the leaves remain in your mouth for a while.
2 . CINNAMON
-A natural antacid that helps dispel stomach gas, Cinnamon has been found to be good for the digestive health.
-Sprinkle some cinnamon powder on a spoon of honey and have it before meals. This relieves acidity and digests the heaviest of meals.
-Add ½ teaspoon of cinnamon powder in a cup of water. Boil it and allow to steep for a few minutes.  Drink this cinnamon tea 2 to 3 times a day.
3 . CUMIN SEEDS
-A natural acid neutralizer, Cumin seeds aids digestion and also relieves stomach pain caused due to acidity.
-Mix 1 tsp. each of cumin seed powder, coriander seed powder, fennel seed powder and some sugar in a large cup of water. Drink it on an empty stomach.
-Add 1 tsp. of cumin seeds to a cup of boiling water. Let it boil for 3 to 4 minutes.  Strain it and bring it to room temperature.  Keep sipping at regular intervals. Such 2 to 3 cups a day would keep you free from an acidity attack.
4 . COLD MILK
-High in calcium, Milk helps prevent acid build up and absorbs the excess acid produced thereby reducing the symptoms of acidity. It also provides instant relief from the burning sensation one feels during an acid reflux.
-Have cold milk without added sugar. One can however add one or two strands of saffron for added health benefit.
-Alternatively, one can also add a spoon of rose syrup to a glass of cold milk for added taste and flavour. Also known as rose milk.
5 . BUTTERMILK (Chaach)
-Rich in lactic acid that normalizes the acidity in the stomach, it has been found to be beneficial in acidity attacks.
-Grind ½ tsp. of fenugreek seeds (methi dana) with a little water to make a paste. Mix it in a glass of plain buttermilk.  Drink this several times a day until you get relief.
-Mix in very little black pepper powder or 1 tsp. of ground coriander leaves in the buttermilk and have it along with meals for quick relief from acidity,
6 . WATER
-Drink a glass of lukewarm water daily before bedtime and immediately upon waking up.  Do not drink water during or immediately after a meal, as it can contribute to improper digestion leading to acidity.
So, go ahead and try these home remedies to relieve yourself from acidity instead of popping those antacids. Eat Healthy, Stay Happy!