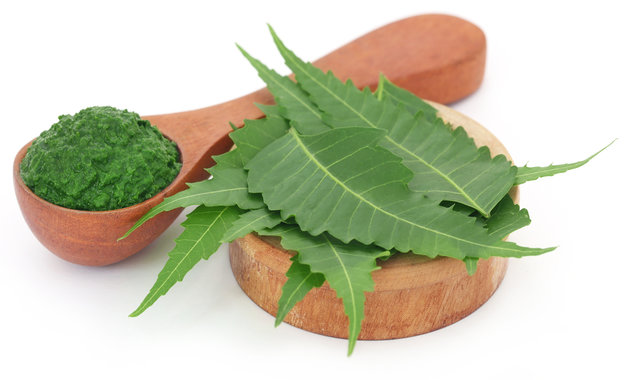 Neem has been used since times immemorial in treating various ailments and in improving overall health and well being. Almost all  parts of a Neem tree possess healing powers. The fruit, leaves, bark,roots are all have medicinal properties. As per a research, over 100 diseases are treated by using different parts of this tree.Here are some of the amazing health benefits of Neem:
1 . To Fight Skin Problems
Skin conditions such as acne, black heads, drying and pigmentation can be taken care by Neem leaves. Get some Neem leaves and boil till the water turns green. Wash your face with this water every morning.
2 . To Get Rid Of Dandruff
Due to their anti-microbial property, the leaves can be used to eliminate dandruff. Crush tender Neem leaves and Tulsi and use the extract to wash your hair at least twice a week.
3 . To Reduce Belly Fat
Neem flowers aid fat breakdown. Neem flowers if taken along with lemon facilitate effective waste elimination from the body hence helping fat breakdown. Crush a handful of Neem flowers add a spoon of honey and half of lemon juice. Mix this solution well and sip it on an empty stomach in the morning. You should not drink anything else for at least half an hour.
Reduce weight with Weight Management products >>
4 . To Fight Oral Problems
Neem twigs commonly called daatun, is an excellent solution to oral decay. The anti-microbial and anti-fungal properties of Neem provide relief from mouth ulcers, bad breath, toothache and also keeps the teeth shining. Use a medium size twig and chew it from one side to make it like a brush. Now brush your teeth with this natural brush and rinse with water.
5 . To Relieve Gastric Problems
Neem has also been associated with keeping gastric problems away. Conditions like stomach ulcer, cramping, bloating can be cured if one consumes Neem in any of the form stated above.
Initially, try to consume Neem on alternate days.Pregnant women should not consume Neem as it may be harmful to the baby. Always consult a doctor if you are planning to take Neem with any other medicine. Stay Healthy, Stay Happy!