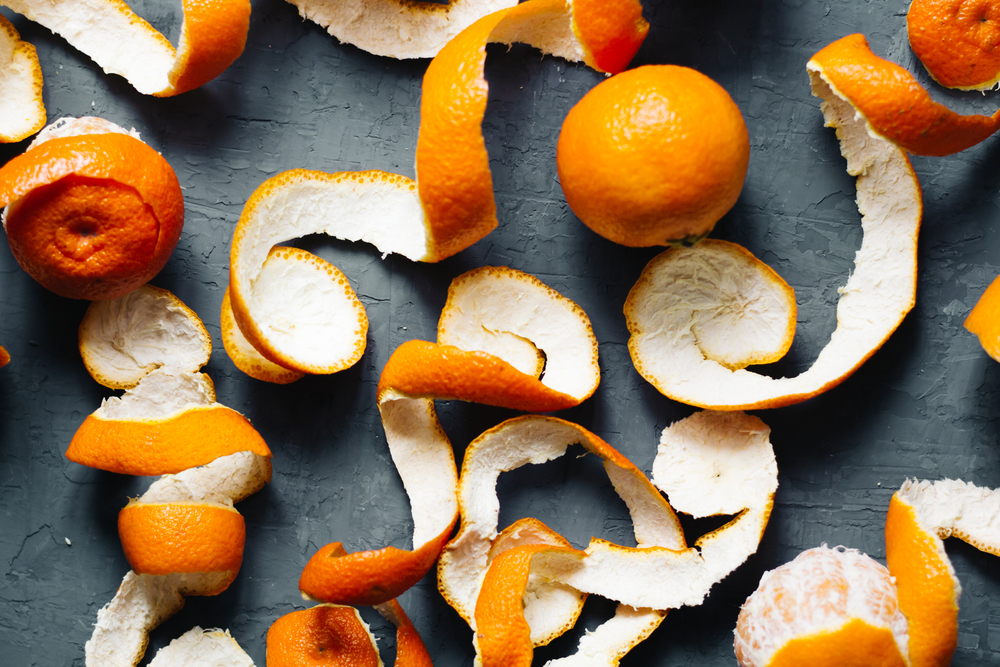 Fruits are packed with nutrients that defend your skin against damage and nourish it from within. Ingesting them is one way to gain the nutrition from these fruits, however, while you enjoy eating the juicy delicious fruit, why not let your skin soak up the benefits too. Read further to see how the following fruit peels can make your skin healthier and give you that fruity fresh glow:
1 . Orange
The tangy fruit and its peel are both rich in Vitamin C and calcium. They have anti-bacterial and anti-microbial properties that help treat acne and oily skin. Vitamin C helps balance the natural oil by regulating the production of sebum, an oily substance secreted by glands under the skin. Orange peel can be used as a natural face cleanser and can also be used in combination with other ingredients to remove dark spots, lighten acne scars, reduce sun tans, hydrate and brighten skin naturally.
Ways to use
Mix dried orange peel powder with yoghurt and use as a face pack for a rejuvenating glow and to remove tan. A mix of Orange peel powder, sandalwood powder and rose water or lemon juice may be used to gently exfoliate skin and rid it of dead skin cells, leaving you with a lasting glow.
2 . Avocado
The pulpy avocado is known for its nourishing properties and is often referred to as a superfood. The entire fruit and its peel are rich in Vitamin B, Vitamin E and amino acids. The peel can be used as a natural, chemical-free way to nourish your skin. It is a great remedy for the dry, itchy and rough skin.
Ways to use
After scooping out the pulpy fruit, don't discard the peel, instead, gently rub the inside of the peel on your skin. The portion of the fruit closer to the peel has a higher concentration of antioxidants as compared to the lighter portion closer to the core. The gentle rubbing motion helps exfoliate your skin, the creamy texture of the pulp acts as a moisturiser and the antioxidants present in the fruit have anti-aging effects on the skin.
Up to 30% Off on Skin Care Products
3 . Pomegranate
A natural moisturiser, sunscreen and face scrub, the pomegranates peel have as much potential, if not more than the flavoursome fruit itself.  It is known to delay ageing, wrinkles and fight pimples because of its healing properties. Rich in antioxidants and with antibacterial and anti-inflammatory properties, it helps keep bacteria away thus keeping infections at bay, reducing inflammation and the effects of pimples. Also, antioxidants such as proanthocyanidins present in the pomegranate peel limit the production of free radicals that damage skin cells.
Ways to use
Use sun dried pomegranate peel to make a powder and use it in varying combinations, depending on your requirement. Mix the powder with lemon juice or rose water to fight acne, pimples and rashes, with milk to prevent signs of ageing, with yoghurt to moisturise your skin naturally and with a combination of brown sugar, honey and an essential oil of choice to use as a scrub.
4 . Apple
The Apple is a powerhouse of skin friendly nutrients. Most of these nutrients are concentrated in the skin of the Apple. It contains Vitamin C, Vitamin A and Copper among other essential nutrients. The Vitamin A and C content in the peel helps replenish collagen levels in the skin and delay the process of ageing. Apples are also known to treat skin from sunburns, cleanse skin and enhance circulation.
Ways to use
Use fresh apple peels to treat your skin at home. Mildly wash your skin and gently rub the peel on your skin in a circular motion. Wash your face with cold water and use a moisturiser after, if required. This will cleanse your skin and enhance circulation.
5 . Lime
Lime, a fruit that is a staple in most kitchens is rich in Calcium, Vitamin C and Potassium. The zesty peel contains these nutrients as well. Calcium helps generate new skin cells to replace old dead skin and is thus a remedy for dry and itchy skin.  Vitamin C content in the peel can help reduce the damaging effects of stress, sunlight, smoke and pollution on your skin as it helps inhibit free radical activity, thus minimising the damaging effects for a healthy and glowing skin. Potassium helps keep skin moisturised and hydrated.
Ways to use
Create your very own Lime skin tonic. Simply rub the peel on your skin and then rinse for squeaky clean and glowing skin or mix the finely chopped peel or sun dried powdered peel with granulated sugar and olive oil to make a scrub. It pulls out the excess oil and dirt in your skin and cleanses it of blackheads or other impurities, if any, along with lightening skin scars and marks.
6 . Banana
The humble banana has much more potential than you may give it credit for. The peel has countless benefits too. It is rich in Vitamins A, B12, B6, C, D, magnesium, potassium and iron. The fruit is thus a natural remedy for pimples, warts, inflamed skin and skin irritation. The peel is also effective for skin conditions like eczema and psoriasis because of its soothing properties.
Ways to use
Gently rub the inner portion of a banana peel on the affected area of your skin and let it dry for 30 minutes or keep it overnight, rinse the next day. For acne related skin problems, do this thrice a day for best results. Soon you will be able to see the results with softer and well-hydrated skin.
Up to 40% Off on Ayurveda Products
7 . Papaya
Don't be fooled by the appearance of this fruit. It is one of the most versatile fruits, with innumerable benefits. The fruit is packed with nutrients such as Vitamin A, E, magnesium, potassium and Vitamin B5 that are all essential for healthy skin. An enzyme called papain, present under the peel of an unripe papaya is responsible for skin whitening and skin renewal. Apart from acting as a skin brightening agent it also functions as a skin softener and prevents sagging skin.
Ways to use
Make your own face pack by blending the papaya peel with honey and lime to make a pasty mixture. Leave it on for about 20 minutes and then rinse your face with lukewarm water. This pack will leave you with smooth and glowing skin. If you are using it to lighten dark spots, use this pack 2-3 times a week for best results.
**Consult India's best doctors here***