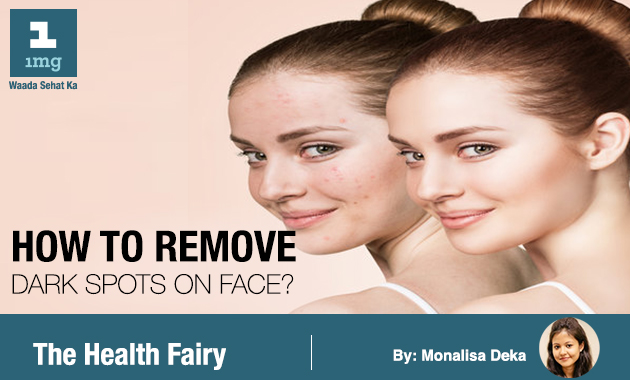 Alisha had a party to attend this evening. But there was one worrisome thing for her- Visibly and ugly dark spots which was not only ruining her pretty face but also her self-confidence. So like everyone, she started loading her face with layers of foundation and concealer. But no, it still did not help much. She could still see those tiny spots. Frustrated, she canceled her evening!!
Do you also go through the same agony? Do you feel a lack of self-confidence with the presence of dark spots on your face?
Don't worry, having dark spots on the face isn't a big deal. It is absolutely normal and you do not have to break your head if you have them.
Just put a glance around your kitchen to look for remedies to eliminate those pesky little buggers and restore your selfie-ready excellence! Go for:
1. Lemony Lemon
The acidic lemon juice contains helps to lighten the dark spots up and reduce them after consistent application
Tips
a) Squeeze some juice out of a fresh lemon, apply it right onto the imperfections preferably twice a day. Wait for the juice to dry and rinse your face with warm water.
b) You can also use a mixture of lemon juice, honey and rose water
Caution: The acid present in the lemon might not be good if you have a sensitive and severe acne prone skin.
For a flawless skin, trust Ayurveda. Buy the best products here.
2. Soothing Aloe vera
Regular application of aloe vera gel will not only help you remove dark spots but also work as the protector against UV radiation. Its antiseptic and cooling properties help keep acne and pimples at bay.
Tips
a) Take some freshly cut Aloe Vera, scrape out the pulp and apply directly on your face.
b) You can even use various Aloe Vera gel that is available in the market mixed with few drops of honey.
Also Read: Aloe Vera Gel Uses
3) Yummy Potato
Potatoes have organic bleaching properties which help fade spots, scars together with blemishes.
Tips
a) Take a potato slice and rub against your skin to make the imperfections fade. Again, remember to use it twice a day.
b) You can also apply a face mask made from honey and grated potato.
4) Classic Sandalwood
With such alluring fragrance, how can someone say no to using sandalwood? Sandalwood has been in use as face packs for hundreds of years, and it is a major part of Ayurvedic skincare practices.
Tips
a) Make a paste of sandalwood powder and rose water, apply evenly and wash after 20 minutes. This will not only lighten spots but will also cleanse and refresh your skin. This pack is a boon if you have oily skin that is prone to pimples.
b) Another could be a mixture of sandalwood powder, raw milk and honey. Great for removing dark spots.
5) Grandma's secret Turmeric
You would be surprised to know that regular application of turmeric on the face will not only give you a glowing skin but will also remove dark patches and reduce the occurrence of pimples on your face.
Tips
a) Try to buy fresh turmeric from the market and grind to get the juice. Mix the juice with few drops of lemon juice, and milk. Gently apply the mixture on your face and wash it off after 15 minutes. Use it
b) Turmeric also has great antibacterial and antimicrobial properties. Just take turmeric juice or powder and mix with rose water. Apply overnight to get rid of pimples.
Also Read: Turmeric Benefits
6) The liquid gold Honey
Regular application of honey not only improves the quality of your skin but also reduces pimples.
Tips
a) Take some honey and apply directly on the spots. Leave it on your skin for an hour or even over-night and rinse using warm water.
7) Ya ya Papaya
Papaya has enzymes called papain that help remove dark spots and give an even skin tone. It also acts as a good exfoliator.
Tips
a) Blend few pieces of ripe papaya and apply the paste on your face. Leave it on for 20 minutes. Wash off with normal water. Use this 3 times a week for better results.
b) Grate a green papaya and add 1 tablespoon of lime juice. Mix well and apply it on the skin. Leave it on for 15 minutes and rinse with water.
8) All–time skin savior: Coconut
Both coconut oil and coconut water have been known to remove dark spots effectively since our grandma time. Regular application coconut oil as well as water on the spots over a period of time reduces the spots and also prevents it from coming back.
Tips
a) Dip a cotton ball in either coconut oil or water and gently wipe all over the affected area. Keep it overnight and wash it off the next morning.
Note: All the above-mentioned remedies are natural and you will have to have patience in order to get better results. However if you think the dark spots on your face are really stubborn and loves to stay on your face, then it would be better to consult a good dermatologist/cosmetologist. Depending on the severity of your dark spots, he or she can suggest you treatments like chemical peel, laser, microdermabrasion etc.
Buy the best Homeopathy products for skincare at 1mg.
Quick tips
a) Drink at least 8-10 glasses of water a day to flush out toxins and fade away the unevenness from your face.
b) Have a healthy and a nutritious diet with loads of fresh fruits, vegetables green leaves and avoid oily, sugary, processed, and packaged food.
c) Indulge yourself in some sort of work out or a brisk walk every day for at least 30 to 45 minutes.
d) Use an umbrella and a sunscreen with SPF at least 30 before leaving the house.
e) Exfoliate twice a week in order to remove the build-up of dead skin cells.
f) Lastly, meditate and relax to fight stress, if any.
Well, there it is! Our list of the very best home remedies to assist you in removing dark spots. Do tell us which of them worked right for you.
Buy Patanjali skincare products online now at 1mg
Recommended reads:
6 Reasons Why You Should Be Eating Fish
Black Is Great: 10 Reasons Why You Should Drink Black Tea!