---
Product introduction
Minerva 25mg Tablet is a medicine used to treat type 2 diabetes mellitus. It helps control the high blood sugar levels in your body after each meal. It is used when other similar medicines along with a restricted diet, are unable to control abnormally high blood sugar levels.

Minerva 25mg Tablet should be taken just before a meal or along with the first mouthful of food. The dose and how often you need it will be decided by your doctor so that you get the right amount to control your blood sugar levels. The dose may be increased gradually. Do not stop taking it without consulting your doctor. If you do, your blood sugar levels may increase and put you at risk of serious complications like kidney damage and blindness.

This medicine is only part of a treatment program that should also include a healthy diet, regular exercise, and weight reduction as advised by your doctor. Monitor your blood sugar levels regularly while taking this medicine.

The most common side effects of this medicine include skin rash, flatulence (gas), stomach pain, and diarrhea. Please consult your doctor if these bother you or do not go away.

This medicine by itself does not cause hypoglycemia (low blood sugar levels). However, when used in combination with other diabetes medicines (especially insulin or sulphonylureas), it can lead to hypoglycemia (low blood sugar levels). Such episodes of hypoglycemia should be treated by taking plain glucose. Table sugar or common sugar will not help correct low blood sugar levels if you are taking this medicine.

Before taking it, let your doctor know if you have any kidney or liver problems. Do not take this medicine if you have ulceration or inflammation in the bowel (eg. ulcerative colitis or Crohn's disease). Pregnant or breastfeeding women should also consult their doctor before taking it. Please tell your doctor about all the other medicines you are taking to make sure you are safe. Avoid excessive alcohol intake while taking this medicine as it may increase the risk of hypoglycemia (low blood sugar levels).
---
Uses of Minerva Tablet
Benefits of Minerva Tablet
In Treatment of Type 2 diabetes mellitus
Minerva 25mg Tablet is a medicine that helps to control high blood glucose (sugar) levels. It helps to slow down the breaking down of food in our intestine to simple glucose (sugar), thereby decreasing the rise in blood glucose levels after meals. Lowering blood glucose levels is an essential part of managing diabetes. If you can control the level, you will reduce the risk of getting any of the serious complications of diabetes such as kidney damage, eye damage, nerve problems and loss of limbs.
Minerva 25mg Tablet will reduce the risk of dying from cardiovascular disease if you have type 2 diabetes and already have cardiovascular disease. Taking this medicine regularly along with proper diet and exercise will help you live a normal, healthy life. You should keep using it for as long as it is prescribed because it is protecting your future health.
---
Side effects of Minerva Tablet
Most side effects do not require any medical attention and disappear as your body adjusts to the medicine. Consult your doctor if they persist or if you're worried about them
Common side effects of Minerva
Skin rash
Flatulence
Abdominal pain
Diarrhea
---
How to use Minerva Tablet
Take this medicine in the dose and duration as advised by your doctor. Swallow it as a whole. Do not chew, crush or break it. Minerva 25mg Tablet is to be taken with food.
---
How Minerva Tablet works
Minerva 25mg Tablet is an anti-diabetic medicine. It inhibits the intestinal enzymes responsible for breaking complex sugars into simple sugars such as glucose. This prevents blood glucose levels from rising very high immediately after meals.
---
Safety advice
It is unsafe to consume alcohol with Minerva 25mg Tablet.
Pregnancy
SAFE IF PRESCRIBED
Minerva 25mg Tablet is generally considered safe to use during pregnancy. Animal studies have shown low or no adverse effects to the developing baby; however, there are limited human studies.
Breast feeding
SAFE IF PRESCRIBED
Minerva 25mg Tablet is probably safe to use during breastfeeding. Limited human data suggests that the drug does not represent any significant risk to the baby.
Minerva 25mg Tablet does not usually affect your ability to drive.
Minerva 25mg Tablet should be used with caution in patients with kidney disease. Dose adjustment of Minerva 25mg Tablet may be needed. Please consult your doctor.
Use of Minerva 25mg Tablet is not recommended in patients with severe kidney disease.
Minerva 25mg Tablet is probably safe to use in patients with liver disease. Limited data available suggests that dose adjustment of Minerva 25mg Tablet may not be needed in these patients. Please consult your doctor.
---
What if you forget to take Minerva Tablet?
If you miss a dose of Minerva 25mg Tablet, skip it and continue with your normal schedule. Do not double the dose.
---
All substitutes
For informational purposes only. Consult a doctor before taking any medicines.
Minerva 25mg Tablet
₹5.03/Tablet
---
Quick tips
Minerva 25mg Tablet lowers your post-meal blood sugar levels. Therefore, it should be taken before meals.

Side effects such as stomach pain, gas, and diarrhea may occur during the first few weeks of treatment but should get better with time.
---
Fact Box
Chemical Class
Desoxynojirimycin Derivative
Therapeutic Class
ANTI DIABETIC
Action Class
Alpha-glucosidase inhibitors
---
Interaction with drugs
Taking Minerva with any of the following medicines can modify the effect of either of them and cause some undesirable side effects
---
Patient concerns
Diabetes mellitus type 2 ,thirst
Dr. Sanjay Bhatt
Physician
A person can control his or her sugar levels by doing regular exercise and walk or regular aerobic exercises at least 30 to 45 minutes per day.MEDICAL NUTRITIONAL THERAPY THAT IS TO MAINTAIN CALORIES INTAKE AS PER BMI .TAKE HELP OF DIABETIC EDUCATOR. VISIT YOUR DOCTOR AND FOLLOW ALL WHAT DOCTOR SUGGESTED.IN TIME ALL ROUTINE INVESTIGATIONS SHOULD BE DONE.you should not treat it as disease but a start of a healthy life.Uncontrolled sugar levels for long time leads to lower limb weakness which is neuropathy and which is followed by foot ulcers and other complications like kidney or heart problems .online prescription is not allowed without seeing pt.so contact doctor nearby for any change or dose adjustment or visit my clinic at gurgaon sector 52 RdCity snergy multi speciality clinic near SRS MARKET
Diabetes mellitus type 2 required only ayurvedic medicine
Dr. Sanjay Bhatt
Physician
Go for allopathic medicine
---
User feedback
What are you using Minerva Tablet for?
*Type 2 diabetes mellitus
How much was the improvement?
---
FAQs
Q. Is Minerva 25mg Tablet safe?
Yes, Minerva 25mg Tablet is relatively safe if used at prescribed doses for the prescribed duration as advised by your doctor
Q. How does Minerva 25mg Tablet work?
Minerva 25mg Tablet belongs to the class of anti-diabetic drugs called alpha-glucosidase inhibitor. It blocks an enzyme known as ?-glucoside hydrolase and thus delays glucose absorption from intestine, thereby reducing the excessive rise in blood sugar level after a meal.
Disclaimer:
Tata 1mg's sole intention is to ensure that its consumers get information that is expert-reviewed, accurate and trustworthy. However, the information contained herein should NOT be used as a substitute for the advice of a qualified physician. The information provided here is for informational purposes only. This may not cover everything about particular health conditions, lab tests, medicines, all possible side effects, drug interactions, warnings, alerts, etc. Please consult your doctor and discuss all your queries related to any disease or medicine. We intend to support, not replace, the doctor-patient relationship.
References
Powers AC, D'Alessio D. Endocrine Pancreas and Pharmacotherapy of Diabetes Mellitus and Hypoglycemia. In: Brunton LL, Chabner BA, Knollmann BC, editors. Goodman & Gilman's: The Pharmacological Basis of Therapeutics. 12th ed. New York, New York: McGraw-Hill Medical; 2011. p. 1264.

Nolte MS. Pancreatic hormones and antidiabetic drugs. In: Katzung BG, Masters SB, Trevor AJ, editors. Basic and Clinical Pharmacology. 11th ed. New Delhi, India: Tata McGraw Hill Education Private Limited; 2009. pp. 743-44.

Briggs GG, Freeman RK, editors. A Reference Guide to Fetal and Neonatal Risk: Drugs in Pregnancy and Lactation. 10th ed. Philadelphia, PA: Wolters Kluwer Health; 2015. pp. 919-920.

Miglitol. Leverkusen, Germany: Bayer HealthCare AG; 2018. [Accessed 12 Mar. 2019] (online) Availble from:

Drugs and Lactation Database (LactMed) [Internet]. Bethesda (MD): National Library of Medicine (US); 2006. Miglitol. [Updated 2018 Oct 31]. [Accessed 18 Feb. 2020] (online) Available from:
Manufacturer/Marketer address
Orchid Towers', #313, Valluvar Kottam High Road, Nungambakkam, Chennai - 600 034, Tamil Nadu, India
Country of origin: India

The list of available options shown with the same composition has been prepared upon the advice of registered medical practitioners, pharmacists affiliated with TATA 1MG. TATA 1MG does not promote any pharmaceutical product of any particular company, and all recommendations are based on the medical opinion, advisories from specialist medical and pharmaceutical professionals.
MRP
₹50.31
Inclusive of all taxes
10 tablets in 1 strip
Notify me
Available options
Available option
Same salt composition:
Miglitol (25mg)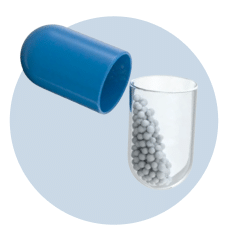 Same salt composition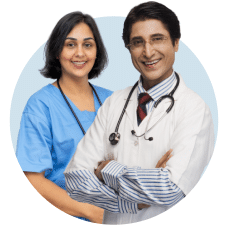 Verified by doctors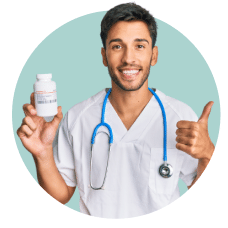 Popularly bought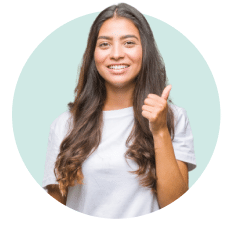 Trusted quality
Why buy these from 1mg?