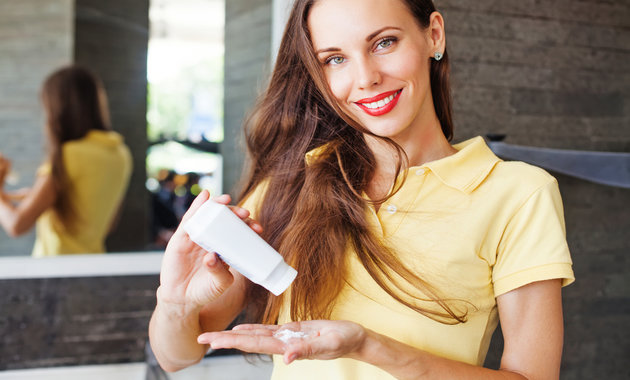 Are you tired of shampooing your hair on a daily basis or on alternate days? If yes, then you must have thought about using a dry shampoo at some point but would have stopped after thinking as to whether your hair will look just as good as they look after a shower. Provided you know how to use them, dry shampoos can be the best alternate solution for people who don't want to wash their hair on a daily basis, especially the ones with a busy lifestyle.
Up to 30% Off on Hair Care Products
Here are some tips and tricks on how to use a dry shampoo and make your hair look as fresh and healthy as they look after you wash them:
Avoid applying too much product: While a good dose of dry shampoo can make your hair look fresher, applying too much of it might make them look dull and discolored. You can apply a little quantity initially, and if you feel that your hair are still greasy, you can add some more of it to your hair till they look fresh.
Do not apply the product throughout the hair: Your roots, and not tresses, make your hair look dull and greasy. So while applying a dry shampoo, stick to the top couple of inches and avoid spreading it till your hair length.
Choose the color that suits your hair color: Applying a dry shampoo that does not match the color of your hair can make your hair look all the more dirty and artificial. It is advisable to choose a tinted dry shampoo to avoid such problems.
Massage your scalp generously after applying it: When you do not massage your hair after applying a dry shampoo, the product sits on the top and makes your scalp look chalky. Therefore, it is always advised to massage your hair roots and scalp nicely after applying a dry shampoo.
Smoothen your hair with a brush: After massaging your hair, brush them in order to smoothen out and give that final touch. This can be followed by lightly running your fingers through your strands for one last time. Once done, the less you touch your hair, the better they will look.
Get the most out of your dry shampoo: To help your dry shampoo absorb fully, you can apply to roots at night. You won't have to do anything in the morning apart from brushing them once gently, and you will be all ready to go.
Backcomb your hair: Take a brush and gently backcomb the hair after you spray the dry shampoo. This significantly helps in adding volume at the crown of your hair and evenly distributing the product through your strands.
Don't make it an everyday habit: Remember that dry shampoos cannot replace washing your hair with a liquid shampoo. Hence, it is better if such alternatives are used only when necessary and not on a daily basis.
Follow these easy tricks for applying a dry shampoo to get the best results without any hassles.
**Consult India's best doctors here***