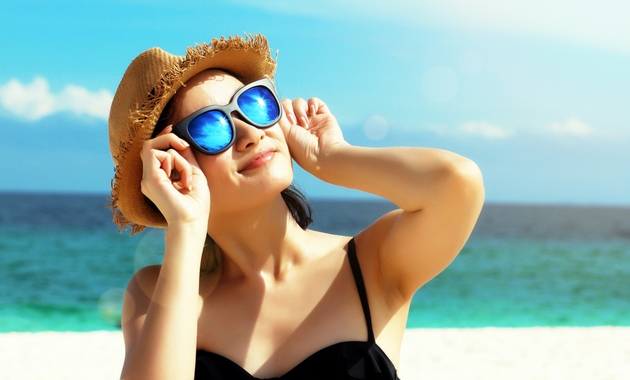 Summers are here and the hot weather is already taking a toll on your skin. And before you plan a long beach holiday or plan to travel in this hot summer, think twice about the harsh effects of the sun's rays on the skin. Summer is not just about fun vacations, weddings, and get-togethers but also a lot about staying hydrated, eating healthy and most important protecting your skin from the harmful effects of the sun.
But this doesn't mean you need to stay indoors and enjoy your morning cuppa sitting in your balcony or cancel your travel plans. All you need to do is plan your summer in a way that the effect of the weather is minimal on the skin. Wondering how? Well, here are a few simple tips and tricks to get you started.
5 Tips To Protect Your Skin This Summer!
Suntan, dryness, and skin burns are some of the common skin problems that we face every summer. This summer protect your skin from the harmful effects of the sun by following these simple tips every day.
1. Accessorize right
It is not only during rains but summers as well that umbrellas should be taken out to give you a company and protect you from the sun's rays. While sunglasses are the best bet to protect your eyes from sun rays, wearing wide-brimmed hats also works wonders to deal with hot weather in summer. Even scarves and stoles can help you to beat the summer heat. All you have to do is wrap it around the head or tie it covering your face to protect your face and neck from the direct sunlight without compromising on your look. Moreover, scarves and stoles can up your style along with offering you protection in the hot weather.
2. Wear cool clothes
The hot weather calls for light-colored, cotton clothes. This fabric not only helps the skin to breathe but also keeps your body cool when the temperature outside is hot as hell. Opt for loose long sleeves and long skirts or pants as it offers better protection. If you are tempted to go sleeveless or wear shorts, don't forget to use the right sunscreen. You can also wear fabrics that wick moisture away from your skin when you exercise. Avoid wearing dark or tight clothes or fabrics that heat up your skin as it might lead to excessive sweating and make your skin prone to infections.
Healthy Skin Matters..!! Get Minimum 30% Discount On Skin Care Products.
3. Drink lots of water
It goes without saying that during summers you need to up your intake of fluids. This is because drinking more water not only prevents dehydration but also helps you to keep your skin healthy. You lose more water in summers because you sweat more during this time. Ideally, it is advised to drink around 2-3 liters of water per day. So make sure you increase your water intake and include more fluids in your diet like infused water, coconut water or buttermilk. You can also opt for fresh fruits so the heat doesn't take a toll on the skin. But do remember to stay away from carbonated beverages or sugar-sweetened drinks as it not only exerts a negative effect on the body but also affects your skin in the long run.
4. Moisturize your skin
Most of us believe that we need to moisturize our skin only during winters and not in summers, as it helps prevent dry skin. However, this is not true. The summer heat dehydrates the body, leaving your skin harsh and dry. As dry skin is more prone to damage and dullness, it is advised to moisturize the skin even in summers.
Pick a lotion-based moisturizer and apply it before hitting the bed to keep your skin healthy. Make sure you apply it on slightly wet skin, preferably after taking shower, as it helps in proper absorption of the moisturizer all over the skin. This not only hydrates the skin but also helps to minimize the effect of sun damage on the skin. So do not forget to include a moisturizer in your list of summer essentials the next time you go shopping.
5. Use sunscreen
Last but the most important skin care tip for summers is to use sunscreen. A must-to-have during summers, sunscreen offers protection against the harmful UV rays. The sun not only damages the skin but also puts you at risk of various skin problems such as dry skin, dark spots, suntan, and fine lines. So do not step out of the house without applying sunscreen to protect the skin from the harmful sun rays.
The American Academy of Dermatology[1] recommends a sunscreen that offers broad spectrum protection, which means it protects from both UV-A and UV-B radiation, has an SPF of 30 or higher and is water resistant. Apply it generously on the face and exposed parts of your skin to prevent sun damage. It is also advised to re-apply it every two hours if you spend most of your time outdoors,  play sports or exercise outdoors.
"Beautiful Skin Requires Commitment, Not A Miracle." Invest In Sunscreen. Click Here.
Do not forget to protect your lips during summers, which are most vulnerable to the harsh heat in summers. Lip care is mostly an afterthought in our skin care routine, especially during the summer. To take care of your lips during summers, make sure you use a lip balm without fail and buy one that has sunscreen in it. Also, avoid using matte lipstick as it tends to make your lips very dry during summers.
(The article is reviewed by Dr. Lalit Kanodia, General Physician)
Recommended Reads:
Oily Skin? 7 Effective Home Remedies You Must Try
7 Common Skin Care Myths You Should STOP Believing!
References:
1. How to apply sunscreen. The American Academy of Dermatology.