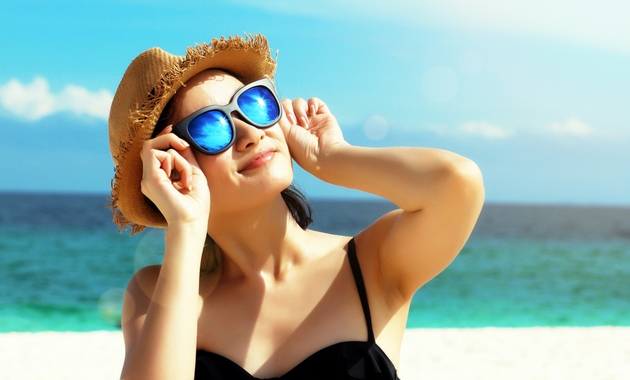 Summer is not just about fun vacations, weddings, and get-togethers but also a lot about staying hydrated, eating healthy and most important protecting your skin from the harmful effects of the sun. Here are a few simple tips and tricks to get you started.
5 Tips To Protect Your Skin This Summer!
1. Accessorize right
While sunglasses are the best bet to protect your eyes from sun rays, wearing wide-brimmed hats also works wonders to deal with hot weather in summer. Even scarves and stoles can help you to beat the summer heat. Moreover, scarves and stoles can up your style along with offering you protection in the hot weather.
2. Wear cool clothes
The hot weather calls for light-colored, cotton clothes. This fabric not only helps the skin to breathe but also keeps your body cool when the temperature outside is hot as hell. Opt for loose long sleeves and long skirts or pants as it offers better protection. If you are tempted to go sleeveless or wear shorts, don't forget to use the right sunscreen. 
Healthy Skin Matters..!! Get Minimum 30% Discount On Skin Care Products.
3. Drink lots of water
It goes without saying that during summers you need to up your intake of fluids. This is because drinking more water not only prevents dehydration but also helps you to keep your skin healthy. You lose more water in summers because you sweat more during this time. Ideally, it is advised to drink around 2-3 liters of water per day. 
4. Moisturize your skin
Pick a lotion-based moisturizer and apply it before hitting the bed to keep your skin healthy. Make sure you apply it on slightly wet skin, preferably after taking shower, as it helps in proper absorption of the moisturizer all over the skin. This not only hydrates the skin but also helps to minimize the effect of sun damage on the skin.
5. Use sunscreen
The American Academy of Dermatology[1] recommends a sunscreen that offers broad spectrum protection, which means it protects from both UV-A and UV-B radiation, has an SPF of 30 or higher and is water resistant. Apply it generously on the face and exposed parts of your skin to prevent sun damage. It is also advised to re-apply it every two hours if you spend most of your time outdoors,  play sports or exercise outdoors.
Do not forget to protect your lips during summers, which are most vulnerable to the harsh heat in summers. Lip care is mostly an afterthought in our skin care routine, especially during the summer. 
"Beautiful Skin Requires Commitment, Not A Miracle." Invest In Sunscreen. Click Here.
(The article is reviewed by Dr. Lalit Kanodia, General Physician)
Recommended Reads:
Oily Skin? 7 Effective Home Remedies You Must Try
7 Common Skin Care Myths You Should STOP Believing!
References:
1. How to apply sunscreen. The American Academy of Dermatology.