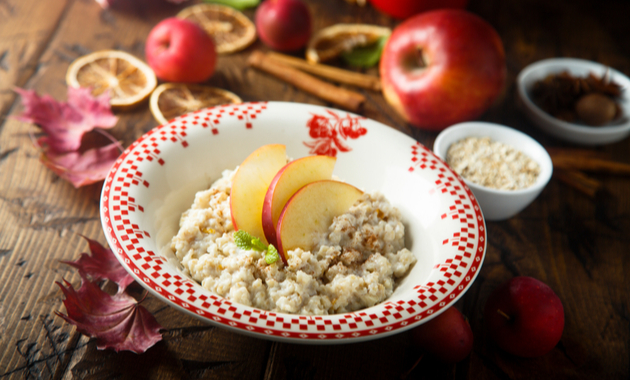 Scientifically known as Avena Sativa, oats are one of the most nutritious foods we have. Its richness in fiber, antioxidants, vitamins and minerals make it a super ingredient.
Certain studies that have evaluated the health benefits of whole-grain intake, including oats, have highlighted that its consumption can foster weight loss, improve heart health, provides blood sugar control and digestion[1].
However, as soon as we hear the word "oats", all we imagine is a bowl full of oats soaked in milk and perhaps garnished with some fresh fruits and dry fruits. Yum, delicious! 
Other than being the traditional breakfast cereal, oats also qualify as a great ingredient in several delicious yet healthy desserts. We're always skeptical about eating desserts. Well, you can be confident about this one. In fact, adding the right amount of sweetness and using low-fat milk can help you overcome your calorie woes.
So, why not break the monotony and create something new out of the same old ingredients?
Let's do it.
Here's What You Need
-¾ teacup plain white oats
-¾ teacup grated apple (unpeeled)
-½ tsp cinnamon powder
-3 teacups low-fat milk
-1 tablet of stevia or ½ teaspoon stevia powder (You can add sugar too. Just make sure the amount is healthy:1-2 teaspoon)
Consult with our nutritionists and dietician for customised diet plans, weight loss and more.
How To Prepare
1. Heat the milk in a deep non-stick pan and bring it to a boil.
2. Add oats, mix well and cook on a medium heat for 4-5 minutes. Stir continuously.
3. Remove from heat and add sugar substitute. Mix well and keep aside to cool.
Add apple and cinnamon powder. Mix well and refrigerate for at least 30 minutes. Serve chilled.
Nutrition Facts
1 teacup of oat apple phirni contains
– 112 calories (+10 cals if used sugar)
– 1.2 gm fats
– 19 gm carbohydrates (+2.5 gm carbs if used sugar)
– 7.6 gm protein
Other Health Benefits
– Whole oats contain a type of fiber called beta-glucan which takes longer to digest, increases satiety and suppresses appetite. This makes it a superfood for diabetics and people trying to lose weight.
Weight Loss Is 99% Mental And 1% Physical. Start Your Journey Today. Click Here.
– Oat flour can be a healthier substitute. If you wish to bake bread and cookies solely with this, you may not get the desired texture. So, consider mixing 1 part of oat flour to the 3 parts of regular flour to make sure your baked products get the perfect taste and texture.
– Finely ground oats can be used to prepare excellent face scrubs. Its coarse texture cleans and smoothens the skin. Skin products that contain oats can also be used to soothe eczema and other skin inflammations.
Not everything that's sweet is unhealthy. It's the ingredients and their amounts that matter. Make the most out of the age-old cereal. 
(The article is reviewed by Dr. Swati Mishra, Medical Editor)
Recommended Reads:
A Sample Diet Chart For Weight Loss From A Nutritionist
7 Tasty And Healthy Desi Thirst Quenchers You Must Try!
References:
1. Oats. Food Feature. Nutrition Source. Harvard Health. https://www.hsph.harvard.edu/nutritionsource/food-features/oats/