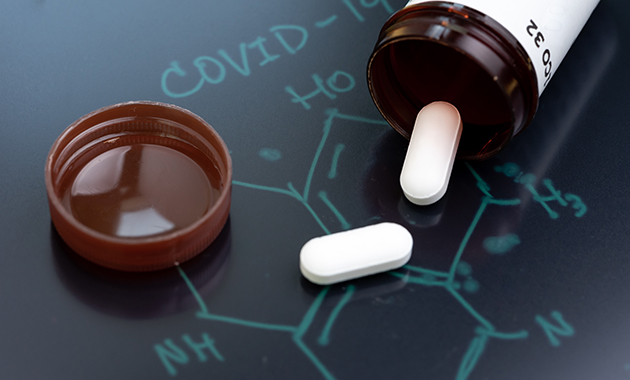 Antibody cocktail therapies have emerged as a treatment option to halt the progression of COVID-19 disease or to prevent serious COVID disease/hospitalization in high-risk individuals.
While a newly emerged, highly infectious variant, Omicron, is making us stay on alert, it is pivotal to understand what could be the role of existing antibody cocktails in this wave or who may actually need it? Let us elaborate on the concepts for you.
Antibody cocktails: What they are and how do they work?
Antibody cocktail is a mixture of two medicines belonging to a new drug class called human monoclonal antibody. These are prepared by recombinant DNA technology in the lab (a technology that uses enzymes to cut and paste together DNA sequences of interest).
Antibody cocktails are directed against the SARS-CoV-2 spike protein. They mimic the human antibodies and bind to different parts of the virus spike protein, thereby blocking the virus's attachment and entry into human cells.
As a result, the virus gets inhibited from infecting new cells, helping lower the risk of death, prevent severe complications, and reduce hospitalization cases in high-risk COVID-19 patients.
When should antibody cocktail be given?
Antibody cocktails need to be given only once. It is administered only under the supervision of a registered medical practitioner.
When using an antibody cocktail, treatment should be started as soon as possible after the patient receives a positive COVID result and within 10 days of symptom onset.[1]
Did you know?
The cost of antibody cocktail therapy is quite high. However, the Insurance Regulatory and Development Authority of India (Irdai) has directed health insurers to include this as part of the policy and to not reject COVID claims for antibody cocktail therapy as "experimental."
Approved antibody cocktails
Currently, two combination medicines (COVID antibody cocktails) have got approval for restricted use in emergency situations from the Central Drugs Standard Control Organization (CDSCO), the central licensing authority in India. The first is Casirivimab and Imdevimab and the other is Bamlanivimab and Etesevimab.
1. Casirivimab and Imdevimab
This medicine was approved by the U.S. Food and Drug Administration for emergency use on November 21, 2020.
India's Central Drugs Standard Control Organization (CDSCO), approved this medicine on May 03, 2021. This medicine is available only after a valid prescription by a registered medical practitioner.[2,3].
– Each pack of the antibody cocktail contains one vial of Casirivimab (1200 mg) and one vial of Imdevimab (1200 mg), making it a total of 2400 mg.
– Recommended dosage per patient is a combined dose of 1200 mg (600 mg of Casirivimab and 600 mg of Imdevimab). Therefore, each pack can be administered to two patients at once.
– It can be given into the veins (intravenously) or under the skin (subcutaneously). It takes about 20 to 30 minutes to complete the infusion.
– Patients should be monitored for at least 1 hour after the completion of the infusion and 15 to 30 minutes after the subcutaneous injection for any adverse drug reactions.
2. Bamlanivimab and Etesevimab
The U.S. Food and Drug Administration issued an emergency use authorization (EUA) for Bamlanivimab and Etesevimab on February 09, 2021.
Central Drugs Standard Control Organization (CDSCO) gave its approval on May 26, 2021.
– Bamlanivimab 700 mg and Etesevimab 1400 mg are administered together as a single intravenous infusion. The solution for infusion should be prepared by a healthcare professional using aseptic technique, abiding by the practices that prevent contamination.
– The doctor will administer both these medicines together as a single intravenous infusion over a duration of 20 to 60 minutes.
– Patients should be monitored for at least 1 hour after the completion of the infusion.
Indications of antibody cocktail
It can be used for the treatment of people with mild to moderate COVID-19 who are at high risk of developing severe COVID-19 disease or hospitalization [1,2,4].
High-risk groups include people:
– who are 65 years of age or older
– who have certain chronic medical conditions including diabetes, heart disease, chronic kidney disease, lung disease, obesity, etc.
Remember:
People with any one or two risk factors should discuss the use of antibody cocktail with their health care professional.
Who should not be given antibody cocktails?
Antibody cocktails should not be given to people who [2,4]
– Are hospitalized due to COVID-19
– Require oxygen therapy due to COVID-19, or those who are on chronic oxygen therapy due to underlying non-COVID-19-related comorbidity
– Require an increase in baseline oxygen flow rate due to COVID-19.
Note:
It has been seen that monoclonal antibodies may be associated with worse clinical outcomes when administered to COVID-19 hospitalized patients or those requiring high flow oxygen or mechanical ventilation [2]. So it has to be administered to patients with mild to moderate disease having one or two risk factors for possibility of a serious disease.
How effective are antibody cocktails against COVID variants
According to available data, antibody cocktails have reduced potency to fight the Omicron variant as compared to its efficacy against the Delta variant.[6]. More research and data is still evolving but It may be because Omicron variant has numerous mutations in the spike protein, the primary target of antibody cocktail therapies.
The bottom line
These antibody cocktails are highly promising candidate tools for the treatment of mild-to-moderate COVID cases that may be at high risk of developing severe COVID or getting hospitalized. Evidence around how antibody cocktails are helpful for newer variants is still emerging. However, it is important to remember that the antibody cocktails need to be taken under the doctor's supervision in a healthcare setting only after the evaluation of the case. You can definitely discuss your treatment options with your doctor, but let your medical care team be the guide around medicines. Never self-medicate.
(The article is written by Dr. Sachin Gupta (MBBS, MD) Medical Affairs Manager and reviewed by Dr. Varun Gupta, MBBS, MD (Pharmacology))
Recommended Reads
Omicron in Children: 5 Things Parents Must Know
Experiencing hair fall after COVID infection? Here's how to deal with it
Latest Updates On The Effectiveness Of COVID Treatments, Antiviral Therapy, And Vaccines Against COVID Variants
References
1. Central Drugs Standard Control Organisation. List of new drugs (r-DNA origin) approved for import and marketing in India for the Year 2021. [Accessed 12 Jan. 2022] (online) Available from: https://cdsco.gov.in/opencms/resources/UploadCDSCOWeb/2018/UploadBiologicalrDNA/FormCT-20%20forthe%20year202%20till02.07.2021.pdf
2. Fact Sheet for Health Care Providers Emergency Use Authorization (EUA) of Regen-COV® (Casirivimab and Imdevimab). Tarrytown, NY: Regeneron Pharmaceuticals, Inc.; Dec. 2021. [Accessed 12 Jan. 2022] (online) Available from: https://www.fda.gov/media/145611/download
3. Cipla. Mumbai, 24 May 2021. Press Releases Statements. Roche's Antibody Cocktail (Casirivimab and Imdevimab) is now available in India, Cipla to market it pan-India. [Accessed 12 Jan. 2022] (online) Available from: https://www.cipla.com/press-releases-statements/Roche-Cipla-announce-arrival-of-first-batch-of-antibody-cocktail-drug-Casirivimab-Imdevimab-India
4. Bamlanivimab and Etesevimab injection (Drug Label Information). Indianapolis, IN: Eli Lilly and Company; 2021. [Accessed 12 Jan. 2022] (online) Available from: https://dailymed.nlm.nih.gov/dailymed/drugInfo.cfm?setid=c7e9d8a6-e8c2-4681-9362-51d5bdbae00d#s19
5. Lilly. Emergency Use Authorization (EUA) for the Treatment or Post-Exposure Prophylaxis of COVID-19: Bamlanivimab Injection and Etesevimab Injection. [Accessed 12 Jan. 2022] (online) Available from: https://www.covid19.lilly.com/bam-ete/hcp
6. National Institute of Health. The COVID-19 Treatment Guidelines Panel's Statement on Therapies for High-Risk, Nonhospitalized Patients With Mild to Moderate COVID-19. [Last Updated 30 Dec. 2021]. [Accessed 12 Jan. 2022] (online) Available from: https://www.covid19treatmentguidelines.nih.gov/therapies/statement-on-therapies-for-high-risk-nonhospitalized-patients/