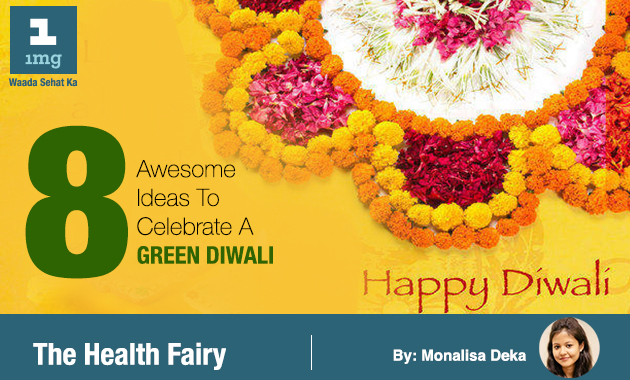 Mom, I love this season, I love to feel the festivity in the air. I love Diwali. But Mom, I am scared. I am scared to breathe the polluted air and get chocked again like last year. Also, I don't want my pet dog to get affected by the noise of the crackers, said little Tanya to her Mom.
There are many kids like Tanya as well as adults who are scared to face this festival which was once a beautiful festival of lights.
But you can definitely make a difference by choosing to celebrate Diwali somewhat differently this year. Not only in terms of bursting crackers, you can celebrate your Diwali responsibly with minimal environmental consequences. Wondering how? We have got you covered!
Here are some splendid ideas for you to celebrate an eco-friendly Diwali by spreading only love and happiness.
1. Burst hunger around you and not crackers
The Supreme Court's move to ban firecrackers in Delhi/NCR is indeed a great move to atleast prevent the rise in toxicity in the air. In support of this movement, this Diwali do something new. Give food to the needy preferably fresh and not leftovers. Their smile will definitely make your day this festival.
Detox your Lungs and Breathe easy. Shop effective products for your lungs at 1mg!
2. Go earthy
When you go to market for Diwali shopping, it is very difficult to resist yourself from buying those eye-catchy lights. But hold on to your urge. Why not buy earthen lamps and diyas? This will not only reduce the consumption of electricity, the flickering diyas will look prettier too. Wheat dough, clay, coconut shells and seashells are some beautiful options for DIY diyas. You can also use scented oil to combine the festivity with a bit of aromatherapy that can relax you.
3. Give a twist to your rangoli
Have you ever tried making a rangoli using colored pulses, turmeric powder, rice flour and red kumkum? If not, do try them this Diwali and see what a stunning rangoli you can design out of these. With pulses in your rangoli, it can also be food for small birds. Use fresh bright colored flowers like rose, chrysanthemums as well as leaves to bring in that lovely fragrance. You can use them the next day to make compost for your garden.
4. Green gifts
Give the sugar loaded sweet-boxes a miss this Diwali and instead gift a plant and set a new trend altogether. You can even choose jute bags, khadi clothes, hand-made candles and diyas, organic gift baskets, gourmet coffees and much more. You can also give an assorted basket of herbal products for personal care. Also, remember to pack your gifts in newspapers instead of shiny plastic wraps.
5. Donate to the needy
Run through your wardrobe. You may find atleast few pair of clothes that no longer fit you or you don't wear anymore. Gift them to people who cannot afford to buy clothes. Not only clothes, you can even donate accessories/shoes and even the extra gifts you may receive on Diwali. This Diwali, give the needy a reason to smile which is far bright than any festive light.
6. How about some home-made sweets?
This Diwali, how about making some healthier and tastier sweets and savories at home instead of buying those calorie loaded sweets from shops? You can opt for the humble and simple kheer that needs just milk, rice and some sugar. Or go for the delicious gajar halwa – packed with nutrients and mouth-watering taste.
Take Care Of Your Life. Don't Let Diabetes Control You. Click Here.
7. Give an eco-friendly touch to your party
Planning a Diwali party at home and thinking to do something out of the box? Then surprise your guests by serving delicacies on earthenware and biodegradable utensils. This saves you from the hassles of washing those ultra expensive crockeries later and also from using those plastic disposable plates and glasses. Welcome drinks and tea served in kullads and food served on banana leaves or bamboo leaf plates are great ways to give an eco-friendly touch to your party!
8. Carry your own shopping bags
Shopping, shopping and loads of shopping! That also means carrying home not just what you have shopped but also the plastic bags they would be stuffed in. Do the environment some favor and carry your own bags next time you head for shopping.
**Consult India's best doctors here**
This Diwali, don't just increase pollution, diabetes and your credit card bills. Spread love, make someone smile and save your planet. "Team 1mg wishes everyone a happy, clean and a safe Diwali"
Recommended Reads:
Simple Tips To Keep Your Heart Healthy This Diwali!
8 Ways To Cope With Respiratory Allergies During Diwali