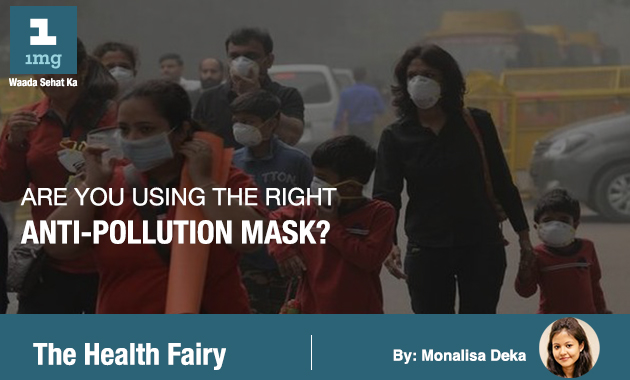 Air pollution is indeed rising at an alarming rate, especially in Delhi and the surrounding area, with people breathing in the most toxic air. While staying indoors is one of the solutions, for office goers and school children, it is not a feasible option. And wandering in the polluted air without any protection can increase the risk of various health problems. This is when investing in an anti-pollution mask or a nasal filter is the best bet!
Most people think of covering the face with a shawl or a handkerchief to stay protected rather than picking these mask. To clear all your doubts on anti-pollution masks and tips to prevent air pollution, read this!
Protect yourself with Respirator Masks. Buy now!!
1. Surgical face-masks
The next most accessible and affordable option would be using a simple surgical mask. Although they help in blocking very small particles in the air transmitted through a cough and sneeze, they cannot be used as an alternative to an air pollution mask. This is because of the size and the loose fit between the surface of the face mask and your face.
2. N-95 and N-99 anti-pollution mask
These anti-pollution masks are designed to achieve a very close facial fit and efficient filtration of harmful pollutants in the air and are also called as respirators. Although a little expensive but has good functionality. There are a variety of anti-pollution masks and you need to know which one you should buy based on the level of toxicity in the air in your city. These masks are available in both disposable and reusable varieties.
Detox your Lungs and Breathe easy. Shop effective products for your lungs at 1mg!
a) N-95 Anti-pollution mask
-The 'N-95' label means that the filter blocks at least 95% of very small (0.3 microns) particles or PM2.5 particulate matter, which tends to stay longer in the air and is thus more likely to be inhaled.
-However, these do not filter out oil and oil-based pollutants.
b) N-99 Anti-pollution mask
-Anti-pollution masks with N-99 label are capable of filtering out PM2.5 airborne particulate matter with up to 99 percent efficiency.
-Like N-95 air masks, N-99 masks do not filter out oil and oil-based pollutants.
-Little expensive than an N-95 air mask.
Note:  N-masks are not useful in filtering out oil and oil-based pollutants. So, if you are staying near an industrial area with high oil-based PM 2.5 concentration, then N-masks will not be helpful. In such a case, you can choose P-95 or R-95, both of which can filter out oil and oil-based pollutants.
Next day delivery of anti-pollution masks in Delhi NCR. Order NOW!
3. Nasal Filters
Nasal filters, as the name suggests, are discreet wearable filters to be placed in the nose. These filters protect you from breathing polluted air and airborne microbes and ensure you breathe clean air wherever you are. The filters are designed to trap particulate pollutants such as PM 2.5, PM 10, vehicle exhaust, dust, pollen, viruses and bacteria. These filters are available for all age groups and in different sizes. 
Click Here To Buy Nasal Filters For Your Family!
4. Stoles/Shawls
So you think covering your face with multiple layers of clothes, shawl or stole on your face and feel very safe, but you are not! No kind of simple cloth will save you from the poison in the air. So before packing yourself think twice!
5. Handkerchiefs
Some people do believe that covering the nose with a handkerchief can prevent pollution. But does it really work? Well, the answer is No. Handkerchief is simply a plain cloth that won't give you any protection as it is not effective in filtering out the harmful pollutants in the air.
Which is the best anti-pollution mask?
Anti-pollution masks are flooded in the market but buying the one that can protect you from the harmful effects of air pollution is a bit tricky. The common types of masks which are available are:
A) Vogmask: Vogmasks are N-99 rated and can filter 99% of particulates as small as 0.3 microns. They are the highest filtering face mask available for non-oil borne particles and are expensive. Although they are reusable, the shelf life of the mask reduces in severe conditions of air pollution. These masks are known to be fashion-friendly. It has an N99 filter layer, carbon filter, and exhale valve, which helps to filter most of the pollutants present in the air.
B) Atlanta Cambridge mask: Atlanta Cambridge masks are available in the N-99 variant in India. These filters out pollution particulates in the air such as PM10, PM2.5, and PM0.3 as well as bacteria and viruses. They are reusable in nature. 
C) Dettol Siti anti-pollution mask: Dettol Siti anti-pollution mask is N-95 rated and is suitable for non-oil-based PM 2.5 like dust, mist, and other small particulates. It has a smart valve inside which provides a seamless outflow of exhaled air with better comfort. It has a 5 in 1 filtration process system which can prevent dust, pollen, bacteria, PM2.5, and vehicular exhaust, thus protecting against the harmful effects of pollution. It can be used by the entire family as it is also designed and tested to fit children above 7 years of age.
Some quick tips:
i) Selection of the right size of the mask: The masks should be well-fitted on your face without leaving any gaps at the sides to allow entry of any particulate matter. 
ii) Proper usage of the mask: Masks which are reusable must be cleaned and stored properly when not in use. After cleaning with a wet cloth it needs to be air-dried properly to avoid becoming infected with pathogens. Try not to contaminate the mask with your hands, and while removing make sure your hands are clean and sanitized. It is recommended not to use masks for a prolonged period of time
iii) Proper disposal of masks: Dispose of used masks by carefully placing it in a plastic bag before putting in the trash can. Wash your hands after handling the used mask.
iv) When not to use a mask: You are advised to consult a doctor before using any anti-pollution mask if you have any of the below conditions:
-Suffering from any kind of respiratory diseases like asthma, COPD.
-If you are pregnant.
-If you feel breathlessness or dizziness after wearing the mask.
Some important points to keep in mind when buying a mask:
–The mask you buy must be N-95 or N-99.
-Preferably buy masks that have a strap to tighten around your face.
-Buy masks that have a CO2 vent in order to let go of the CO2 released when exhaling.
So which anti-pollution mask are you using to save yourself from the rising pollution levels?