Bhi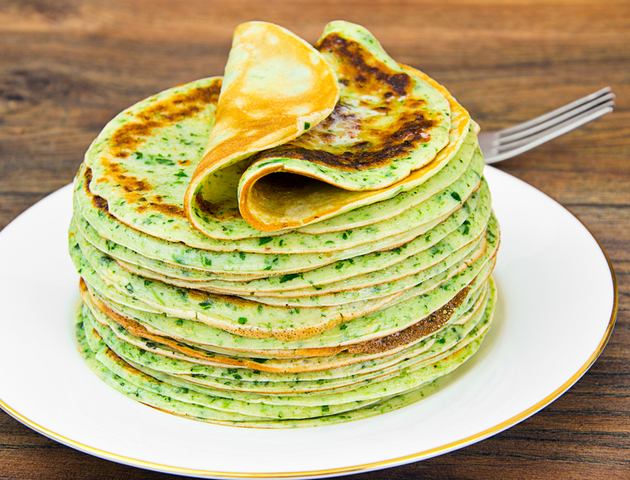 Breakfast is the most important meal of the day. Why? Because it is the first meal of the day which is consumed after a night-long period of fasting. Not having breakfast shortly after waking up can strain your body and cause insulin resistance. A healthy breakfast can also help kickstart your metabolism better than lunch and dinner[1]. As per statistics, people who eat breakfast are about a third less likely to be overweight or obese and tend to be more successful in maintaining weight loss after dieting[1].
Weight Loss Is 99% Mental And 1% Physical. Start Your Journey Today. Click Here.
Other than this, eating breakfast has also been seen to aid weight management, enhance brain performance and reduce risks of cardiac diseases and diabetes[2].
Aloo paranthas, paneer paranthas, pyaaz parantha and similar things have been the favorite Indian breakfast for long. Why not try something newer and healthier this time? We've all heard of pancakes and might have also seen people sharing stories of making banana pancakes, apple pancakes, etc. in the lockdown.
Today, let's try our hands on the desi version of pancake that is made from vegetables and oats. Let's introduce you to the all desi vegetable oat pancake.
Here's what you need: (For 1 serving)
– ⅛ cup oats flour
– 1 tbsp grated carrot
– 1 tbsp finely chopped spinach
– ¼ tbsp finely chopped coriander
– ¼ tsp finely chopped green chilies
– Salt to taste
– ½ tsp oil for greasing and cooking
How to prepare:
1. In a deep bowl, mix all the ingredients together with 1 cup of water to form a batter of dropping consistency.
2. Heat a non-stick tawa and grease it using ½ tsp oil.
3. Pour a spoonful of batter on it and spread it circularly to make a 100 mm round circle.
4. Cook on a low or medium flame using ¼ tsp oil till it turns light brown in color from both sides.
5. Serve with green chutney.
Nutrition Facts:
– Energy: 69 cal
– Protein: 2 g
– Carbohydrate: 7.9 g
– Fiber: 1.6 g
– Fat: 3.4 g
Consult with our nutritionists and dietician for customized diet plans, weight loss and more.
Benefits of the desi vegetable oat pancake:
1. Loaded with green and colorful vegetables, this recipe is low on calories and high in fiber. Fresh vegetables are also full of vitamins, especially Vitamin A and C, minerals, electrolytes, and phytochemicals that have antioxidant and anti-inflammatory properties[3].
2. The recipe uses carrots and dietary recommendations suggest that along with including dark green leafy vegetables, people must also eat red or orange vegetables. These vegetables are rich in carotenoids which help prevent eye diseases and even certain cancers [4].
3. The use of oat flour gives this recipe a boost of nutrition as it is rich in fiber content which ensures you stay full for a longer duration of time. This further prevents you from overeating or munching snacks [5].
4. The recipe contains spinach which is famous for being rich in Vitamin K, lutein, folate and beta carotene which are called brain-healthy nutrients as they help slow down cognitive decline[6]. Not just this, being rich in lutein allows spinach to promote eye health.
Having a healthy breakfast keeps you rejuvenated throughout the day and including a fiber-rich meal in your breakfast will definitely boost your weight management goals. Do try our desi vegetable oat pancake and devour the taste of health.
(The article is reviewed by Dr. Swati Mishra, Medical Editor)
Recommended Reads:
A Sample Diet Chart For Weight Loss From A Nutritionist
Top 10 Superfoods You Must Know About!
Healthy Recipe: Snack On Moong Sprout And Spring Onion Tikki
References:
1. Breakfast and beyond: The case for a healthy morning meal. Harvard Health Publishing. https://www.health.harvard.edu/nutrition/breakfast-and-beyond-the-case-for-a-healthy-morning-meal#:~:text=%22Quite%20simply%2C%20eating%20breakfast%20supports,strongly%20than%20lunch%20or%20dinner.
2. Michael J. Gibney, Susan I. Barr, France Bellisle, et al. Breakfast in Human Nutrition: The International Breakfast Research Initiative. Nutrients. 2018 May; 10(5): 559. https://www.ncbi.nlm.nih.gov/pmc/articles/PMC5986439/
3. Joanne L. Slavin and Beate Lloyd. Health Benefits of Fruits and Vegetables. Adv Nutr. 2012 Jul; 3(4): 506–516. https://www.ncbi.nlm.nih.gov/pmc/articles/PMC3649719/#:~:text=Additionally%2C%20fruits%20and%20vegetables%20supply,antioxidants%2C%20phytoestrogens%2C%20and%20antiinflammatory%20agents
4. Elizabeth J Johnson. The Role of Carotenoids in Human Health. Nutr Clin Care. Mar-Apr 2002;5(2):56-65. https://pubmed.ncbi.nlm.nih.gov/12134711/
5. Oats. The Nutrition Source. Harvard T.H. Chan School of Public Health. https://www.hsph.harvard.edu/nutritionsource/food-features/oats/
6. Foods Linked to Better Brain Power. Harvard Health Publishing. https://www.health.harvard.edu/mind-and-mood/foods-linked-to-better-brainpower#:~:text=Leafy%20greens%20such%20as%20kale,may%20help%20slow%20cognitive%20decline.