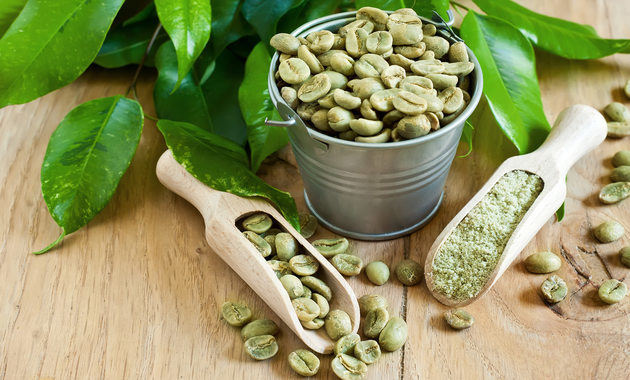 Green Coffee Bean extract is probably the most popular weight loss supplement at the moment. Coffee beans when picked are green and turn brown after they are roasted. Chlorogenic Acid, the main component of green coffee beans, is believed to be responsible for weight loss.
How Does Chlorogenic Acid Work?
Chlorogenic Acid works in 4 ways:
-Reduces the absorption of carbohydrates from the digestive tract which lowers blood sugar and insulin abnormalities.
-Reduces fat absorbed from your diet.
-Reduces fat stored in your liver.
-Improves the functioning of a fat burning hormone called adiponectin.
HEALTH BENEFITS OF GREEN COFFEE
Some health benefits of Green Coffee are:
1 . High In Anti-oxidants
-Green Coffee is high in ORAC value, which is a measure of the level of antioxidants. Antioxidant properties reduce aging effects and also help with digestion, skin problems and improve overall well being.
2 . Reduces Blood Pressure 
-Chlorogenic acid in Green Coffee Beans helps reduce blood pressure and lowers your risk of diabetes as well.
3 . Boosts Metabolism 
-Studies have shown that coffee particular green coffee boosts your metabolism and this helps with burning fat and gives you more energy in a day.
4 . Regulates Insulin Levels 
-Since Green Coffee reduces glucose in the blood and regulates insulin levels you are less likely to get sugar cravings, which is super helpful when you're trying to shed those pounds.
5 . Low In Caffeine 
-It contains less caffeine than roasted coffee and as such better for you, but be sure to get a raw green coffee bean extract (free from adulterants) when you purchase your supplement.
While Green Coffee extract may help you reach your goals make sure you accompany its use with diet changes and exercise for best results. It is important that you do not solely rely on green coffee to help you drop the pounds, as no such magic potion exists! Eat Healthy, Stay Happy with 1mg!