DELISPRIN 75MG TABLET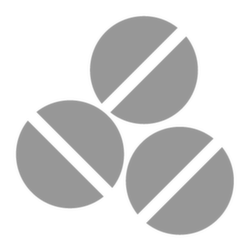 MRP: Rs.
3.95
for 1 strip(s) (14 tablets each)
Drug interaction for DELISPRIN
Take it empty stomach (1 hour before meals or 2 hour after food)
Taking Aspirin with alcohol increases the associated risk of stomach bleeding.
UNSAFE
Weigh benefit versus risk during pregnancy. Consult your doctor.
UNSAFE
Unsafe during breast-feeding. Consult your doctor.
UNSAFE
SALT INFORMATION for DELISPRIN
Aspirin(ASA)(75mg)
Uses
Aspirin is used to treat pain including headache, migraine, neuralgia, toothache, sore throat, pain in joints, period pains and to reduce fever. It is also used as an anti-platelet agent (blood thinner) to decrease chances of heart attack in patients.
How it works
Aspirin (acetyl salicylic acid) is a nonsteroidal anti-inflammatory drug. Aspirin reduces the production of a chemical (prostaglandin) in the body by blocking the enzyme that makes prostaglandins (cyclooxygenase). Therefore, swelling, pain, and fever are reduced. This also helps in blood thinning and in preventing clotting.
Common side effects
Nausea, Bronchoconstriction (constriction of air passages), Angioedema (swelling of deeper layers of skin), Bleeding, Cerebral hemorrhage, Dizziness, Shortness of breath, Gastrointestinal discomfort, Gastric erosion, Gastric ulcer, Gastrointestinal bleeding, Hepatitis (viral infection of liver), Enlarged liver, Indigestion, Respiratory alkalosis, Running nose, Ringing in ear, Urticaria, Vertigo, Vomiting
SUBSTITUTES for DELISPRIN
Expert advice for DELISPRIN
• Take the drug with food to lower the chances of an upset stomach
• Consult your doctor if you have ringing in ears, unusual bleeding or nausea or vomitting after taking this drug
• Do not take this drug if you have or had stomach ulcer.
• Do not start or continue the aspirin tablets and consult your doctor:
- If you are allergic (hypersensitive) to aspirin or any of the other ingredients of aspirin tablet.
- If you have history of asthma, urticarial, rhinitis, hay fever, chronic respiratory diseases,nasal polyps or other sensitivity reaction precipitated by other non-steroidal anti-inflammatory agents.
Frequently asked questions for DELISPRINAspirin(ASA)
Q. Is aspirin/disprin banned in India and USA?
No. Aspirin/disprin (dispersible aspirin tablet) is a prescribing drug in many countries including India and USA.
Q. Is aspirin same as disprin, ecosprin and loprin?
Yes. All the three brands (disprin, ecosprin and loprin) contain aspirin (acetylsalicylic acid) as main ingredient.
Q. Is ecosprin a beta blocker?
No. Ecosprin (aspirin) is a non-steroidal anti-inflammatory drug.
Q. Why is ecosprin (75 mg)/loprin (75mg) used during pregnancy?
Ecosprin and lopin could be recommended for pregnancy-induced hypertension (PIH) and preeclampsia in pregnant women. Low-dose aspirin therapy is safe during pregnancy, and its benefits for you if you have condition called Hughes Syndrome (anti-phospholipid syndrome or APS), it means you are more prone to developing blood clots, and this can lead to miscarriage.Patients should follow the advice of the doctor regarding its use.
Q. Is aspirin (75mg)/ecospirin (75mg)/loprin (75mg) safe during lactation?
Drugs should be given only if the potential benefit justifies the potential risk to the infant. Patients should follow the advice of the doctor regarding its use.
Q. Is aspirin/disprin good for hangover?
No. However, alcohol consumption with aspirin increases the risk of bleeding.
Q. Is ecosprin a blood thinner?
Yes. Ecosprin (aspirin) reduces the effect of certain chemical messenger systems in the body. These compounds are responsible for platelet (thrombocyte) aggregation or blood clotting. Consequently, Aspirin may considerably reduce the risk of clots.
Q. Is aspirin/dispirin good for heart?
Yes. Aspirin at low dose generally prescribed to prevent and treat heart attacks. Patient should take a daily aspirin only if your doctor advises you to do so.
Q. Is aspirin good for hair growth?
No. Aspirin has no role on hair growth.
Q. Is aspirin safe?
Aspirin is safe if used at prescribed doses for the prescribed duration as advised by your doctor.
Top Medicines Prescribed with DELISPRIN 75MG TABLET
Articles