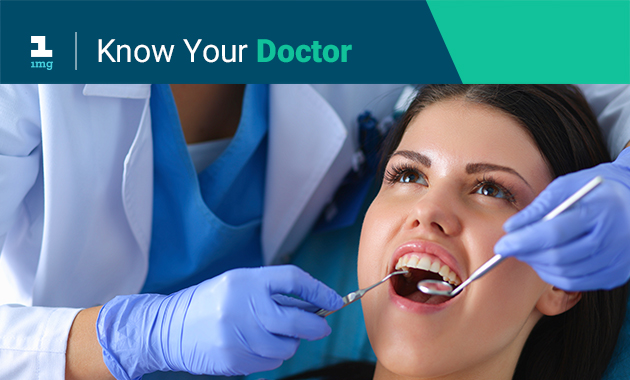 Who is the right specialist to go for regular dental clean-ups?
Whom should you get in touch for root canal?
Which dental specialist is best for treating gum disease?
Well, there is no single dental specialist for all oral and dental problems but different specialists who are experienced in their respective field. As a part of our know your doctor series, we will be explaining the different types of dentists and the types of teeth related issues they treat.
General dentist: He is best known as your family dentist. This type of dentist can help in the diagnosis of dental problems, treat minor problems and keep your teeth healthy. He is the one who you need to visit for these common dental procedures:
Dental cleaning
Dental X-rays
Teeth extractions
Gum care
Dental fillings
Dental crowns
Dental bridges
Veneers
Sealants
Oral disease
Endodontist: They deal with dental problems that affect the pulp and nerve of a teeth. So if your tooth has been damaged, inflamed, rotten or injured, then your dentist will refer to an endodontist to perform:
Root canal procedures
Surgical root procedures
Orthodontist: They are the experts who specialize in the diagnosis, treatment and prevention of teeth problems related to misaligned teeth, jaw bones and other supporting facial structure. They also improve deformed teeth and spacing issues. These experts basically help to improve a patient's smile and bite with the help of:
Braces
Dental alignment trays
Mouth-guards
Headgear
Retainers
Dental appliances
Pediatric dentist/Pedodontist: They specialize in dental care for infants and children. Similar to general dentist, but this type of dentist focuses on cleaning teeth and treating dental problems in children (including young infants).
Periodontist: These dentists are experts who diagnose, treat and prevent diseases that affect the supporting structures of teeth i.e., the soft tissues within the mouth such as the gums and the jaw bones. This includes:
Gum pain
Severe gum inflammation
Dental implants
Gum disease (Periodontitis)
Gingivitis
Prosthodontist: As the name suggests, these dental specialist are responsible for providing oral prosthetics for damaged, decayed and missing teeth. You can get in touch with prosthodontist for these issues:
Dentures
Replacement implants
Bridges
Crowns
Caps
Veneers
Teeth whitening
Teeth repair and replacement
Teeth gaps
Oral pathologist: He is the expert who can help in the diagnosis of various oral diseases that affect the jaws, lips, teeth, mouth and cheeks. Once diagnosed with the problem, you can get in touch with the right expert to treat it.
**Consult India's best doctors here**
Oral and maxillofacial surgeon: It is a surgical specialty. These dentists specialize in treating many diseases, injuries and defects affecting the hard and soft tissues of the mouth such as gums, cheeks, tongue, facial tissues and jaw bone. You may be referred to this specialist following:
Facial injuries
Wisdom teeth removal
Jaw disorder
Reconstructive surgery
Dental implants
Oral radiologist: Also known as dental radiologist, is a specialty of dentistry that is concerned with examination and interpretation of diagnostic imaging techniques. These experts deal with X-rays and other radiological examinations of cranio-facial, dental and adjacent structures.
(The Article is Reviewed by Dr. Anita Anchan, Dentist)
Recommended Reads:
Say No To Dental Caries With These Healthy Foods
Suffering From Dry Mouth? You Should Not Ignore It