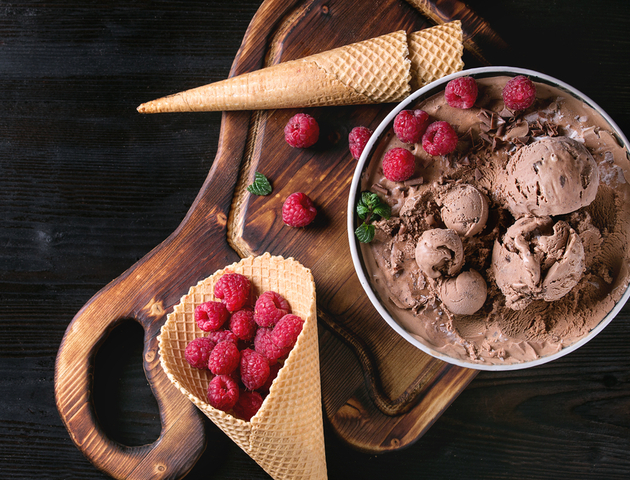 Ice-creams are irreplaceable. A scoop of cold, creamy ice-cream on a hot summer day is uncomparably blissful. But, treating on a packaged ice-cream may not be as healthy as treating on a home-made one. Why? Well, the packaged one may be full of added sugars, fats, calories or sodium that can harm your health.
So, how can you enjoy your scoop of ice-cream without being worried about your health? The answer is: make your own ice-cream. To get you going, we've got an amazing recipe for you. This summer, serve the chocolate and greek yogurt ice-cream to everyone in your family.
Here's what you'll need
– ¾ cup unsweetened greek yogurt/hung curd
– 1 tsp unsweetened cocoa powder
– 2 cups almond milk/skimmed milk
– 1 tsp vanilla extract
– 1 tsp stevia powder. You can add sugar if you want. Make sure to limit the amount to 1-2 tsp.
– 3-4 almonds
– 3-4 berries
How to prepare
1. Blend the yogurt/hung curd, cocoa powder, stevia, almond milk thoroughly.
2. Place in your freezer or ice cream machine.
3. If using a freezer, take out the ice cream after an hour and turn it over gently with a spoon to avoid it from becoming one big ice block.
4. Repeat the previous step every 30 minutes until the ice cream has the right consistency (it should take about 2 hours total).
Consult our team of expert dieticians to get personalized diet plans as per your needs.
1mg Tip
– Garnish the chocolate and greek yogurt ice-cream with berries and almonds.
– 5-10 minutes before serving, take out the ice cream from the freezer and let it soften up a bit.
Nutrition Facts
1 cup contains
– Energy: 127 calories (+10 cal if used sugar)
– Fats: 2.2 gm
– Carbohydrates: 8 gm (+2.5 carbs if used sugar)
– Protein: 12 gm
Let's list down the benefits of the ingredients
1. Yogurt or hung curd are probiotics which increase the number of good bacteria in your gut and help improve your digestion. It helps prevent bowel problems and improve immunity. It is great for people who are lactose intolerant and also helps treat postmenopausal disorders[1]. It is rich in calcium, zinc, protein and all forms of vitamin B. It also controls the cholesterol levels and has antihypertensive properties[2].
2. Cocoa powder contains flavanols that have been seen to help fight cell damage, lower blood pressure and improve blood flow to the brain, improving brain function and also enhance the blood flow to the heart, preventing blood clots. Cocoa protects brain cells from toxins and facilitates connections.[3]
Give your mind the care it deserves with our mental wellness range.
3. Almond milk and skimmed milk are healthier and low-fat alternatives of whole milk. Almond milk contains unsaturated fats which are excellent for your health. It is easily digestible, making it an ideal choice for people who cannot consume dairy products due to lactose intolerance. These alternatives of whole milk contain all its benefits of milk but are just healthier as they're low in calories and fats.[4]
4. Almonds are abundant in vitamin E, healthy fats, fiber, calcium, biotin, magnesium, phosphorus, copper and phytonutrients like flavonoids. Though they are calorie-dense, they don't cause weight gain. Including almonds in your diet can help lower the bad cholesterol levels and reduce the risk of heart diseases. Almonds have high antioxidant and anti-inflammatory effects.
Including so many healthy ingredients in a single cup of this chocolate and greek yogurt ice-cream will definitely raise your confidence and let you enjoy your scoop without any worries. Make sure to enjoy the summers with your family with this recipe in hand.
Happy summers!
(The article is reviewed by Dr. Swati Mishra, Medical Editor)
Recommended Reads:
5 Superhealthy Summer Drinks You Can Make At Home
Top 10 Superfoods You Must Know About!
Healthy Recipes: Healthy and Cool Summer Drink, Minty Cucumber Cooler Drink
References:
1. Naglaa Hani El-Abbadi, Maria Carlota Dao, and Simin Nikbin Meydani. Yogurt: role in healthy and active aging. Am J Clin Nutr. 2014 May; 99(5): 1263S–1270S. https://www.ncbi.nlm.nih.gov/pmc/articles/PMC6410895/
2. Lye Huey Shi, Kunasundari Balakrishnan, Kokila Thiagarajah, et al. Beneficial Properties of Probiotics. Trop Life Sci Res. 2016 Aug; 27(2): 73–90. https://www.ncbi.nlm.nih.gov/pmc/articles/PMC5031164/
3. Cocoa: a sweet treat for the brain? Harvard Health Publishing. https://www.health.harvard.edu/blog/cocoa-sweet-treat-brain-201502057676
4. In search of a milk alternative. Harvard Health Publishing. https://www.health.harvard.edu/staying-healthy/in-search-of-a-milk-alternative#:~:text=They%20are%20low%20in%20calories,to%20look%20for%20fortified%20versions.