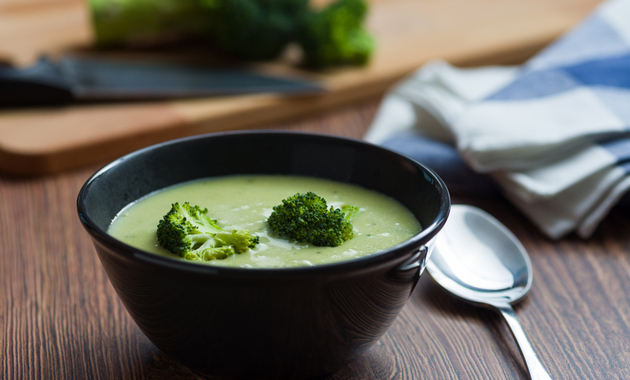 Winter season is full of most exotic vegetables. One such vegetable is broccoli. There are a variety of ways to consume broccoli, but the best way to consume this winter vegetable is in the form of soups or hot meals. Broccoli can keep you healthy and warm throughout the winters.
Including seasonal vegetables in your diet regularly has a significant benefit on your health since they're less exposed to fertilizers compared to unseasonal ones. Hence, eating broccoli generously every day throughout the winter season will show fantastic improvements in your health.
Here's a healthy broccoli soup recipe that is rich in good bacteria and will keep you warm, healthy and energized throughout the foggy days. Due to its high content of good gut bacteria, it acts as a very good source of probiotic.
Consult our team of expert dieticians to get personalized diet plans as per your needs.
Here's what you need to make Broccoli Soup (1 medium bowl)
– 1 cup chopped Broccoli
– 2 cups of water or vegetable stock (enhances nutrient value)
– ½ onion, cut really fine
– ¼ sweet potato, cubed. Adds great taste and texture to the soup
– ½ cups cooked brown rice
– ½ tbsp miso – always use the lighter miso for children as darker versions have stronger taste
Use some steamed broccoli florets, chopped into small pieces, for garnishing.
How to prepare Broccoli Soup:
1. Add broccoli, sweet potato and onion to the water/vegetable stock and bring to a boil (or pressure-cook).
2.Cover and simmer for ten minutes.
3. After vegetables are tender, cool the liquid and use a hand blender to mix in the brown rice.
4. This is an especially good technique to camouflage the brown rice for children and get it into their diet. 
5. Mix ½ tablespoons of miso in the soup (by mixing separately in a cup and adding to soup).
Garnish with broccoli.
Nutrition facts:
-Energy: 32 cal
-Carbohydrates: 3.6 g
-Protein: 1.7 g
-Fat: 1.3 g
-Fibre: 0.4 g
Benefits of the ingredients used in broccoli soup:
– Miso: Miso is a fermented paste made out of soybean and a mold called Koji. Being a fermented food, miso is a rich and potent source of probiotics. It is because of this that including miso in your diet can help in developing and enhancing a balanced gut microflora. It is also an excellent source of minerals, vitamin B, vitamin K and folic acid [3].
Don't let your body fall short of these vital elements. Explore our Vitamin A-Z range NOW.
– Vegetable Stock: Adding vegetable stock to soup has several benefits, one of which is that it adds flavor to the soup. Apart from this, vegetable stock is loaded with minerals, phytochemicals and antioxidants and has anti-inflammatory properties. All these together help make vegetable stock as well as the soup a healthy, nutrient-rich food choice [1].
– Brown Rice: Brown rice has anti-diabetic, anti-cholesterol, cardioprotective and antioxidant properties. It is also high in soluble fiber, and hence, helps in weight management. Brown rice is an excellent source of B vitamins, folic acid, iron, magnesium and selenium [2].
– Broccoli: Broccoli is a power-packed vegetable and is rich in several vitamins and minerals. Because of its high antioxidant and fiber content, it helps in managing blood sugars, aids in digestion and prevents constipation. Broccolis are a rich source of vitamin C and other trace minerals and are popular for being the most protein-rich vegetable of the vegan kingdom [2][3].
– Sweet Potato: Sweet potatoes are an excellent source of soluble fiber, calcium, selenium, vitamin A and vitamin C. It is one of the most potent vegetables used for the treatment of vitamin A deficiency [4].
– Onion: Onion is considered civilization's one of the oldest medicines. It is the richest source of quercetin, a potent antioxidant. It thins the blood, lowers cholesterol, raises HDL.
Takeaway:
Sip your hot broccoli soup and sail through the winters at a full swing in a state of good health and spirit.
(The article is reviewed by Dr. Swati Mishra, Medical Editor)
References: 
1. Ravichanthiran K, Ma Z, Zhang H et al. Phytochemical Profile of Brown Rice and Its Nutrigenomic Implications. Antioxidants. 2018;7(6):71.
2. Hwang J, Lim S. Antioxidant and Anticancer Activities of Broccoli By-Products from Different Cultivars and Maturity Stages at Harvest. Preventive Nutrition and Food Science. 2015;20(1):8-14.
3. WATANABE H. Beneficial Biological Effects of Miso with Reference to Radiation Injury, Cancer and Hypertension. Journal of Toxicologic Pathology. 2013;26(2):91-103.
4. Sweet Potatoes [Internet]. The Nutrition Source. 2020. Available from: https://www.hsph.harvard.edu/nutritionsource/food-features/sweet-potatoes/