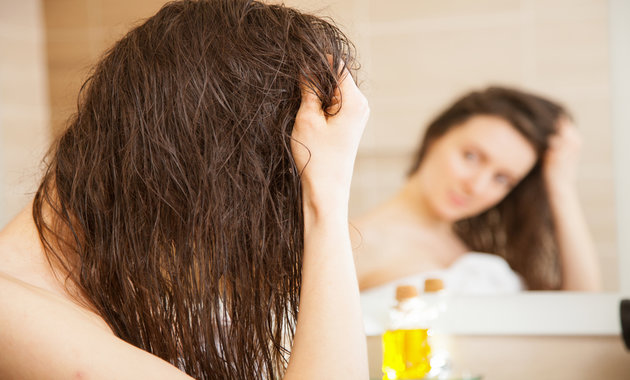 A lot of people rely on Ayurvedic remedies for treating hair fall.This traditional practice has many power packed secrets that can help you with hair related problems.  According to Ayurveda, hormonal imbalances, stress, improper sleep, dandruff or fungal infection can all lead to hair fall.
Here are some herbs that can help you fight hairfall:
1 . BRINGARAJ
Bringaraj has rejuvenating properties that stop hair fall and promote hair growth. It is available in powdered form and as oil.  It has a calming effect when applied on the scalp and promotes better sleep.
-Make a paste of Bringaraj leaves and apply it on the scalp before washing it off.
-Take a pack of dried Bringaraj, steep 5 to 6 tablespoons in warm water and apply the paste for 20 minutes on the scalp before washing it off. Do this on a regular basis to stop hair fall.
-Bringaraj oil, also readily available in the market, can also be applied onto the scalp and left overnight. Shampoo it off in the morning with lukewarm water.
2 . AMLA
Amla or Indian gooseberry is an excellent ayurvedic solution to treat hair fall. It prevents dandruff and is a rich conditioner.  Amla is rich in Vitamin C which cures many hair problems from within.
-Mix powdered amla and water to make a paste and apply it to your scalp.
-Make a paste of amla and shikakai powder with warm water and leave it overnight. Next morning apply it on your scalp and leave it for 30 minutes before washing it off with a mild shampoo.
3 . NEEM
Regular use of neem on the scalp improves blood circulation and strengthens hair roots which prevents hair loss. Neem is also used to reduce dandruff and scalp itchiness.
-Boil neem leaves in water and prepare a hair rinse. Strain it and use it after shampooing.
-Make a paste of neem powder and warm water. Apply on the scalp and leave it for 30 minutes before shampooing.
-Mix neem oil with coconut or olive oil and apply on the scalp for around an hour. Wash it off with a mild shampoo.
4 . ASHWAGANDHA
Ashwagandha is an amazing and commonly used herb to prevent hair loss. It is a great remedy for dandruff and stimulates the production of melanin which is important for giving hair its color and sheen.
-Mix Ashwagandha powder with Brahmi and Amla powder. Add this mixture to warm water.  Leave on this hair mask on your hair and scalp for 30 minutes and wash it off with lukewarm water.
Also Read: Ashwagandha Uses