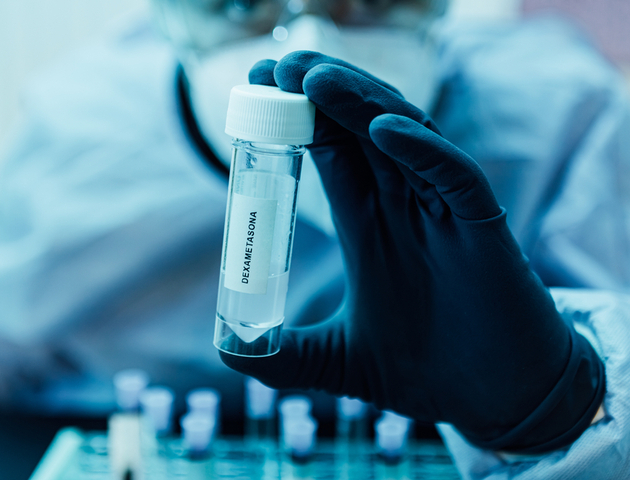 On 17 June 2020, the United Kingdom government permitted the use of Dexamethasone in the treatment of COVID-19, making it the first drug to get approved to be used in coronavirus treatment. Who all can be benefited through this breakthrough? Is it worth the hype? Let us have answers to some of these important aspects about this medicine with respect to COVID-19 treatment.
What is Dexamethasone generally used for?
Dexamethasone is a widely-used corticosteroid which is similar to a natural hormone glucocorticoid produced by adrenal glands. This medicine is often used to provide the required amount of glucocorticoid hormone when your body does not make enough of it. Dexamethasone is sold at an affordable price in most countries.
Multiple formulations of Dexamethasone were approved for use by WHO after it included this medicine in its model list of essential medicines in 1977. This medicine is generally used to relieve inflammation (swelling, heat, redness, and pain) and to treat certain forms of arthritis. It also treats several allergies, asthma, and disorders of the skin, blood, kidney, eye, thyroid and intestine (e.g., colitis).
How was it found to benefit COVID 19?
Coronavirus infection triggers inflammation as the body tries to fight it off. But in certain cases, the immune system goes into overdrive. The very reaction designed to attack infection ends up attacking the body's own cells. This reaction can cause people to get critically ill and might prove even fatal.
Dexamethasone was predicted and used to calm this hyper-immune response of the body due to COVID-19 in such critically ill patients, when it becomes too aggressive to control by other means. This motivated researchers to consider it for COVID-19 clinical trials related to treatment.
Basis the results of a significant clinical trial, the RECOVERY trial, the researchers in the United Kingdom stated that Dexamethasone had proved life-saving in patients who were critically ill with COVID-19.
The results stated that Dexamethasone can reduce mortality by about one-third in the patients who are on ventilators and about one-fifth in the patients who require only oxygen. Later, World Health Organization also backed up this data with its preliminary findings[1].
From Immunity Boosters To Personal Care Products, Check Out Our Coronavirus Prevention Range.
Details of the Trial
Trials of dexamethasone by scientists at the University of Oxford have been underway since March. The study formed part of the RECOVERY (Randomised Evaluation of COVID-19 Therapy) trial which aimed to test a range of potential treatments for Covid-19, including low-dose dexamethasone.
The Oxford team recruited 2,104 patients who received 6mg of dexamethasone once a day either orally or by intravenous injection for 10 days. Their outcomes were compared with a control group of 4,321 patients[2].
Previously, the mortality rate of COVID-19 patients who needed ventilation was found to be above 40 percent. This figure was reduced by one-third among those who were prescribed dexamethasone.
Is it approved in India?
After considering the latest available evidence and expert consultations, the Ministry of Health and Family Welfare approved the use of dexamethasone in management of COVID-19 patients who are moderate and severely ill, on oxygen support or on ventilators. This has also been updated in the Ministry's clinical management protocol for COVID-19[3].
Please Note That…
The benefit of this medicine is only seen in patients who are seriously ill with COVID-19. As of now, no benefit has been observed in patients who don't have any symptoms (asymptomatic) or have mild symptoms. In fact, using this medicine in patients who are asymptomatic or have mild symptoms may cause many possible side effects. Self-medication is a strict no.
**Consult India's best doctors here**
Should I take dexamethasone for COVID-19?
Dexamethasone is a steroid and should not be taken until and unless advised by the doctor as this may affect your health adversely. In fact, inappropriate use of this medicine may cause diabetes, weakened bones, muscle weakness or in some cases mood changes[4].
Remember: "Dexamethasone is only for critically ill patients. To avoid being infected, please ensure social distancing and hygienic measures."
(The article is reviewed by Dr. Swati Mishra, Medical Editor)
Recommended Reads:
Pulse Oximeter: Everything You Need To Know
COVID-19 Treatment: What Is Convalescent Plasma Therapy?
References:
[1] WHO welcomes preliminary results about dexamethasone use in treating critically ill COVID-19 patients. World Health Organization. https://www.who.int/news-room/detail/16-06-2020-who-welcomes-preliminary-results-about-dexamethasone-use-in-treating-critically-ill-covid-19-patients
[2] Low-cost dexamethasone reduces death by up to one third in hospitalized patients with severe respiratory complications of COVID-19. Oxford University Press Release. 16th June 2020. http://www.ox.ac.uk/news/2020-06-16-low-cost-dexamethasone-reduces-death-one-third-hospitalised-patients-severe
[3] CLINICAL MANAGEMENT PROTOCOL: COVID-19. Ministry of Health and Family Welfare. https://www.mohfw.gov.in/pdf/ClinicalManagementProtocolforCOVID19dated27062020.pdf
[4]Should I take dexamethasone for COVID-19? World Health Organization Philippines. Twitter. https://twitter.com/WHOPhilippines/status/1278287735518720002/photo/1