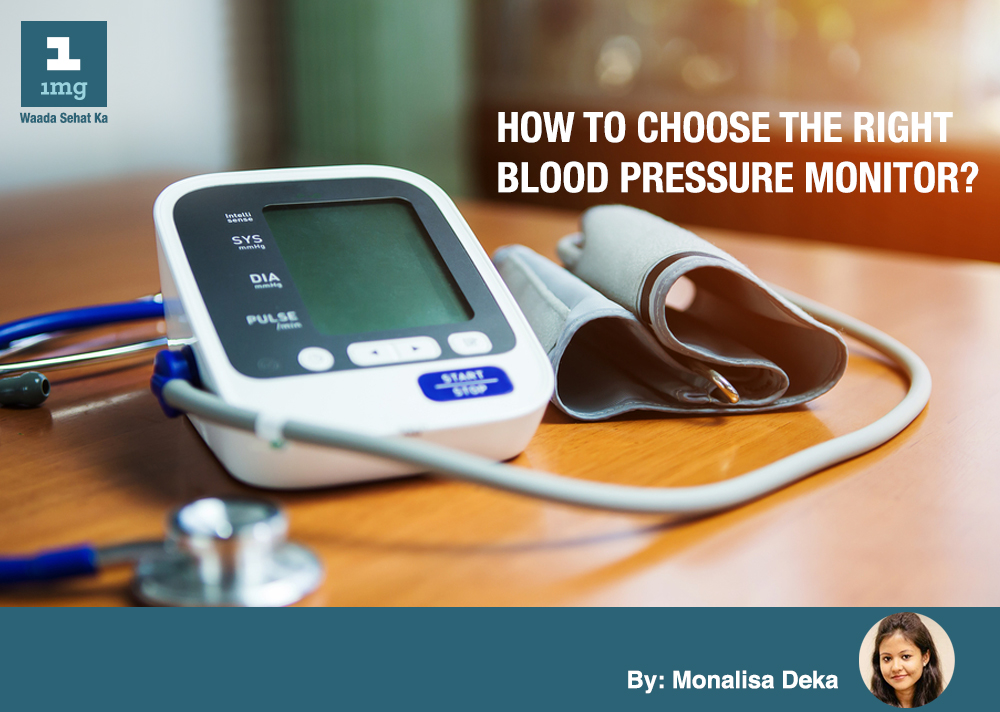 Do you know that buying an incorrect blood pressure monitor can give you inaccurate pressure readings? No, then you have come to the right place to understand the importance of choosing the correct BP monitor.
Nowadays there is a wide range of blood pressure monitors which are available to buy. But when it comes to choosing the right type of blood pressure monitor you need to choose the one that will give you accurate results and perform at its best effortlessly.
Have a look at some important points to consider while buying a blood pressure monitor:
1. Make sure the cuff fits your arm: Check the fit and make sure the cuff is appropriately sized for your arm as choosing a wrong size cuff can give you inaccurate results.
2. Choose a monitor that is easy to use: Buy blood pressure measuring instrument which is easy to use because you do not want to buy an ultra complicated one and keep it in your cupboard without using.
3. Consider the cost: It would be a wise decision of choosing a cheaper blood pressure monitor but make sure your monitor has all the required features.
4. Make sure it's appropriate: If you are buying a blood pressure monitor for elders, pregnant women or children make sure it is appropriate for all the mentioned conditions.
5. Check for its accuracy: When you buy a monitor check the packaging to make sure it is tested and validated for accuracy
6. Consider a portable monitor: Are you a frequent traveler or are you advised to measure your blood pressure several times a day? Then it is better to buy a compact and a portable monitor. Look for the one that comes with a carrying case.
7. Keep a check on the battery: Change the batteries to avoid any kind of error in readings for instance if the low battery indicator is on or cuff is not inflating, the batteries need to be replaced.
Let's have a look at some tips to keep in mind while measuring blood pressure:
a) Take your blood pressure when you wake up in the morning, but before eating anything or taking your medications and also after emptying your bladder as a full bladder can give high readings. And measure once again in the evening at the same time(s) each day that you measure your blood pressure but after emptying your bladder.
b) Stay away from caffeine, alcohol and tobacco for at least 30 minutes before testing your pressure.
c) Preferably wear a short-sleeved shirt while getting your blood pressure measured in order to have an easy access to your arm.
d) Wrap the cuff correctly onto your arm to avoid getting inaccurate readings.
e) Empty your bladder before checking your pressure as a full bladder can affect the accuracy of your results.
f) Maintain a sitting posture so that your arm, heart and the monitor is at the same level while measuring your blood pressure.
g) Don't talk while taking your pressure.
h) Measure your blood pressure by following the instrument's instructions.
i) Do not get nervous if a reading is high, just relax and try taking measurements again.
j) Maintain accurate records of your readings and time of the day when it is done.
So now you know what things to keep in mind while buying a blood pressure monitor as well as some tips to get accurate readings.
But just pause and think, won't it be relieving if you do not have high blood pressure at all. Hypertension is indeed a chronic disease and with little effort from your side like a change in diet and lifestyle and regular health monitoring, you can definitely win the war against this disease.
According to Dr. Satish Koul, Director & HOD, Department of Internal Medicine & Diabetes, W Pratiksha Hospital, anyone who is overweight, have issues of blood pressure in their family, or having any kind of disease such as diabetes should get their blood pressure monitored after the age of 30. Pregnant women also need to monitor their blood pressure regularly. He also stresses on reducing the intake of salt as well as alcohol.
Like the saying goes, "Prevention is better than cure", so why not try to control your blood pressure effectively through your diet and a changed lifestyle.
**Consult India's best doctors here**
Recommended Reads:
6 Effective Ways To Keep Your Blood Pressure In Check
5 Ways Recommended By Ayurveda To Control High Blood Pressure