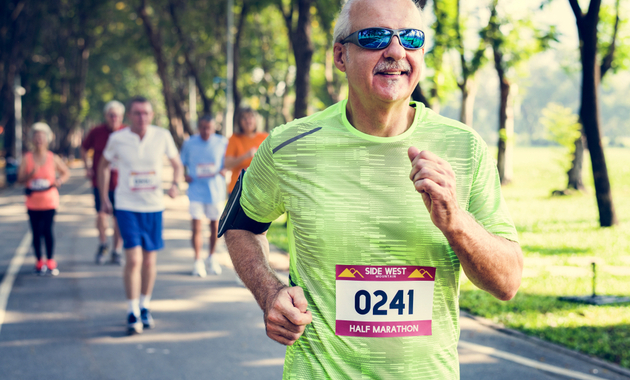 Running is not just an amazing way to burn calories but it offers loads of health benefits as well. And one such activity that has gained a lot of popularity in recent times is running a marathon. Since the last few years, recreational running or marathon has grabbed the eyeballs and has become a way of living for many people. This is because it not only helps you to keep physically fit but also lowers blood pressure, increases the level of good cholesterol, and decreases the risk of diabetes, coronary heart diseases, and heart attack.
However, there is a slight doubt whether heart patients, people who have recently suffered a heart attack or have undergone a bypass or angioplasty surgery, can run a marathon. Well, according to Dr. Santosh Dora, Senior Cardiologist, Asian Heart Institute, Mumbai, even people with heart disease can run a marathon, but they have to follow certain measures while preparing for a safe marathon.
Always Trust For Better Heart Care. Browse Our Store Now.
Here are a few simple tips and tricks to help patients who have a history of heart disease or who have undergone surgery on how to successfully and safely run a marathon.
#1. Check if you are qualified to run a marathon. A heart patient who is planning to run a marathon should have a significantly low risk of diabetes, cholesterol, blood pressure, etc which are the factors that increase the risk of heart disease. Moreover, he/she should have recovered completely post surgery or treatment. In most cases, the patients are advised to undergo a cardiac rehabilitation program to help them get back to their normal routine. It is a strict no-no for people with an untreated heart condition, genetic heart disease and those who have drastic changes in blood pressure and heart rate.
#2. Get a series of tests done. People who have a risk of heart disease, have a history of heart disease or have undergone heart surgery, should undergo a series of tests to make sure that the heart is working fine and the person can run a marathon. You should consult your doctor to find out which tests you must opt for. Some of the common tests which are recommended include ECG, routine blood tests, 2D-echocardiogram, and stress test, all of which has to be certified by a cardiologist.
Book a Lab Test Online to Check Your Heart Health NOW @1mg Labs!
#3. Ensure your heart is pumping normally. It is important to make sure that the heart rate is well within normal limits and doesn't increase to a very high level with minimal exercise. According to Dr. Santosh Dora, the heart rate should not exceed the maximal heart rate, which is 200 – the age of an individual. If you have recently undergone bypass surgery or angioplasty surgery and your heart is pumping normally, then you can participate in a marathon. You can even use a fitness device to monitor your heart rate, blood pressure, and oxygen saturation when training for a marathon to check how your heart is faring the training process.
#4. Prepare for the marathon well in advance.  Remember that training for a month or so can help you ace marathon. Running a marathon is all about strength and stamina and hence, people with a heart condition must start training for the event at a slow and steady pace. If you are running a marathon for the first time, then keep in mind that you have to improve your fitness levels. You can begin with a brisk walk and slowly move on to jogging and then running.
#5. Take sufficient rest post a heart attack or surgery. It is mandatory to maintain a proper time gap between your surgery and marathon training. This is because running within a month of surgery can put excess pressure on the heart and which can cause more harm than good. If you have suffered a heart attack recently, then it is advised to take sufficient rest for a time period of at least three months before you start training for a marathon. Check with your doctor to find out what's the ideal time to rest before getting up for the marathon. Remember to give ample time to the heart to heal the scar post surgery.
#6. Take your medicines without fail. Ensure you take your medications every day, which include your training days as well as the day of the run. Missing your regular dose of medicines can increase your risk of a heart attack. If you have coronary heart disease and not taking your blood pressure medications can cause a rapid surge in your blood pressure levels. To avoid such incidents, do not forget to take medicines, especially on the day of the marathon to keep you going.
#7. Do not ignore any symptoms.  The most important tip every person should remember is that if you experience any pain in the chest or suffer from breathlessness, stop the activity immediately. If your heart beats increase or is not in sync with the intensity of physical activity, stop immediately. Also, if you feel dizzy, light-headed, extreme fatigue or have a black-out, step immediately and consult your cardiologist. Do not take these symptoms lightly as it could indicate that your heart is in trouble.
**Consult India's best doctors here**
Running a marathon is a very big achievement for a person, especially who have a history of heart attack or surgery. But remember that the key to run a marathon safe and successful is to start training for it well in advance, get certified from your doctor and keep a tab on the symptoms to not miss out on any crucial signs of concern.
(The article is reviewed by Dr. Lalit Kanodia, General Physician)
Recommended Reads:
Heart Health: 5 Tips By A Cardiologist For A Healthy Heart
Are You A Runner? Here Are 7 Tips For Healthy Running