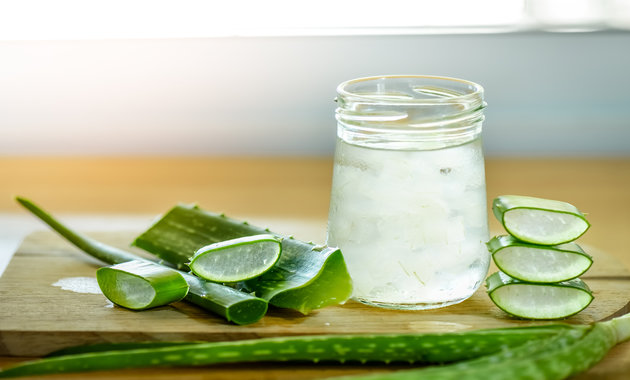 Aloe vera, a cactus-like looking plant that grows in abundance in the tropical areas, has been used as a medicinal plant for centuries across the globe. Therapeutic in nature, the plant has been found to capture several industries ranging from cosmetics and diet supplements to herbal remedies.
Aloe vera juice is packed with vitamins A, C, E, B1, B2, B3, B6, B12, and folic acid. It also serves as a storehouse of minerals such as calcium, magnesium, zinc, iron, selenium, and potassium. It houses several essential amino acids and fatty acids that play a critical role in the overall health of an individual.
Health Benefits of Aloe Vera
Aloe vera, also known as a Ghritkumari in Hindi is a commonly used home remedy to treat various skin and hair problems such as skin injuries, hair fall, dandruff, burns, and sores. However, there is more to aloe vera than shiny hair, weight loss, and skin treatment. Its medicinal and nutritional benefits are dime-to-a-dozen. We have put together some such uses and benefits of aloe vera for you.
1. Acts as Detoxifying Agent
Aloe vera is full of amino acids, vitamins, and minerals making it one of nature's most effective cleansers. It can help strengthen digestion and rid the body of any waste, thus detoxifying the body naturally.
2. Boosts Immunity
Aloe vera is packed with immune-boosting polysaccharides which help the immune system function properly. It helps in stabilizing the inflammatory processes in the body like in case of asthma, eczema, and psoriasis.
Moreover, aloe vera is considered as an adaptogen. This means it helps the body resist external stimuli and diseases by supporting and stimulating defensive systems which work within a human body. Stress management can also be achieved on the consumption of aloe vera every day. Being rich in vitamin C, aloe vera helps in boosting immunity and helps fight infections better.
Get 1mg's Handpicked Immunity Boosters To Help You Stay Healthy! Buy NOW!
3. Promotes Healthy Digestion
A healthy digestive tract ensures that nutrients from the foods we eat are absorbed into the bloodstream. Aloe vera gel has laxative and detoxifying abilities. Drinking aloe vera juice regularly may improve bowel movements and decrease the growth of unfriendly bacteria and yeast. It contains plant sterols – fatty acids like HCL cholesterol, B-sitosterol, and Campesterol. While HCL cholesterol decreases fat present in blood, the three sterols decrease allergy symptoms and acid reflux during digestion.
4. Maintains Oral Hygiene
One of the key benefits of aloe vera is its ability to maintain oral hygeine and prevent oral problems. When used as a mouth rinse, pure aloe vera juice is effective at reducing dental plaque buildup and preventing tooth decay. Aloe vera does this by killing the plaque-producing bacterium (Streptococcus mutans) in the mouth, as well as the yeast (Candida albicans). 
5. Promotes Hair Care
Aloe vera can be found in some of the best shampoos and conditioners. You can apply it directly to your hair to control frizz. For an itchy or dry scalp, you can apply the gel directly to scalp.
6. Soothes Your Skin
The benefits of aloe vera are not just related to hair care but can also be attributed to skin care. When applied on the skin, aloe vera is known for its soothing and cooling effect as well as its antimicrobial and antifungal properties. It helps in healing burns and wounds. It also helps in reducing inflammation caused by acne.
Healthy Skin Matters..!! Get Minimum 30% Discount On Skin Care Products.
7. Helps You Get Glowing Skin
Aloe vera is 99% water and taking the juice of this plant makes your skin supple. The cooling effect also repairs damaged skin in cases like burns or scars. Aloe vera not only contains vitamins but is also a storehouse of 22 amino acids, also called building blocks of proteins, that keep your youthful looks intact. The vitamins in aloe vera lighten your skin tone and cause your skin to glow naturally.
8. Reduces Inflammation
Aloe vera also acts as a powerful anti-inflammatory agent. The anti-inflammatory compounds like bradykinase, C-glucosyl chromone, and salicylic acid reduce the production of acid in the body that causes inflammation. Studies conducted have found aloe vera very useful for treating inflammatory bowel diseases and mild cases of ulcerative. Intake of this product helps to prevent and cure pimples.
9. Prevents Constipation 
The latex (sticky yellow residue) found under the skin of the leaf helps to fight constipation. It is rich in aloin, that has been found to have laxative properties and helps to prevent constipation. You can choose to consume the aloe vera juice for healthy digestion and the latex to prevent constipation. It also contains minerals which improve the body's metabolism and lead to healthy cellular enzymes, thus helping you to regulate your bowel movement and maintain healthy gut health.
Aloe Vera: How To Use It/Take It?
Due to the wide range of nutritional benefits of aloe vera, it is known to treat and prevent various ailments like diabetes, anemia, and jaundice. Karela juice and aloe vera juice can be blended to control diabetes and cholesterol. It also helps to manage various problems of the bile duct, spleen, pancreas, and gall bladder along with helping to fight hormonal problems. There are benefits of having aloe vera for promoting hair growth. It helps in restoring and retaining hair growth and prevents hair fall.
Aloe Vera: Shop For The Greatest Medicine Mankind Has Ever Seen.
Here is how you can reap the health benefits of aloe vera.
1. Aloe Vera Juice
One of the easiest ways of consuming raw aloe vera is to have it in the form of juice. Mix 3-4 small pieces of aloe gel with water and drink it on a regulalr basis to reap the benefits of aloe vera.
You can also soak the cut pieces in water overnight and then drink only the water. You can also blend prepared aloe with fresh lemon or orange juice to mask the flavor.
2. Raw Aloe Vera
You can use raw aloe in salads by adding small pieces as a topping or larger pieces as the primary ingredient, often with some herb garnishes. 
3. Cooked Aloe Vera
You can gently steam or poach aloe before using it in juices, salads or even soups and stir-fries for a gentle taste. Fully cooked aloe vera no longer has a slimy texture, which may make it more appealing and appetizing.
Recommended Reads:
Health Benefits Of Drinking Water: Weight Loss? And More…
Top 10 Health Benefits Of Cucumber And Its Peel