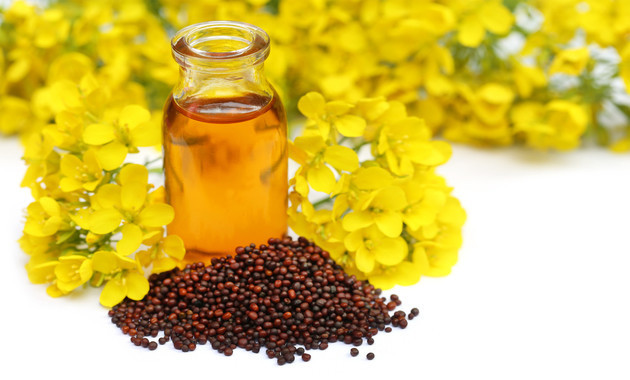 Mustard oil, commonly known as" sarson ka tel" is a dark yellow and slightly pungent in smell. Enriched with several properties, it is used as an anti-bacterial, anti-fungal and anti-rheumatic. Widely used in cooking and apart from being a favorite in grandma's kitchen, it is also a preferred option for several rituals in North India. Rich source of Omega Alpha 3 and Omega Alpha 6 fatty acids, Vitamin E and antioxidants, it is considered as one of the healthiest oils and has several healing and medicinal properties.
Here are a few health benefits of Mustard Oil
1. Treats Rashes And Infections
Due to it's anti-bacterial and anti-fungal properties, it is very effective in treating rashes and other skin infections and prevents dryness and itching. A body massage with mustard oil rejuvenates your skin by increasing blood circulation.
-Warm half a cup of mustard oil along with a few crushed garlic pieces. Massage your full body with this oil if suffering from any skin infections. This will also take care of any aches and pains in the body. After massage, sit in a warm room and bathe after an hour.
2. Stimulates Hair Growth
Mustard oil has a high amount of beta-carotene which gets converted into Vitamin A which is excellent for hair growth. Rich in iron, fatty acids, calcium and magnesium, the oil when massaged on the scalp promotes hair growth and increases blood circulation
-Mix and lightly warm mustard, coconut, olive and almond oil and massage your hair for 15 to 20 minutes. Wash your hair after 2 to 3 hours using a mild shampoo. This will make your hair long, thick and lustrous.
3. Promotes Heart Health
Rich in mono saturated and poly saturated fats (MUFA and PUFA) as well as Omega 3 and Omega 6 fatty acids, the oil helps in balance the cholesterol levels by decreasing the bad cholesterol or LDL and increasing good cholesterol or HDL. It also minimizes the risk of cardiovascular diseases.
4. Treats Oral Problems
Periodontal disease, commonly called gum problem, is a chronic inflammatory process accompanied by loss of teeth and can also lead to problems in the immune system. A regular habit of massaging the gums with mustard oil will prevent decay and other gum related diseases.
-Take a plastic bottle and fill it up half with mustard oil and about quarter teaspoon of salt. Give it a good shake. Before sleeping, squeeze a bit of oil onto your palm and gently massage your gums with a finger. Rinse thoroughly. This combination of mustard oil and salt will keep your gums free from decay and disease.
5. Relieves Cough And Cold
Mustard Oil helps in clearing the congestion of the chest and nose. An effective remedy would be to add a few spoons of mustard oil and caraway seeds (ajwain) to a pot of boiling water and to inhale the steam after switching off the gas. This helps to relieve the respiratory system and loosens the phlegm as well.
– Mix a teaspoon of mustard oil and crushed camphor and apply on your chest and back for relief.
6. Improves Complexion
Surprisingly, massaging Mustard Oil on your face regularly can help reduce tan and lighten dark spots thereby improving your complexion. Contrary to popular belief that oil can make your skin look dark, the reality is exactly the opposite. Massage in circular motion till the skin absorbs all the oil and makes it feel moistened and supple.
– You can also use this face mask by mixing a quarter teaspoon mustard oil with three-fourth teaspoon gram flour, 1 teaspoon curd and few drops of lemon juice. Apply on face and neck and wash off after 10 to 15 minutes. Apply at least twice a week for a clear complexion.
So, go ahead and make use of the oil in your cooking and for application purposes. Stay Happy, Stay Healthy!