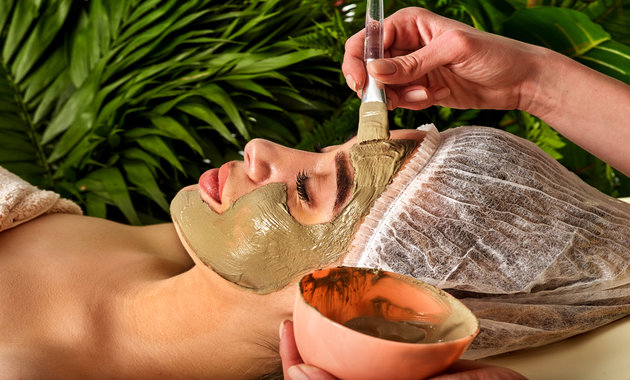 Fuller's earth ( Multani Mitti)  is a simple yet magical ingredient for beautiful and glowing skin. It has been used for centuries in India as a beautifying and cleansing product. Fuller's earth naturally occurs in sedimentary clay and is composed of alumina, silica, iron oxides, magnesium, dolomite, calcium, calcite, and water in variable proportions. It naturally occurs in a powder form and is available in brown, green, blue, white or even olive color powder.
No matter which skin type you have, fuller's earth can be a solution to many problems related to the skin. One can use it on oily skin as it has oil absorbent properties. While, it can also be used for dry or combination skin type by simply adding some hydrating substances like milk, curd, or ghee to it.
Here are some face packs you can make using Multani mitti to get glowing flawless skin.
To control oily skin
Fuller's earth Absorbs excessive oil from skin, Acts as a skin cleanser and a natural oil absorbent as it is rich in aluminum silicate. For those with oily skin and prone to breaking out, fullers earth fights bacteria and bacteria-related skin problems due to the presence of high lime content.
Mix fuller's earth and rose water in equal amounts. Apply it on the skin and keep it for 10-15mins until it gets dry. Wash the pack off using cold water.
For skin exfoliation
Fuller's earth is a natural cleanser; it Removes dead skin and reduces acne scars and blemishes as it is rich in magnesium chloride. It also reduces inflammations and helps soothe irritated skin.
Add 3 teaspoon of fuller's earth, 1teaspoon of powdered almond or almond paste and 2teaspoon of pure milk to form a paste. Apply the paste on the face and keep it for 15-20mins till it dries. Remove it using wet wipes or cotton balls soaked in ice water.
Up to 30% Off on Skin Care Products
To get rid of sun tan
Fuller's earth is known as "bleaching clay" for its bleaching function and makes a great pack for reducing tan and sun damage. Its anti-aging properties help reduce fine lines caused by sun damage.
Add 2 teaspoon of fuller's earth, 1teaspoon of sandalwood powder, half teaspoon of turmeric powder and 1teaspoon of tomato juice. Apply the paste on the skin and rinse it after 10mins with luke-warm water.
To improve uneven skin tone
Fuller's earth helps improve complexion, restores skin elasticity, it has often been referred to as "whitening clay" as it helps reduce facial pigmentation.
Mix 1 tablespoon of Multani mitti with 1 teaspoon of olive oil, grate half a carrot to this mix. Apply this paste all over the face and neck, wash with cool water after 20 mins. Use regularly for an even-toned skin.
To soothe itchy scalp
Fuller's earth helps cleanse the scalp of dandruff causing bacteria. It reduces itchiness and due to its anti-bacterial properties can heal scalp conditions.Fuller'ss earth also absorbs excess oil from the scalp, and increases blood circulation to the scalp, thus improving hair growth, reducing hair damage and improving the health of hair.
Soak 2 spoons of methi seeds overnight, blend these seeds with a spoonful of lemon juice, add 3 spoons of Multani mitti and apply this paste all over your scalp. Leave on for 1 hour and wash with shampoo and conditioner.
**Consult India's best doctors here***