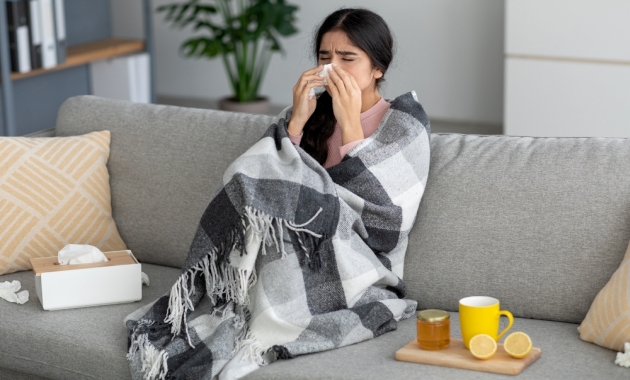 Cough and cold are common respiratory illnesses which are seen all round the year. But if you have been suffering from frequent bouts of cough and cold, it can be quite challenging, especially during the change of seasons, to deal with it. A simple way to tackle these ailments at the comfort of your place is to boost your immunity with Ayurvedic herbs.
How can Ayurveda help?
Ayurveda recommends a variety of herbs known as rasayan as well as formulations like Chyawanprash that help improve immunity. Ayurvedic herbs like shunthi, guduchi, ashwagandha, yashtimadhu, and pippali are well-known immune boosters[1]. These herbs form an integral part of every Indian kitchen, the so-called dadi-ke-nuske, to combat seasonal health complaints. 
Other common Ayurvedic herbs such as haridra, shunthi, yashtimadhu, and pippali exhibit anti-inflammatory, immunomodulatory, and antiviral properties[1] which help relieve cough and cold effectively. These herbs can be used in different forms like tea, kadhas, tablets, etc to get effective results. 
Ayurveda is known to provide complete care right from boosting immunity & providing the necessary nutrients to help fight infections. Scroll through our range NOW.
3 ways to fight seasonal cough and cold
If you are looking for natural ways to fight against seasonal health conditions, here are some simple tips to follow.
1. Gargling
Gargling is the best way to soothe the inflammation of the upper respiratory tract. A glass of warm water with turmeric, salt or a decoction of herbs like yashtimadhu, pippali, and haridra helps to heal the associated symptoms like sore throat, cough reflex, and hoarse voice. 
2. Herbal tea or kadha 
Teas or kadhas (known as decoction) of common Ayurveda herbs such as cloves, dalchini, tulsi, ginger and turmeric are highly recommended by Ayurveda doctors for cough and cold. These teas help improve your immunity and also provide a soothing and healing effect when sipped intermittently. 
Try Ayurveda herbs and supplements for your seasonal cough & cold. Explore our cough care range now.
3. Turmeric latte or haldi ka dudh
The age-old remedy that always works wonders when it comes to boosting your immunity, providing relief from seasonal illness like cough & cold and soothing your gut is turmeric milk. Packed with the wellness of turmeric, black pepper & honey, which are rich in antioxidants and anti-inflammatory compounds, it acts as a magical potion for everyone right from kids to older individuals[2].
This monsoon season, protect yourself and your family from common illnesses like cough and cold with natural solutions from Ayurveda.
(The article is reviewed by Dr. Swati Mishra, Medical Editor )
Disclaimer: This is a sponsored article powered by Vedistry Private Limited. The information provided in this article in the form of text, tips, suggestions, and products comprises general advice for consumers. Tata 1mg does not endorse any brands and is not responsible for their efficacy.
References:
1. Dinesh Kumar, Vikrant Arya et al. A review of immunomodulators in the Indian traditional health care system. Journal of Microbiology, Immunology and Infection. Volume 45, Issue 3,2012, Pages 165-184. Available online at https://www.sciencedirect.com/science/article/pii/S168411821100185X
2. Folake Idowu-Adebayo, Vincenzo Fogliano, and Anita Linnemann Turmeric-Fortified Cow and Soya Milk: Golden Milk as a Street Food to Support Consumer Health food Volume 11(4);  2022 Feb. Available online at https://www.ncbi.nlm.nih.gov/pmc/articles/PMC8871262/