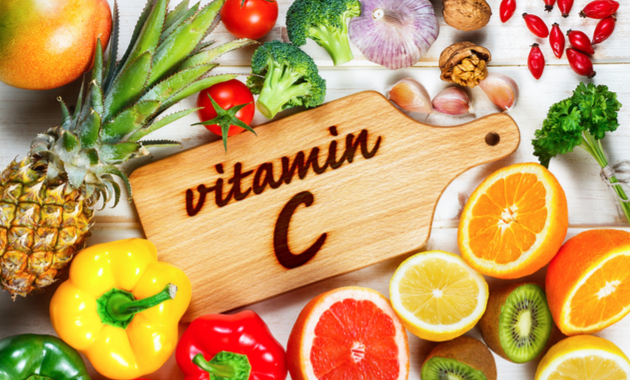 Vitamin C is a water-soluble vitamin. This means that you need to get it every day from your diet. Many people believe that you need to drink expensive orange juice loaded with Vitamin C. But, did you know you can get your daily dose of Vitamin C for next to nothing? Yes, this is one of the easily available and affordable vitamins that you can get from your local market.
Health Benefits of Vitamin C
Vitamin C is a potent antioxidant, which helps in fighting free radicals in the body and flush harmful toxins from the body. This is the reason, it helps in improving immune function and lower the risk of infections. It not only helps in the absorption of iron from food but also plays a key role in the synthesis of collagen, a skin protein. This vitamin also helps in wound healing and maintenance of bone mass. Vitamin C deficiency can lead to scurvy. Here's more on why Vitamin C is important for health.
How much Vitamin C do you need daily?
The recommended dose of Vitamin C per day per person depends on the age of a person. According to the National Institute of Nutrition, the recommended dietary allowance (RDA) of Vitamin C for the Indian population is:
Infants (age group: 0-12 months): 25 mg per day.
Children (age group: 1-9 years): 40 mg per day.
Older kids (age group: 10-18 years): 40 mg per day.
Adults, including men and women (18 – <60 years): 40 mg per day.
Pregnant women: 60 mg per day.
Breastfeeding women (0-12 months): 80 mg per day.
Vitamin C rich foods*
To ensure that you meet the RDA of Vitamin C and stay healthy, it is important to include at least one servings of fresh fruits and vegetables per day in your diet. You can include a variety of foods to make it interesting and also adjust your portion sizes accordingly.
Amla (Indian Gooseberry): You do not have to load up on amla but eat one or two fresh pieces in a day to get your daily dose of Vitamin C. This is because 100 g of amla provides 600 mg of Vitamin C.
Parsley: Add a dash of fresh parsley to curries, soups, salads, pasta or noodles to enjoy its unique flavour because 100 g of parsley provides 281 mg of Vitamin C. Try to use a fistful of parsley leaves to garnish your food (approx. 14 gms) is all you need to do to meet the RDA of Vitamin C for the day.
Drumstick leaves: Yes, drumstick leaves provide higher amounts of Vitamin C as compared to drumsticks. 100 g of drumstick leaves has 220 mg of Vitamin C, whereas the same amount of drumstick provides only 120 mg of this vitamin. Hence, eat either add a handful of drumstick leaves or 3-4 pieces of drumstick in a day to meet your requirement of Vitamin C for the day.
Guava: The best way to stay fit and healthy is to up the intake of seasonal fruits. And guava ranks high on the list of fruits loaded with Vitamin C. You can get 212 mg of Vitamin C if you eat 100 g of guavas. So eating a piece or two of fresh guavas is all you need to ensure you do not suffer from Vitamin C deficiency.
Cashew fruit: Instead of snacking on cashew nuts, it is wise to eat fresh cashew fruit, which is also available in the market. The fruit is not only packed with Vitamin C but other nutrients, which can help you stay healthy. As 100 g of cashew fruit contains 180 mg of vitamin C, to get 40 mg of the vitamin, you need to eat around 20 – 25 g of the fruit, which equals to a quarter or half a fruit in a day.
Amaranth: 100 g of amaranth leaves has around 179 mg of Vitamin C. Hence, loading up your intake of this green leafy vegetable can help you meet your daily dose. However, you do not have to eat a full bowl, just a tablespoon of cooked amaranth can do the trick.
Capsicum: You can add capsicum to pasta, salads or curries to get your daily dose. Did you know that 100 g of capsicum provides around 137 mg of Vitamin C? But to get the RDA of this vitamin, all you have to do is include either half a small sized capsicum or just a handful of diced capsicum pieces and not the whole piece of pepper.
Cabbage: Add cabbage to parathas or add it to salads but make sure you include cabbage in your diet. Eating 100 g of cabbage provides as much as 124 mg of Vitamin C, which is 3 times the amount required for a day. Hence, add a small bowl of shredded cabbage to your meals to get the most of it. The whole cabbage can serve the entire family.
Bitter gourd or karela: There's one more reason to add bitter gourd to your list of must-have vegetables. It is not only good for diabetics but is loaded with Vitamin C. You can get around 96 mg of vitamin C by eating 100 g of raw bitter gourd, which equals to a tablespoon of karela juice. Try to drink freshly prepared bitter gourd juice every day for its health benefits and nutritional value.
Ber fruit or Chinese apple: Eat one of two ber fruits every day during your snack time because it not only helps prevent Vitamin C deficiency but also curbs your hunger pangs. As 100 g of ber fruit provides around 76 mg of Vitamin C, you do not have to eat a bowl of this fruit but just a few pieces to meet your required daily dose.
You can include these fruits and vegetables in a salad or in the form of fresh juices. In addition to these sources, you can also include sprouts squeezed with lemon, freshly prepared fruit juice with pulp or raw mango onion salad in your diet.
* All the values are calculated per 100 g of edible portion according to the National Institute of Nutrition.
The content has been reviewed by Dr Swati Dave, Dietician and Nutritionist, Ahmedabad.
Recommended Reads:
Simple Tips To Increase Hemoglobin Count At Home
4 Essential Vitamins And Minerals Women Should Have