PLANEP 25 MG TABLET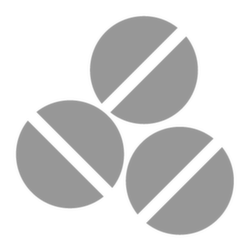 MRP: Rs.
144
for 1 strip(s) (10 tablets each)
Drug interaction for PLANEP
No relation with food but take it at a consistent time daily with respect to food.
Taking Eplerenone with alcohol may lead to headache, dizziness, lightheadedness, fainting, changes in pulse or heart rate and/or low blood pressure.
UNSAFE
Probably safe during pregnancy. Consult your doctor.
SAFE
Unknown. Consult your doctor.
SALT INFORMATION for PLANEP
Eplerenone(25 mg)
Uses
Planep 25 mg tablet is used to treat heart failure after a heart attack. It is also used to treat high blood pressure.
How it works
Planep 25 mg tablet belongs to a class of drugs called aldosterone antagonists or mineralocorticoid receptor antagonists. It blocks the biological effect of aldosterone, a naturally released hormone that raises blood pressure by acting on aldosterone/mineralocorticoid receptors.
Common side effects
Abnormal vaginal bleeding, Breast tenderness, Breast enlargement, Chest pain, Cough, Electrolyte imbalance, Diarrhoea, Abdominal pain, Dizziness, Fatigue, Headache, Altered heart rate, Increased creatine level in blood, Increased blood urea, Tingling sensation
Expert advice for PLANEP
Do consult your doctor before taking eplerenone if you have kidney or liver disease; high blood levels of fats (cholesterol and triglycerides); or diabetes.
Do not use eplerenone if you have very high blood levels of potassium or severe kidney problems.
Use of eplerenone is not recommended in children.
Do not stop taking eplerenone without consulting your doctor.
If you forget to take a dose of eplerenone, take it as soon as you remember (keeping a gap of at least 12 hours between two consecutive doses). Do not double the dose to make up for the missed dose.
Do consult your doctor before taking eplerenone, if you are pregnant, planning to become pregnant or are breastfeeding.
Frequently asked questions for PLANEPEplerenone
Q. Is eplerenone a diuretic/ potassium-sparing diuretic?
Yes. Eplerenone can increase urinary output and decrease excretion of potassium (potassium-sparing action) by blocking the biological effect of hormone aldosterone.
Q. Is eplerenone a /beta blocker /blood thinner?
No. Eplerenone is an aldosterone receptor blocker that is used to improve conditions of heart failure after a heart attack and to lower high blood pressure. It has no known effect on beta adrenergic receptors and does not change the viscosity of blood.
Q. Is eplerenone as steroid?
Yes. Eplerenone has a steroidal structure.
Q. What is eplerenone used for/used to treat?
Eplerenone is used along with other drugs to prevent worsening and improve conditions of heart failure (due left ventricular dysfunction) after a heart attack (myocardial infarction) and in the treatment of high blood pressure.
Q. Does eplerenone raise blood glucose/ cause erectile dysfunction/ weight gain/hair loss?
No. Increase in blood sugar, problems with erection (in men), changes in body weight and hair loss are not among the known side effects of eplerenone.
Q. Does eplerenone cause gynecomastia?
Gynecomastia (enlargement of breasts in men) is an uncommon side effect of eplerenone affecting 1 to 10 users in 1,000.
Q. How does eplerenone differ from spironolactone?
Eplerenone and spironolactone are both aldosterone antagonists. They differ with regards to their therapeutic use based up on clinical experiences.
Top Medicines Prescribed with PLANEP 25 MG TABLET
Articles