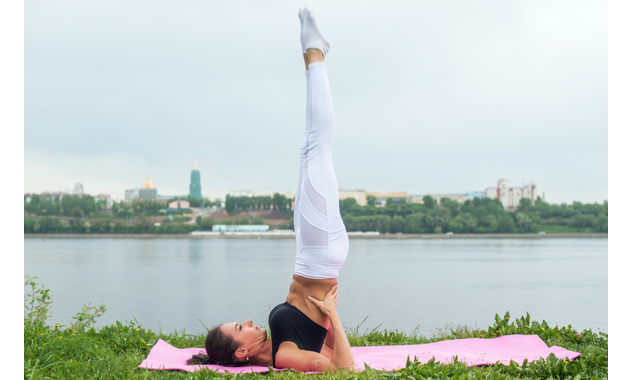 25th May is World Thyroid Day.
Sarvangasana or shoulder stand pose is an asana in which the entire body is supported on the shoulders. It is a sanskrit word that comprises of three words – "Sarv" which means entire, "Anga" which means parts of the body and "Asana" which means yoga posture. As the asana helps in improving the overall functioning of the body, it is also known as the 'Mother of All Asanas'. Akshar, Founder & Chairman, Akshar Yoga explains about the benefits and steps to do this asana.
What are the benefits of Sarvangasana?
This pose is very effective for the entire body in many ways.
-It stimulates the thyroid gland.
-It helps balance the circulatory, nervous, digestive, respiratory, reproductive systems.
-It is good for calming the mind and relieves mental and emotional stress.
For a healthy family, check out family nutrition products at 1mg!
How to do the asana?
Remember to follow the three key pointers of the asana which is formation, hand position and the breathing technique.
Formation
-To start, lie down flat on your back with your legs and feet together. Place your arms by your side with palms facing down. Relax.
-Now, raise both legs to 90 degree keeping them straight together and using only your abdominal muscles.
-Now, press down on the arms, and lift your buttocks, using your abdominal muscles and raise legs to a vertical position. Keep the knees straight. Do not strain.
-Support your back and waist with your palms and elbows firmly on floor.-
-In the final position, your torso and legs are vertical, and legs are together in a straight line. Your body is supported by your shoulders, nape of your neck and back of the head. Your palms and elbows provide the support. And your chin is pressing against your chest.
-Relax and hold this final position as long as you are comfortable. Close your eyes.
-Return to starting position by lowering your arms, slowly lowering your spine and back, then your legs finally down, keeping your knees straight. Use only your abdominal muscles.
Hand Position
-You begin with your palms facing down and arms close to your body.
-Once your legs are raised, then use your palms to support your back and waist.
Breathing Technique
-Inhale while lying down.
-Retain your breath while raising the legs and torso and assuming final position.
-Breathe slowly and deeply in final position.
-Inhale and hold your breath while releasing the position and returning to the start position.
Contraindications
You should consult your doctor if you suffer from neck pain, glaucoma, spondylosis, high blood pressure and heart disease.
It is also not advised during menstruation and pregnancy.
Recommended Reads:
Yoga: How To Do Balasana or Child's Pose And Why
World Yoga Day: 8 Reasons For You To Add It To Your Daily Routine!