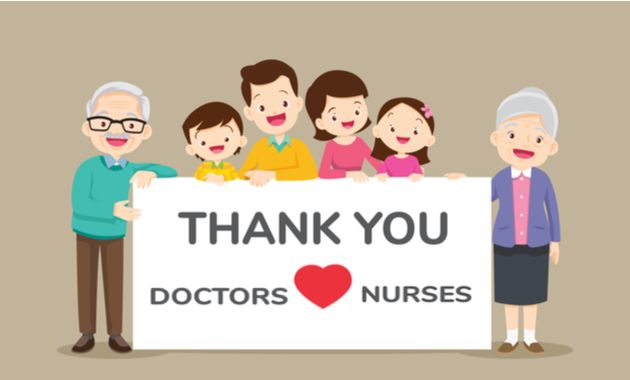 World Health Day is observed on 7th of April every year. The theme for 2020 is to honor and celebrate the work of nurses and healthcare professionals and remind the world of the critical role they play in keeping the world healthy. With the COVID-19 pandemic, health workers are at the forefront in providing high quality treatment and care to the patients.
So this world health day, let's take a minute to say "Thank you" to all the healthcare workers and caregivers and pledge to support them in fighting COVID-19. As they are doing so much to us every day and taking care of the patients as we stay at home, here are a few tips that we can do to help them deal with the health emergency and win over. Click here for regular and authentic updates on Novel Coronavirus
Coronavirus Lockdown: Ways YOU Can Help
Our healthcare heroes are doing their bit to make sure all the patients are receiving the best treatment and are safe. Let us do our bit by following these simple tips!
1. Do Not Stay Laid Back
Coronavirus can affect everyone right from kids and pregnant women to elderly people. Moreover, if you have any medical history of heart disease or suffer from diabetes or respiratory complications, then the severity of the infection is high. Hence, if you feel unwell or experience any symptoms such as a fever, cough, sore throat or difficulty in breathing, then do consult your doctor at the earliest. Do stay indoors (self-quarantine) if you feel sick and call your doctor to seek medical attention and follow their advice.  Do not ignore the symptoms nor do self-medicate.
2. Take Care Of Your Mental Health
There is no denying that the coronavirus pandemic has taken a toll on our mental health. And the lockdown has further made people more anxious because staying indoors can be quite boring and restricting after some time. To deal with this, have a regular schedule and keep yourself (especially your kids and elderly people) busy. Distract yourself from the negative emotions and rediscover your hobbies.
**Consult India's best doctors here**
3. Do Not Fall Prey To Rumors
Knowledge is power but half-knowledge/wrong knowledge is dangerous. In the current situation, it is equally important to keep your sanity and not blindly follow sensational news or comments on social media. Do not share 'just any forwarded message'. Only share authentic information coming through medical experts. Refrain from discussing the number of cases on a daily basis. Instead learn about techniques to protect yourselves, your loved ones and your community.
4. Take Charge And Be Positive
Just like all of us, people working in healthcare sectors including doctors and nurses to pharmacists are also striving hard to do their bit to serve the people and the country. In fact, they are the ones who are dealing with numerous patients day-in and out and coming in direct contact with COVID-19 patients. Hence, people working in the healthcare sector or those working with them need to be extra careful and equally vigilant about their health.
So if anyone in your family is involved in treating COVID-19 patients or is working as a caregiver, it's time to take charge of their health. Simple things such as ensuring they eat their meals on time, lending them a helping hand at home, making sure they get their daily dose of rest and sleep and spreading positivity to help them fight the situation better can work wonders. A small gesture from their friends and family can speak more than a million words and give them the much-needed boost to sail through the situation.
Book a lab test from the comfort of your home. Click Here!
5. Do Not Shun Or Discriminate Them
According to numerous reports on TV, healthcare professionals across the nation are the most affected people in the fight against COVID-19. They are shunned from society and are discriminated against by their near and dear ones. This is completely wrong, as healthcare providers such as doctors, nurses or pharmacists are the ones who are working 24X7 to make sure every COVID-19 positive patient gets proper treatment. They are the ones who are risking their lives to prevent the spread of the infection with timely management and care. 
Given the mental and physical strain they have to go through on a daily basis, discriminating them from society is not what we, as a responsible citizen, should do. Make sure you give them much needed respect and stay away from shunning them from social circles.
This World Health Day, let's stand together with our healthcare workers and be the support they need to fight against the COVID-19 pandemic and make our society a better place to live and let live. Thank YOU!
(The article is reviewed by Dr. Swati Mishra, Medical Editor)
Recommended Reads:
Coronavirus Lockdown: 7 Things YOU Should NOT Do
Combating Coronavirus: Tips For Social Distancing