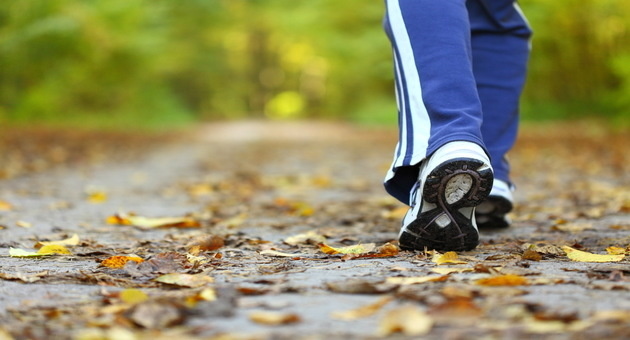 Walking for at least 30 minutes a day is undoubtedly beneficial for overall health. It not only boosts your mood, and aids in weight loss but also improves your heart health, helps relieve stress, and increases your life expectancy. But little do you know that walking can also lower your risk of cancer and improve the quality of life in people suffering from cancer. Yes, according to a recent study walking for just 30 minutes thrice a week was found to improve the quality of life for people suffering from advanced cancers. Wondering how? Well, here's what the study has to say.
How Does Walking Help To Fight Cancer?
The study was conducted by researchers at the University of Surrey (United Kingdom) at King's College London and the findings were published in the British Medical Journal Open. According to the study, a total of 42 cancer cases were split into two groups, one where the patients received coaching (an initiative from the Macmillan Group) that encouraged the patients to include a 30-minute walk on alternative days. People in group two were advised to maintain their level of activity without any changes.
Patients from group one reported an improvement in physical, emotional, and psychological well-being. Walking was found to provide an improved positive attitude towards the illness. The study suggested that walking only for 30 minutes thrice a week significantly benefited those suffering from advanced forms of cancer. It encouraged the patients to consciously reduce weight and be more active.
Let's defeat cancer, one step at a time. 1mg is the proud official partner for '14th Walk for life- Stride against Cancer', a walkathon organized by CanSupport. Walk with us on Feb 7, 2021.
Join the first-ever virtual walk for life to support cancer patients. Register Here.
Not just improvement in the quality of life, walking is known to be associated with a low risk of breast cancer and colon cancer along with lowering your risk of mortality. This is the reason, The American Cancer Society recommends brisk walking for at least 150 minutes or any vigorous-intensity activity for 75 minutes for every adult each week to stay healthy. 
Tips To Prevent Cancer
A regular brisk walk is one of the simple, easy, free, and doable physical activities that not only lowers your risk of cancer but also helps you to stay healthy. Additionally, there are few simple tips to lower your risk of cancer, which include
– Saying NO to tobacco
– Eating a healthy diet
– Keeping a tab on your weight
– Limiting the consumption of alcohol
– Avoiding unnecessary exposure to radiations/toxins
– Get enough Vitamin D
– Ensuring proper sleep
– Staying away from stress & infections
According to the World Health Organization, cancer is the second leading cause of death globally. So following these simple tips and tricks can go a long way to improve your overall quality of life and help you stay healthy.
Walk For Life 2021. A Cancer Support Initiative. Register Now & Show Your Support!
February 4th is observed as World Cancer Day every year. The theme for 2021 is "I can, we can" which aims to acknowledge that everyone has the capacity to address the cancer burden. We can work together to reduce cancer risk factors.
References:
1. Top 10 recommendations for cancer prevention. Harvard Health Education.
2. Study: Even a Little Walking May Help You Live Longer. American Cancer Society.
3. Cancer. World Health Organization (WHO)