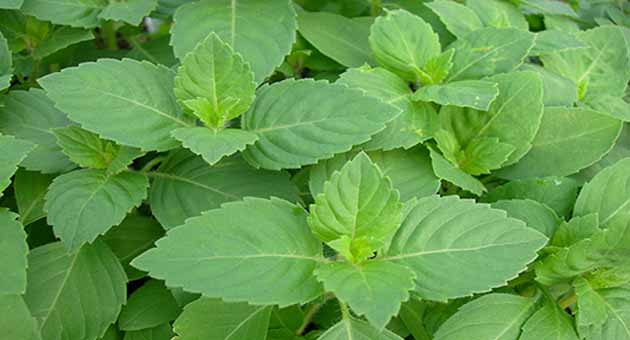 Tulsi or Holy Basil, has been named as one of the must have plants for an Indian home. This plant has been part of the Indian household for hundreds of years and has every reason to be there.From strengthening immunity, fighting bacterial & viral infections to combating and treating various hair and skin disorders – just a few leaves of Tulsi when used regularly can help resolve a host of health and lifestyle related issues.
Here Are Some Ways To Incorporate Tulsi Into Your Daily Routine:
1 . Kick start your day by adding 2 teaspoons of Tulsi juice and 1 teaspoon of honey to a glass of warm water.Have this daily to boost your overall health and immunity.  Or else add Tulsi leaves to your morning chai and start the day on a healthy note.
2 . Tulsi acts as a blood purifier by flushing out toxins from the blood. Chew 10-12 Tulsi leaves every day.The blood purifying properties will keep your skin healthy and blemish free.
3 . You can also add Tulsi leaves to your bath water every day to sooth itchy skin, dry skin, rash and fungal infections.
4 . Tulsi is a decongestant, an expectorant and relieves cough. It helps in fighting cold, cough, flu, and fever. Boil 15 leaves of tulsi with 500 ml water and a pinch of cardamom powder, add some honey and keep sipping this mixture throughout the day for relief.
Also Read: Cardamom Benefits
5 . For persistent cough, take 2 tablespoons of honey, ½ teaspoon of Tulsi juice, ½ teaspoon  of ginger juice, 1 teaspoon lemon juice and a pinch of salt. Mix these together and use for immediate relief. It may not taste great, but soothes the itchiness of the throat.
6 . To get rid of pimples instantly mix Tulsi powder with a dab of concealer, to hide pimples. The mixture will not only cover the pimple, but also heal it, reduce the redness and swelling.
7 . Tulsi can help you to quit smoking. Chew 15-20 Tulsi leaves when the urge to smoke arises. The  stress  busting properties of Tulsi  help in curbing the urge to smoke.  Also, the anti-oxidants in Tulsi help reverse the damage of smoking. The minty flavour removes the smell of nicotine and tar from the mouth.
People are also Reading:
Natural Ways To Get Rid Of Pimples
Indian herbs To Fight Common Cold
So go ahead and embrace the traditions of the old, plant a Tulsi in your home, and chew your way to a healthier life!