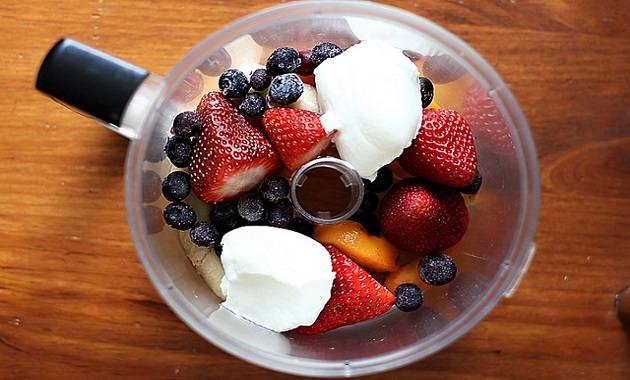 Breakfast is undoubtedly the most important meal of the day. It gets your body started, boosts your metabolism, gives you a high to start your day afresh and keeps you fuller throughout the day. But most of us do not find the time to prepare a healthy breakfast and start our day without it and then keep binge eating for the rest of the day. One excellent way to get the goodness of breakfast with very less effort is to invest in a blender. A blender will help you prepare delicious, healthy, filling and wholesome breakfast smoothies in no time. And this all is super easy.
Here are some delicious and healthy breakfast smoothies that you can make in no time:
1 . Oat And Berry Smoothie
-You Will Need
¼ cup oats, ½ cup blueberries, ½ cup yogurt, 1 tablespoon sugar, ¼ teaspoon grated fresh ginger.
-How To Prepare
You need to soak the oats in water for about 10-15 min. Then add blueberries, yoghurt, sugar, ginger and oats in a blender. Blend until smooth and add water if required. Top it with chunks of ice for the cool touch.
2 . Spinach Smoothie 
-You Will Need
1 1/2 cups coconut milk, 2 cups stemmed and chopped spinach, 1 apple unpeeled, cored and chopped into small pieces, half avocado chopped.
-How To Prepare
Mix all the ingredients in a blender and add water to it for the desired consistency. You can add honey instead of sugar and a pinch of black salt to enhance the taste.
3 . Banana And Bread Smoothie
-You Will Need
2 brown bread slices, one large ripe banana, preferably cold skimmed milk, cashew nuts.
-How To Prepare
Blend the slices of brown bread and banana until smooth. Slowly add milk to bring the mixture to the desired consistency. Add a bit of brown sugar if you are one with the sweet tooth. Top it with cashew nuts and have a wholesome smoothie which will keep you feeling full for a long time.
4 . Pineapple And Almond Smoothie
-You Will Need
2 cups of kale, 2 cups almond milk, 3 cups of pineapple peach.
-How To Prepare
 You need to blend the kale leaves and almond milk together in a blender first and then add the pineapple to it. Add a pinch of black salt and flax seeds to it to make it a perfect green smoothie for those who are on a diet and want to lose a few kilos.
5 . Chocolate And Ice-Cream Smoothie
-You Will Need
3/4 cup chocolate, vanilla ice-cream, 2 tablespoons unsweetened cocoa; 1/2 cup skimmed milk; Dark chocolate shavings and chunks of walnut for garnish and a thin chocolate bar.
-How To Prepare
Add chocolate, ice cream, cocoa, almond milk and blend all of them together. Garnish with dark chocolate shavings and walnuts and dip the chocolate bar into in. The result is a glass filled with goodness of milk and walnuts and an enchanting taste for the chocolate lovers.
With these perfect smoothies, you can now combine nutritive benefits of spinach, fruits, nuts and milk and other beneficial foods. These options are easy to make and fit in conveniently in your busy mornings. So start your mornings with your favorite smoothie and make every breakfast memorable! Eat Healthy, Stay Healthy!