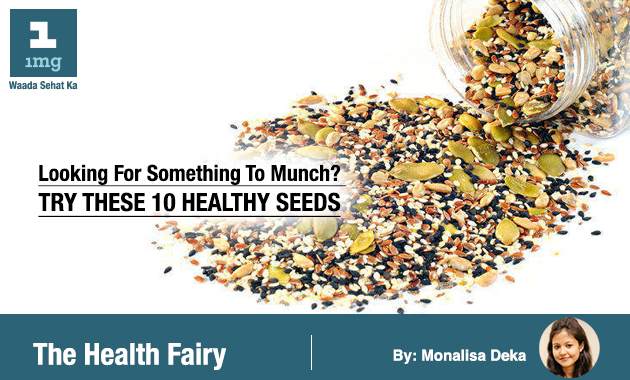 Do you end up munching those unhealthy chips, biscuits, Maggi or the roadside momos whenever the evening hunger pangs strike? Yes? Then ditch the unhealthy and embrace this alternative- Tasty and Healthy Seeds.
Here we bring 10 healthiest seeds with their nutritional content and health benefits that you can eat daily.
1. Chia seeds
These seeds are currently the talk of the town. Chia seeds are rich in iron, folate, fibre, protein, calcium and healthy omega-3 fats.
Benefits: Chia seeds help lose weight, reduces blood sugar level and blood pressure, reduces the risk of heart diseases, lowers joint pain and fights arthritis and reduces depression.
How to eat?
Just dry roast the seeds before adding it to your favourite smoothies, lemonade and soup. You can even add it as whole to your baked food for a fibre boost or make chia pudding as a healthy dessert.
For adults, 15-20 grams of Chia seed is advisable, whereas, children between 10 to 18 years can have 10 grams of chia seeds per day.
2. Sabja seeds
Dream to have a flat tummy? Then these seeds are just right for you. These black and tear-shaped seeds are also called as Basil seeds and many confuse it with Chia seeds.
Benefits
Helps in weight loss and in keeping the body cool especially during summers. It also helps reduce the risk of heart diseases, regulate blood pressure and sugar levels and cures a cold and cough.
How to eat?
You need to first soak the seeds in water for a couple of hours and then add it to your lemonade, sherbet or just plain water. You can also add it to your salad or curd. Have it before any meal to make you feel fuller.
2 tsp of Sabja seeds is what you need daily.
3. Pumpkin
Sweet nutty and little creamy in taste, pumpkin seeds are a good source of amino acids, protein, and omega-3 fats, as well as minerals such as zinc and magnesium.
Benefits
Help reduce bad cholesterol, lower blood pressure, enhance immunity, regulate insulin levels, maintain a healthy heart and give gorgeous hair and skin. Regular intake of pumpkin seeds is known to reduce the risk of breast cancer and bladder stone.
How to eat?
Just dry roast them and munch them as a healthy snack or grind and sprinkle onto your oatmeal, smoothies or salad.
About 1-2 tbsp of pumpkin seeds daily is ideal for an adult.
4. Flax seeds
Flax seeds are a great source of fibre, protein and omega-3 fats. However, it is important to eat ground flax seeds as the omega-3 fats are present within the fibrous outer shell of the seed, which is difficult to digest.
Benefits
It helps in weight loss, maintains a healthy heart, reduces cholesterol, lower cancer risks, control blood sugar levels and eases premenstrual syndrome.
How to eat?
Grind and add it to your breakfast items like cereal, yoghurt, smoothies. However, do not exceed more than the required amount as it may cause gastrointestinal side effects.
Experts and nutritionists recommend 1 tbsp of flaxseeds a day.
5. Sunflower seeds
Sunflower seeds, also known as 'surajmukhi ke beej' is a treasure house of incredible health benefits.
Benefits
Rich in vitamin E these seeds are great if you dream of gorgeous skin and hair. These seeds also help reduce cholesterol levels.
How to eat?
You can eat sun-dried sunflower seeds as a snack or grind and add it to your soup or salad.
Eat 1 tbsp of sunflower seeds every day for best benefits.
6. Watermelon Seeds
Wait for the summer and you will get back your favourite sweet and juicy watermelon to relish.
Benefits
Rich in fibre and micronutrient content, watermelon seeds help boost immunity, keep blood sugar in check and also reduces the risk of heart disease.
How to eat?
Just sun-dry the seeds and eat as a healthy snack or add garnish on salads.
You can have ¼ tbsp of watermelon seeds every day.
7. Sesame seeds
Ever noticed the seeds on top of the burger buns? Those tiny seeds also known as 'til'and are available in black and white colour. They are a good source of essential nutrients like calcium, magnesium, zinc, fibre, iron, B1 and phosphorus.
Benefits
They help improve heart health, boost immunity and lower blood cholesterol. Til is also known to improve sex hormone status in both men and women.
How to eat?
Never miss the famous 'til ke laddu, chikki and barfi' especially during winters. You can even sprinkle some seeds onto your baked chicken or vegetables.
You can consume 1 tbsp of sesame seeds a day.
8. Lotus seeds
Lotus seeds popularly known as Makhana has become a trending healthy snack after Kareena Kapoor Khan revealed her secret behind her weight loss.
Benefits
High in fibre and low in calories makes it an ideal food for weight loss. It is also beneficial for diabetic patients, maintains a healthy heart and controls blood pressure. Being rich in calcium it is also great for your bones.
How to eat?
Replace your popcorn with this healthy snack. Makhana can be eaten raw but taste awesome when roasted with little ghee. It is also used in kheer and puddings.
25 grams of makhana a day is good for the whole family.
9. Hemp seeds
Hemp seeds were ignored for over half a century due to the confusion of hemp's similarity with marijuana as both belongs to the same family. A complete protein source, hemp seeds are also rich in fibre and omega 3 and omega 6 fatty acids and is now gaining popularity.
Benefits
Hemp seeds are rich in fibre so is great for your metabolism. It also helps lower cholesterol and blood sugar levels.
How to eat?
Dry roast and grind the seeds and add it to your smoothie, cereals, soups etc
2 tbsp of hemp seed is enough to increase your fibre content.
10. Quinoa seeds
Often mistaken as a grain, Quinoa is actually a seed.
Benefits
It has high fibre, protein and vitamin E content. It also contains a good amount of minerals and anti-oxidants.
How to eat?
You can now replace your rice bowl or oats with quinoa. You can also grind the seeds and make dosa, upma, dhokla out of it.
Eat one cup of cooked quinoa in a day for weight loss.
So what are you waiting for? Head towards your nearby supermarkets or order online your favourite seeds.