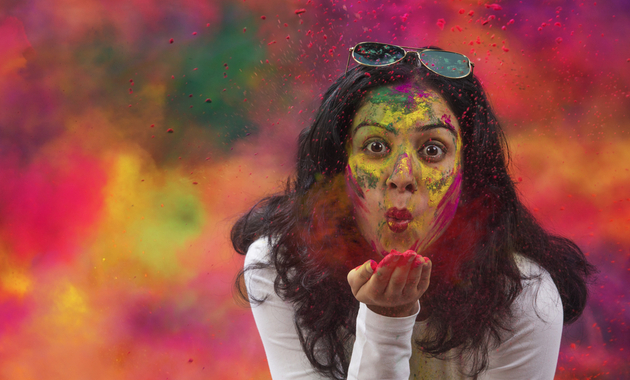 Holi, the festival of colors, the start of warm weather, and the triumph of good over evil, is all about togetherness, fun, laughter and filling the air with colors of warmth and love. But this beautiful festival of colors could turn into a nightmare if you use cheap, toxic chemicals for playing Holi.
The synthetic colors can contain toxic chemicals which come in contact with your skin and cause allergic reactions like itching, swelling and dermatitis. They can also cause redness, irritation and eye infections. Excessive use of dry black color (which contains lead oxide) can affect the kidneys. Chlorine iodine in purple color can trigger breathing problems like asthma. The synthetic colors can damage your hair and make it dry and brittle. It can, however, wreak havoc on your skin, if proper care isn't taken before indulging in colors.
So, the best way to ensure a safe and joyous Holi is to make your own herbal colors and follow some skin care tips that can ensure healthy skin this Holi.
Beautiful Skin Begins With Exceptional Skin Care. Shop For Premium Skin Care Products Today.
HOW TO MAKE HERBAL COLORS AT HOME:
You can make your own colors at home and protect yourself and your loved ones from toxic effects of the chemicals used in synthetic colors. Here are some easy to make herbal colors:
 WET COLORS
-For yellow color, add one teaspoon of turmeric (haldi) to two liters of water and stir well. This can be boiled to increase the concentration of color and further diluted.
-For red color, add 2 teaspoons of red Sandalwood powder in one liter of water and boil. Dilute and use. Or else, you can use peels of ripe pomegranate (anaar) boiled in water give a red color.
-For pink color, soak kachnar (bauhinia variegata) flowers (pink variety) in water overnight, or boil for a pinkish color.Or else boil a few pieces of beetroot in a cup of water to create dark magenta colored water.
-For orange color, soak henna leaves in water overnight and use the water to play Holi in the morning.
-For black color, boil dried fruits of amla (Indian gooseberry)  in an iron vessel and leave overnight. Dilute with water and use.
DRY COLORS
To make dry colors, take rice flour and add a few drops of food color. Add 2 teaspoons of water so as to make a thick paste. Leave it to dry and then blend it in a blender to use it as a powder color.
You can use henna powder separately or mixed with equal quantity of any suitable flour to get a lovely green shade.
For dry red color, dry red hibiscus flowers in shade and powder them to make red color. To increase the bulk add any flour to the powdered flowers.
Also Read: Hibiscus Benefits
For yellow color, mix two teaspoons of turmeric with 4 teaspoons of besan (gram flour). Turmeric and besan are extremely healthy for the skin.
SKIN CARE TIPS TO FOLLOW THIS HOLI: 
1. Oil Your Hair
Your hair is the first to bear the brunt of Holi colors, water and sunlight, make hair brittle. Ensure to oil you hair and scalp well before Holi. Coconut Oil, olive oil and mustard oil are good options as they are thick and coat the hair well to prevent damage. Apply oil and braid hair to protect your hair through Holi.
Prevent Further Hair Fall And Greying. Act Now. Shop Now.
2. Paint Your Nails
The night before Holi, paint your nails with dark nail paint, apply a base coat to protect your nails, and apply a coat or two of your selected color. Nail Paint prevents Holi colors from staining the nails. On the day of Holi use a nail file to apply petroleum jelly under the nails to protect the underside from color.
3. Cover Up
Wear long pants and long-sleeved kurtas to Celebrate Holi. The less skin you expose to color, the less damage you cause to your skin. Covered parts of the body will stay clean and protected from the worst of Holi.
4. Oil Your Body
Apply a thick layer of coconut oil all over, before playing Holi. Remember to get areas such as the back of the neck, behind the ears, between fingers and toes, face and neck. After the oil is absorbed, spray a waterproof sunscreen on exposed areas, to protect from sun damage and not get washed off in the water games of Holi.
5. Wear Sunglasses
Holi celebration tends to get messy, with colored powder and water being flung around in every direction. Use shades to protect your eyes from color and colored hands applying color on your face. Wash eyes immediately in case any color gets into them.
6. Wear Sturdy Footwear
Water play, slippery areas, broken glasses pebbles etc. are injury causing combinations, from broken nails to scrapes due to slipping, to cuts and other injuries. Wear sturdy closed shoes with good grip to ensure that your feet are protected from getting stamped, slipping or stepping on something.
**Consult India's best doctors here**
7. Carry Essentials
Arm yourself with sanitizer, Band-Aids, tissues, wet wipes, sunscreen, lip balm and some petroleum jelly to combat any minor problems that crop up.
So, go ahead and enjoy the festival of Holi with homemade safe herbal colors and easy skin care tips. Stay Happy, Stay Healthy with 1mg!
Recommended Reads:
8 Effective Tips To Get You Glowing After Holi!
8 Healthy Eating Tips That People With Diabetes Must Know Of