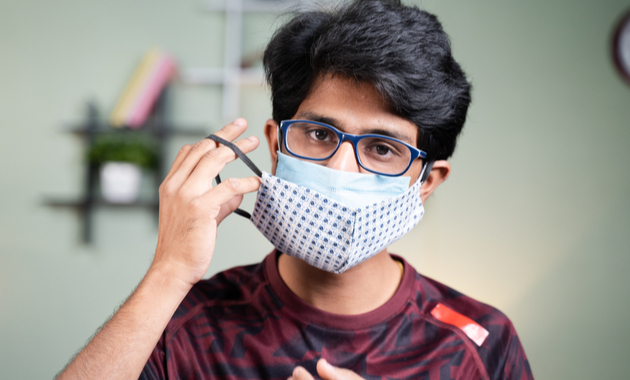 While we are facing the double whammy of the more transmissible COVID-19 variants and the ferocious second wave, masking ourselves well still counts as an important and followable safety measure. A recent CDC study has validated that double masking or wearing a surgical mask below a cloth mask reduces the risk of transmission by at least 95% [1]. Let's know why and how to double mask rightly.
Double up your guard with double masking
Double masking is known to
1. Improve the fit: Doubling your mask can seal the gaps and stop the infected droplets from leaking in.
2. Maximize protection: Minimize the chance of respiratory droplets entering and escaping.
Don't use masks having exhalation valves/vents or made of thin, loosely woven cloth.
Click here to look for a COVID-appropriate mask here!
How to double up your mask?
Always pair a surgical mask underneath a cloth mask for double masking.
– Surgical mask over surgical mask: Not effective; fit is compromised
– Surgical mask over cloth mask: Not tested
– Cloth Mask + Cloth Mask: Not tested
– N-95 Mask + Any Mask: Not needed and advised
The study assessed two ways of enhancing mask usage for better protection:
1. Knot-and-tuck the medical mask
2. Double masking
How to Knot-and-Tuck?
– Fold the mask and knot the ear loops on both ends close to the edges of the mask.
– Tuck in the extra side pleats near the knot to reduce gaps.
– Wear this to cover your nose, mouth, and chin well.
Watch the video to know the right way of the knot-and-tuck method.
What do the numbers say?
The study [1] calculated that out of the particles produced from a simulated cough:
– Unknotted 3-ply medical procedure mask alone blocked 56.1%
– 3-ply cloth mask alone blocked 51.4%
– Double masking (wearing a 3-ply medical mask below 3-ply cloth mask) blocked 85.4%
– Knotted and tucked medical procedure mask blocked 77.0%
– N-95 masks do not need doubling up as they provide a fitter seal and filter 95% of the particles.
Tips To Keep In The Mind
1. The exposure to the virus reduces by 96.4% if both infected and uninfected persons wear double masks and by 95.9% if both wear knotted and tucked masks.
2. Unlikely to affect breathing. Breathing may seem difficult with two masks, yet 'cloth over surgical' is easily manageable and doesn't even reduce oxygen supply too [2].
If you have any doubts, speak to an expert. Consult NOW!
3. Choose the right cloth mask. Make sure it is made of breathable fabric, preferably cotton, has two or more layers, and a nose wire or clip on the top for better adjustment. Ensure that your cloth mask pushes the edges of the surgical mask to your face, giving you a perfect fit.
Word of Advice
Before double masking outside, take a home test. Wear the double mask and walk around for several minutes. If you can breathe easily and your vision is not hampered, you're good to go.
Along with masking up, make sure to stay indoors, get vaccinated, and continue maintaining distance and sanitizing hands. Explore coronavirus prevention range.
(The article is reviewed by Dr. Swati Mishra, Medical Editor)
Recommended Reads:
Covishield Vs Covaxin: Benefits, Side-effects And Efficacy
Here's What An Ideal Diet For Corona Patients Should Include
References:
1. Brooks JT, Beezhold DH, Noti JD, et al. Maximizing Fit for Cloth and Medical Procedure Masks to Improve Performance and Reduce SARS-CoV-2 Transmission and Exposure, 2021. MMWR Morb Mortal Wkly Rep 2021;70:254–257. https://www.cdc.gov/mmwr/volumes/70/wr/mm7007e1.htm
2. Should we be double-masking now? The Ohio State University. Wexner Medical Center. https://wexnermedical.osu.edu/blog/should-we-be-double-masking-now