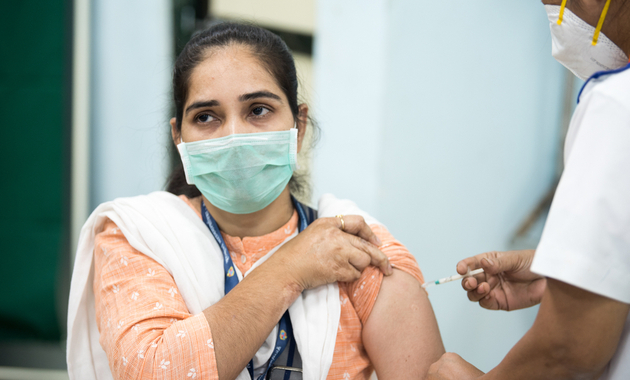 While the second wave of the COVID-19 pandemic has surely reminded us of the hard times faced during the first wave in 2020, we still have an upper hand in the fight against covid-19, thanks to the nationwide vaccination drive. 
Getting vaccinated is undoubtedly one of the simple yet effective ways to fight the pandemic. Vaccination helps to prepare your immune system by producing antibodies to fight against any infection. Moreover, getting COVID vaccination is known to reduce the severity of the infection (due to the presence of antibodies) and also lowers the chances of getting hospitalized due to the COVID-19 infection.
Currently, the Indian Government has approved two vaccines namely Covishield® and Covaxin® to fight COVID-19. But if you are still in doubt about these vaccines or are wondering which one is better among the two, then here is a quick read to help you out and answer all your queries.
Vaccines In India For COVID-19
As most of you might be aware, Covishield and Covaxin are the two vaccines approved by the Government of India for COVID-19. However, the 3rd vaccine by Russia, known as Sputnik V, has recently been approved by the Drug Controller General of India (DCGI). The vaccine might take some time (maybe next quarter) to be rolled out after the supplies are ramped up.
Covishield is developed by the Oxford-AstraZeneca which is manufactured by Serum Institute of India, Pune whereas Covaxin is manufactured by Hyderabad-based Bharat Biotech Limited in association with the Indian Council of Medical Research (ICMR) and the National Institute of Virology (NIV).
Watch the video to know what our expert has to say about Covishield and Covaxin.
Vaccine Type & Technology
Covishield is a type of harmless virus (known as adenovirus) that is modified with COVID-19 spike proteins to boost antibodies in humans.
On the other hand, Covaxin is a dead/inactivated virus that contains the entire virus particle (whole-virion) to boost antibody production to fight COVID.
Who Should Get Vaccinated?
According to the current guidelines, anyone above 45 years of age should get vaccinated without fail. But, from 1st May 2021, every person above 18 years of age should be vaccinated.
How Many Doses Should You Take?
Like most other vaccines, both the COVID-19 vaccines should be given in the muscles (intramuscularly), preferably in the upper arm and in 2 doses.
You need to take 2 doses of the same vaccine (Covishield or Covaxin) for the vaccination schedule to be completed. This is because it is only after 2 – 3 weeks of the second dose that an adequate immune response is produced by the body.
The 2nd dose schedule for
Covishield is 6 weeks to 8 weeks (42 days to 56 days) after 1st dose
Covaxin is 4 weeks to 6 weeks (28 days to 48 days) after 1st dose
From Immunity Boosters To Personal Care Products, Check Out Our Coronavirus Prevention Range.
Are There Any Side-effects?
As seen with any other vaccination, minor side-effects can be seen post-vaccination for both vaccines.
Covishield Side-effects
Some mild symptoms that may occur include
– Pain and tenderness at the site of injection site
– Headache
– Fatigue
– Myalgia (muscle pain)
– Malaise (Generalised weakness)
– Pyrexia (fever)
– Chills
– Arthralgia (joint pain)
– Nausea
In very rare cases, neurological complications (demyelinating disorders) have been reported following vaccination with this vaccine.
Covaxin Side-effects
Some immediate symptoms that may occur include
– Pain and swelling at the site of the injection
– Headache
– Fatigue
– Fever
– Body ache
– Abdominal pain
– Nausea and vomiting
– Dizziness-giddiness
– Sweating
– Cold and cough
– Tremors
No other vaccine-related serious adverse effects have been reported.
**Consult India's best doctors here**
Does Covishield Cause Blood Clot?
There were several cases reported in Europe which claimed that a very small number of people who got vaccinated (of the entire population) had blood clots. However, there is no evidence which states that these people got blood clots due to the vaccination or they already had a risk of suffering from blood clots even without vaccination. 
Who Should NOT Take The Vaccine?
1. COVID-19 vaccination is contraindicated in
– People with allergic reaction/anaphylaxis (immediate or delayed) to vaccines, food items, pharmaceutical products, injectables, etc
– People with a history of allergic reaction to a previous dose of the COVID-19 vaccine
– Women who are pregnant (including the ones who are not sure of their pregnancy) and breastfeeding women 
2. COVID-19 vaccination is temporarily contraindicated (deferred for 4-8 weeks or post-recovery) in people
– With active COVID-19 infection or those waiting for test results
– Who have been given anti-COVID-19 monoclonal antibodies or convalescent plasma 
– Who are unwell and hospitalized for any illness
Note:
Covishield is to be given with caution in people with low platelet count (thrombocytopenia) and Covaxin when given to people taking drugs such as chloroquine and/or corticosteroids is known to affect the antibody response, so talk to your doctor before getting vaccinated.
Here is a simple and quick guide to stay aware of the latest happenings and authentic information on COVID-19.
Covashield Vs Covaxin: Which Is Better? 
There is no head-to-head comparison data available for these vaccines in India. Both vaccines work fine in preventing the infection and lowering the risk of getting a serious infection (if infected in the future). The key aim is to prevent death in elderly people and those with comorbid conditions such as diabetes, respiratory disease, heart disease, etc.
Post Vaccination Tips To Follow
1. Follow COVID Appropriate Behaviour (CAB) such as:
– Wearing a mask
– Using a hand sanitiser
– Washing hands with soap and water
– Maintaining social distance (physical distance of at least 2 feet)
2. If you experience minor side-effects such as pain or discomfort post-vaccination, taking over-the-counter (OTC) medications such as paracetamol and painkillers after consultation with a doctor is advised. You can even apply a cold cloth over the site of injection or exercise your arm to reduce pain and discomfort. Drink loads of fluids and dress lightly to reduce discomfort from fever.
3. If you are under self-isolation, waiting for the COVID-19 test results or are ill on the date of the vaccination or have symptoms of COVID-19, cancel your appointment. You can reschedule your appointment after 4-8 weeks of recovery from COVID symptoms.
Suffering from cough/cold, fever and breathing difficulty? Book a test right now! Click here!
4. Make sure to take the second dose of the vaccine without fail. Also ensure, the second dose is the same as the first administered dose. For example, if your first vaccine dose is Covishield, then take Covishield in the second dose as well. Do not take Covaxin during the second dose and vice-versa. So if you are taking your first dose, then don't forget to ask your vaccinator about the type of vaccine.
Get Vaccinated Today!
Getting vaccinated is taking one step forward to restore society back to its original state. Make sure to vaccinate yourself and your family members who are eligible. Follow covid appropriate behavior even after getting the shot for a healthier YOU and a healthy nation!
(The article is reviewed by Dr. Sakshi Sharma, Health Content Manager)
Recommended Reads: 
COVID-19 Vaccine: Most Commonly Asked Questions Answered
Most Frequently Asked Questions About New COVID-19 Variants
References:
1. FAQs for Healthcare Workers and Front line workers PDF. The Ministry of Health And Family Welfare (MoHFW). Government of India. https://www.mohfw.gov.in/pdf/FAQsforHCWs&FLWs.pdf
2. ANI. Twitter Thread dated Apr 13, 2021. https://twitter.com/ANI/status/1381817631112450052
3. Possible Side Effects After Getting a COVID-19 Vaccine. The Centres of Disease Control And Prevention (CDC). Last updated Mar 16, 2021. https://www.cdc.gov/coronavirus/2019-ncov/vaccines/expect/after.html
4. COVID-19 Vaccine Communication Strategy 2020 PDF. The Ministry of Health And Family Welfare (MoHFW). Government of India. https://www.mohfw.gov.in/pdf/Covid19CommunicationStrategy2020.pdf
5. Torjesen I. Covid-19: First doses of vaccines in Scotland led to a substantial fall in hospital admissions BMJ 2021; 372 :n523. https://www.bmj.com/content/372/bmj.n523
6. Letter from Additional Secretary of MoHFW regarding Contraindications and Factsheet for COVID-19 vaccines PDF. National Health Mission. https://www.mohfw.gov.in/pdf/LetterfromAddlSecyMoHFWregContraindicationsandFactsheetforCOVID19vaccines.PDF