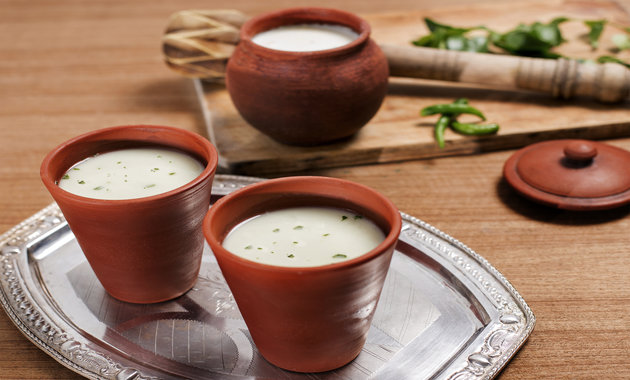 Made with a mixture of curd and water with added spices, buttermilk (chhachh or lassi)  is very effective in cooling down the stomach after a heavy meal. It cleanses the globules of fat that get stuck to alimentary canal. Also known as a refreshing coolant, it is almost a must-have during summers. Buttermilk is a great source of protein, calcium, vitamin B complex and potassium.
Here are some of the amazing health benefits of buttermilk:
1 . Strengthens Bones
Sip some buttermilk to boost your calcium intake.  Adults require 1000 to 1200 mg of calcium per day to maintain healthy bones and teeth.  Adding just one glass of chhachh or lassi to your diet can boost your calcium intake by 250 mg.
Ways to have
-In a blender jar, add 3 cups of curd, ½ tsp. roasted jeera powder,2 glasses of water,  black salt as required, 5 to 6 ice cubes and blend. Pour into glasses and garnish with coriander leaves.
-A curry made with buttermilk and gram flour is also a popular dish. Cook both the ingredients together and season with hot ghee tempered with mustard seeds, curry leaves, dried red chillies, and heeng (asafoetida). Add salt to taste.  An excellent accompaniment to rice.
2 . Prevents Dehydration
Packed with electrolytes from curd and lots of water, buttermilk is the next best thing you can give your body to fight dehydration caused due to summer heat or if you have an upset stomach.
Ways to have
-In a blender take about 3 tablespoons of curd, add enough water and ½ tsp. dry ginger powder. Blend and add have this 3 to 4 times a day making it fresh each time.
-In an event of extreme diarrhea take only a tbsp. of curd and blend it with 1 glass of water, ½ tsp. of jeera powder and some rock salt. Make sure that the chhachh is very thin almost watery. Have this 3 to 4 times a day.
3 . Regulates Blood Pressure
Milk fat globule membrane, a compound found in buttermilk, is rich in bioactive proteins that help to lower cholesterol. It also has anti-cancer properties and is known to lower blood pressure if taken on a daily basis.
Ways to have
-In a blender add about 3 tbsp. of curd, ½ jeera powder, ½ tsp. black pepper powder and green coriander leaves along with 2 curry leaves and black salt. Blend well for green colored buttermilk.
-A novel way of preparing paneer is with buttermilk. Take 1 liter of buttermilk, put it to cook.  Add 1 cup of milk and 4 tbsp. of white vinegar.  Keep stirring. Until the buttermilk has curdled.  Strain, for light and healthy paneer. Use in cooking or have it raw.
4 . Good Protein Source For Vegetarians
A single cup of buttermilk supplies 3-4 gram of protein which makes up 15% and 17% of the protein required for women and men respectively.
Ways to have
-Grind together 2 black pepper, 2 leaves of curry leaves, ½ green chilli, ¼ tsp. cumin seeds, one inch ginger and a few sprigs of coriander leaves along with very little water. To this add about 4 tbsp of curd and one glass of water.  Blend again and serve.
5 . Reduces Skin Blemishes
Since it is astringent in nature, buttermilk treats age spots, freckles and even tightens skin. It is one of the best facial peels that can be used for tightening and softening the skin.
Ways to have
-Grind dry orange peel and combine it with buttermilk to make a paste. Apply this on your skin and gently massage it.  Leave it on for 30 minutes and wash off with cold water for glowing skin.
-Mix half a cup of buttermilk and 1 tsp. of rose water along with a drop of almond oil. Soak a cotton pad in this liquid and cleanse your face thoroughly for nourished skin.
There is a simile given for buttermilk in Ayurveda, it says "just as nectar is for Gods and Goddesses, buttermilk is for human beings". So, go ahead and add a glass or two of buttermilk into your daily dietary regimen and reap the countless health benefits that it has to offer. Stay Healthy, Stay Happy!