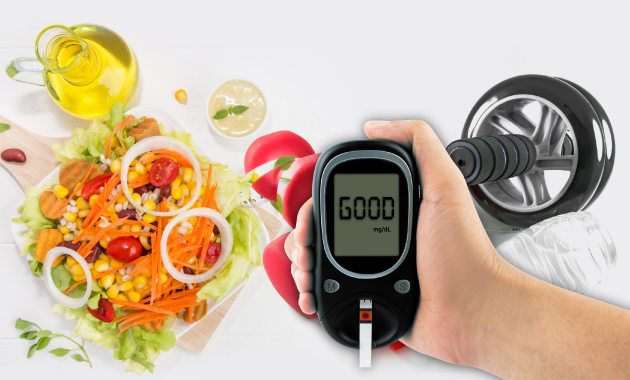 Diabetes is a manageable condition with diabetics having to put in their dedicated efforts consistently to keep in their best health. A healthy & balanced diet with regular exercise is important for anyone who wants to manage their diabetes effectively. Having a positive and encouraging mindset and regular monitoring of glucose levels can also go a long way in managing this condition with positive results.
Thus, it is imperative to make the right choices throughout your diabetes journey in order to effectively manage this condition.
1. Choosing The Right Health Insurance Plan
Aditya Birla Health Insurance presents the Activ Health Plan within which they have their Chronic Management Program. This is a specialized program that helps you manage lifestyle conditions from day 1 for chronic illnesses such as Asthma, High Blood Pressure, High Cholesterol and Diabetes (ABCD). It gives you cover for hospitalization benefits and also provides access to personalized guidance from expert health coaches who help you with a diet and workout plan, follow up on your medication, and give comprehensive nutritional, medical, and wellness counselling. This plan also provides a comprehensive health check-up once in a policy year.
Click here to get a quote from Aditya Birla Health Insurance.
What are the key benefits of Activ Health Plan's Chronic Management Program?
– Day 1 Cover
Get covered from the start date of the policy if you are suffering from any of the above-mentioned chronic conditions at the inception of the policy. However, hospitalization related to these conditions will be covered after a waiting period of 30 days.
– Cashless hospitalization
You can tap into their network of 8900+ hospitals and avail cashless treatment making it very convenient!
– Health & wellness coaches
These coaches can personalize workouts and nutrition plans specifically for you. They also review your medical reports and guide you accordingly.
2. Choosing the Right Fitness Routine
For diabetics, exercising is an important way to lower blood sugar levels but it can also be tricky. Exercising too hard or doing it wrong can harm your body. Here's how you can exercise to shed excess fat and improve your sensitivity to insulin while following certain precautions.
Diabetes Workouts-at-Home
Cardio exercises help to improve your heart health and lower your blood sugar levels. You can try these exercises that are generally beneficial for diabetics:
Power Yoga: This is a more intense form of yoga. It has more cardiovascular benefits compared to the traditional Hatha Yoga technique.
Cardio Pilates: Functional Pilates or Cardio Pilates strengthens your core, offers cardiovascular benefits, and improves your posture.
Metabolism Conditioning: This workout includes cardiovascular exercises which improves your metabolism and increases the uptake of sugar in your blood.
Exercise Precautions for Diabetics
If you are planning to start a diabetes exercise routine, you should ideally track your heart rate and blood sugar level during and after your workout. Here are some important precautions to follow before you build your own workout:
– Consult with your doctor to understand which exercises you can try safely.
– Build your strength and stamina by starting slow and increasing the intensity with time.
– Stay motivated for your daily exercise routine. Try and include more fun activities in your workouts.
– If you feel a sudden pain, listen to your body and stop immediately.
– Fruits or fruit juices are healthy carbs that you can consider consuming after a workout.
In addition to diet and exercise, getting a health insurance can also help you with a healthy life. 
3. Choosing to Focus on Mental Health
Stress is known to be a major barrier in managing diabetes as it directly affects your glucose levels. Long-term problems with blood glucose can lead to constant stress that negatively affects your mental and physical health, making diabetes management difficult.
Practices to Improve Mental Well-Being
It is possible to manage diabetes effectively with better lifestyle choices. Although diabetes comes with its own set of lifestyle challenges, you can still lead a happy and healthy life.
– Start by adding short meditative sessions or small workouts to your daily routine.
– Look for diabetic support groups, find one that best suits your lifestyle and personality. Being proactive about your health can help ease the tension in your life.
4. Choosing to Follow a Healthy Diet Plan
While there is no single cure for diabetes, taking certain precautions can help keep your diabetes in check. You can start by eating right. Measuring your portion size and calorie intake is the best way to start managing blood sugar levels in diabetics. Here's how you can create a balanced diet to effectively manage diabetes:
Cut down fried foods or anything that contains high carbs, sweets, red meat, butter, salt, and sugary drinks from your diet. Instead, you should include more green leafy vegetables like spinach and kale, fresh fruits, and whole grains to your diet. They are good for the heart and eyes as well. Eat a small meal at 2 to 3 hour intervals to keep your blood sugar level steady.
Check back on carbs. Carbohydrates are important as they are the main source of energy in your body. Instead of getting devoid of carbohydrates, focus on healthy carbohydrates and fiber-rich foods such as legumes (beans and peas) and low-fat dairy products. Diabetics may eat brown rice, whole grain bread, and whole-wheat pasta since they are starchy foods with a low glycemic index.
Include healthy fats. Foods like fish are rich in omega-3 fatty acids, making them ideal for preventing heart diseases (commonly associated with diabetes). Healthy fats like monounsaturated and polyunsaturated fats may be a part of your meals in the form of avocado, nuts, olive oil, and groundnut oil.
Snack wisely. Chia seeds and flax seeds are also important for diabetics as it can lower blood pressure and manage glycemic levels. This in turn decreases the risk of heart diseases.
Planning to get a health insurance? Click here to get a quote!
Last, but not least, you should consult a dietician to create a proper diet plan that specifically suits your need. Work your way around a proper diet to control your diabetes.
Disclaimer: This is a sponsored article powered by Aditya Birla Health Insurance. The information provided in this article in the form of text, tips, suggestions, and products, which comprises general advice for consumers. 1mg does not endorse any brands and is not responsible for their efficacy.
Aditya Birla Health Insurance Co. Limited. IRDAI Reg.153. CIN No. U66000MH2015PLC263677. Product Name: Activ Health, Product UIN: ADIHLIP21574V032021. Advt. UIN: ABHI/ONL/21-22/4314. Regd. Office address: 9th Floor, Tower 1, One World Centre, Jupiter Mills Compound, 841, Senapati Bapat Marg, Elphinstone Road, Mumbai 400013. Email: [email protected], Website: adityabirlahealthinsurance.com, Telephone: 1800 270 7000. For more details on risk factors, terms and conditions please read terms and conditions carefully before concluding a sale. Trademark/Logo Aditya Birla Capital is owned by Aditya Birla Management Corporation Private Limited and Trademark/logo HealthReturns, Healthy Heart Score and Active Dayz are owned by Momentum Metropolitan Life Limited (Formerly known as MMI Group Limited). These trademark/Logos are being used by Aditya Birla Health Insurance Co. Limited under licensed user agreement(s). Day 1 Cover is available for chronic conditions i.e. Asthma, High Blood Pressure, High Cholesterol and Diabetes under Chronic Management Program. Hospitalization related to these conditions will be covered after a waiting period of 30 days. Chronic Management Program is entitled for insured person aged 18 years and above. Expert Health Coach – T&C Apply.
References:
1. Health Insurance Aid. Diabetes. The American Diabetes Association (ADA). https://www.diabetes.org/resources/health-insurance
2. Diabetes Diet, Eating, & Physical Activity. Diabetes Overview. National Institute of Diabetes and Digestive and Kidney Diseases (NIDDK). National Institute of Health (NIH). https://www.niddk.nih.gov/health-information/diabetes/overview/diet-eating-physical-activity
3. Living With Diabetes. Centers for Disease Control and Prevention (CDC). https://www.cdc.gov/diabetes/managing/