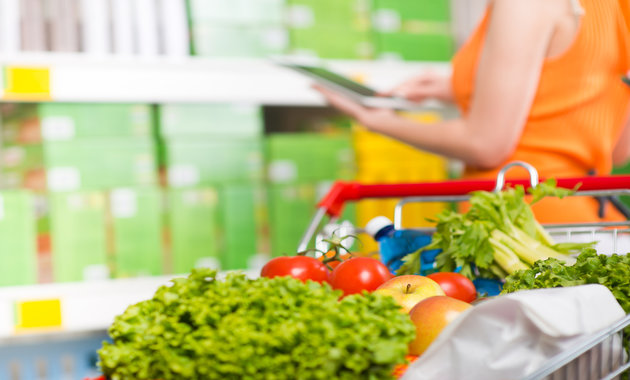 There is a lot of information available all over the internet on how to keep yourself safe and healthy during the COVID-19 lockdown period. While social distancing and staying indoors is one of the best ways to protect yourself and your family from the deadly coronavirus, there is not much clarity about how safe and healthy it is to buy groceries,fruits and vegetables. Few questions that are still troubling many people are:
How safe is buying groceries from stores?
Is online grocery shopping safer than personal grocery shopping?
Is buying veggies and fruits from local vendors safe?
Is cleaning them in water sufficient to get rid of microbes?
Shall I clean them in soap water or disinfectant?
So on and so forth..
Here's a sneak peak of what is the right way to buy and clean fruits, vegetables and grocery items and tips to be followed by food handlers.
Also read: A Checklist Of Coronavirus Lockdown Essentials
How Safe Is The Food YOU Buy?
According to the Centers for Disease Control and Prevention (CDC), coronaviruses spread from one person to another through respiratory droplets. There is no evidence as yet that these viruses can be transmitted through food. However, to be on a safer side, it is advised to wash your hands with soap and water before and after handling food produce and eating/preparing food. 
Although it is possible to get COVID-19 by touching a surface/object that has the virus on it and then touching your face/mouth/nose/eyes, the risk is slightly less as it is not the main mode of transmission. Moreover, due to poor chances of survival of coronaviruses on surfaces, packaged food products that are refrigerated or kept in chillers (frozen temperatures) or those shipped at ambient temperature for days/weeks have low risk of transmission.
Food Handling: Do's and Don'ts To Follow
– When buying fruits/vegetables from a local market, make sure you follow social distancing or maintain a distance of approximately 3 feet from others. Here's more on how social distancing can help prevent the spread of COVID-19.
– Do not forget to carry a sanitiser while going for grocery shopping. Use it before and after handling raw food including fruits and vegetables. Also, wash milk packets before use and storing them. Refrain from opening the milk packets with your teeth. Using a sanitiser after handling money as cash handling may act as a significant source of spread of infection although there are no clear cut guidelines on this by the WHO. Can Cash Handling Put YOU At Risk Of Coronavirus (COVID-19)? Read This!
-After getting fruits/vegetables from the local market, wash and scrub veggies under running water. Do not wash fruits and vegetables with soap and water. This is because it can up the risk of toxic chemicals getting deposited onto the surfaces of fruits and vegetables which if consumed can lead to stomach upset. Instead, wash them with plenty of water and pat them dry with a plain, clean cloth before you store them appropriately or cook them. Use a clean vegetable brush for cleaning veggies like cucumber. Discard outer leaves of cabbage and stems of cauliflower before storing in the refrigerator. 
– Do segregate raw/cooked and vegetarian/non-vegetarian foods properly to avoid cross-contamination. Also, all the equipment such as  chopping boards, knives, cutlery, containers, cooking utensils, spoons, etc should be sanitized before use. 
-If you are handling raw meat, then make sure you separate it from other foods and refrigerate it at the right temperature. Also, it is important to properly cook meat and meat products (at right temperature) to kill the germs.
– If you have ordered groceries online, then ask the delivery person to leave the package at your door (it's for their safety too!) and if possible, opt for contactless mode of payment (no cash/card). Also, unwrap and immediately discard the outermost packaging and wash your hands after receiving and opening the package. Here's more on how to receive packages safely?
Remember, ensuring proper measures such as staying at home, following social distancing when outdoors, washing your hands at regular intervals and staying alert can help you to stay safe. Stay Safe, Do Not Panic.
Click here for regular and authentic updates on Novel Coronavirus
(The article is reviewed by Dr. Swati Mishra, Medical Editor)
Recommended Reads:
COVID-19: What Is Social Distancing And How It Helps?
Coronavirus: How To Receive Packages Safely?
References:
1. FSSAI Comes Up Do's, Dont's For Chefs, Food Handlers. Food Safety and Security Authority of India (FSSAI). https://fssai.gov.in/upload/media/FSSAI_News_Corona_Chef_28_03_2020.pdf
2. Coronavirus Disease 2019 (COVID-19) Frequently Asked Questions. US Food and Drug Administration (FDA). https://www.fda.gov/emergency-preparedness-and-response/coronavirus-disease-2019-covid-19/coronavirus-disease-2019-covid-19-frequently-asked-questions
3. Food Safety and the Coronavirus Disease 2019 (COVID-19). US Food and Drug Administration (FDA). https://www.fda.gov/food/food-safety-during-emergencies/food-safety-and-coronavirus-disease-2019-covid-19