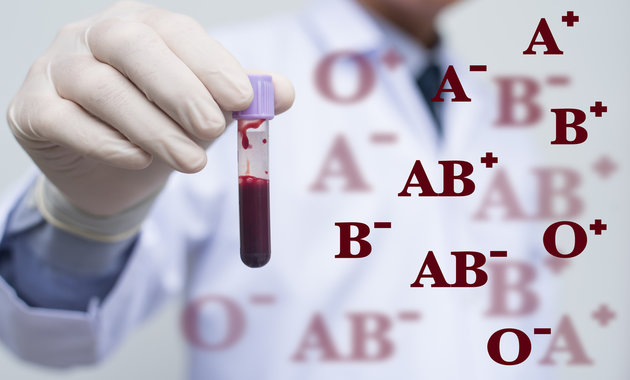 A blood group is a classification of blood based on the presence or absence of certain substances on the red blood cell surface. There are around 35 blood group systems but the most common ones are the ABO and RH system. Like the eye color, the blood type is determined from the genes which you inherit from your parents.
1. WHAT DO BLOOD GROUPS A, B, AB AND O MEAN?
There are different types of blood groups depending on the presence or absence of A and B antigens. (certain proteins found on the surface of red blood cells).
Group A – has only A antigen on red cells
Group B – has only B antigen on red blood cells
Group AB – has both A and B antigens on their cells
Group O – has neither A nor B antigen on the cells
You can get your and your family's blood grouping done at affordable prices here!
2. WHAT DOES POSITIVE AND NEGATIVE MEAN?
-In addition to ABO grouping,  another antigen is present on the surface of red blood cells called as the Rh factor determined by RhD antigen. It is either present or absent.
-When the Rh factor is present, the blood group is called positive and when the factor is absent, it is called negative.
-For example, O positive blood group means the absence of A and B antigens and the presence of Rh factor. Similarly, A- means the presence of A and absence of Rh factor.
3. WHY IS IT IMPORTANT TO CHECK BLOOD GROUP BEFORE A BLOOD TRANSFUSION?
-Blood typing and crossmatching is necessary whenever a blood transfusion has to be done.
-In a blood transfusion, it is important that a person receives blood type which is compatible with his or her own type.
-If two different blood types are mixed together, the red cells begin to clump together in the various organs of the body and can lead to life-threatening complications.
4. WHICH BLOOD GROUP IS THE UNIVERSAL DONOR?
-The blood group O-(O negative) is considered as a universal donor since the red blood cells of this person do not have A, B or Rh antigens on their surface.
-Therefore, they can donate blood to any patient. This should be done mostly in cases of emergency when there is no time for doing the blood group test.
-However, people with O+ blood group are not universal donors. They can give blood to only those people who are Rh+ ( A+, B+, O+, AB+).
5. WHICH BLOOD GROUP IS THE UNIVERSAL RECIPIENT?
-The blood group AB+ is known as a universal recipient since people with this blood group have all three antigens on their red blood cells. (A, B and Rh).
-People who are AB+ can receive blood from anyone.
**Consult India's best doctors here**
6. WHY IS IT IMPORTANT TO GET BLOOD GROUPING DONE WHEN PLANNING A PREGNANCY? 
-It is very important to get blood grouping done when planning a pregnancy.
-The reason for this is if the mother is Rh- and the father is Rh+, the baby's blood group will always be positive since the Rh factor is a dominant factor.
-If this situation is not treated properly under the supervision of a gynecologist, it can lead to serious complications for the baby.
So, it is important to know your blood group so that in case of any medical emergencies, it can save time as well as lives.