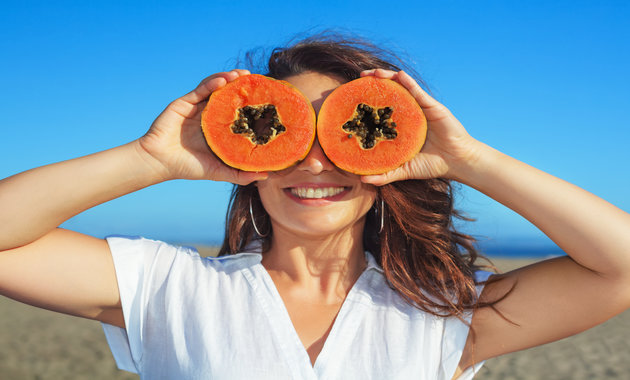 Papaya is packed with skin friendly nutrients like vitamins A, B and C, beta-carotene, papain and minerals like magnesium, potassium and copper. This is the reason why papaya is an active ingredient in many skincare and cosmetic products.
Here are 5 ways papaya can be beneficial for your skin:
1 . Evens The Skin Tone
Papain in papaya helps lighten and brighten skin, due to its natural bleaching properties. The vitamin C present in papaya reduces sun damage. Papaya also helps remove impurities from the skin, and removes dead skin cells, visibly brightening the skin.
How to use
Mash 150 grams of ripe papaya, with juice from half a lemon; apply this on your face, neck, arms, hand, legs and feet. Leave on for 30 mins and rinse with cold water. Use this once a week to see results.
2 . Reduces Signs Of Aging
Papaya helps hydrate the skin from inside and outside. Well hydrated skin shows fewer signs of aging, and papaya helps keep the skin, smooth and supple. Vitamin A in papaya helps reduce lines & wrinkles and removes dead skin cells. Increase your intake of papaya to 2 times a week to reap benefits.
How to use
Mash 150 grams of papaya; mix with a spoon of honey and raw milk. Apply this mix to your face and neck. Leave for 15 mins and rinse with cold water. Use this mask twice a week for results.
3 . Reduces Acne
Papaya helps unclog pores, reduce excess oil on skin, and heal acne due to its anti-septic, anti-inflammatory, anti-microbial and anti-parasitic properties. For reducing acne, use raw papaya both in your diet as well as for skin care.
How to use
Apply juice of raw papaya with a cotton ball to affected areas at least once a day. Leave on for 10 minutes and wash with cold water. Once a week apply a mix made with 2 spoons raw papaya paste, a few drops of lemon juice and a ½ teaspoon honey. Apply to affected areas and rinse with cold water after 15 mins.
4 . Heals Any Cuts Or Injuries
Papaya aids healing of minor cuts and injuries. It helps heal, keep bacteria and microbes away, soothe the injury and help reduce scarring. Papaya is also great to heal burns.
How to use
Simply apply the flesh of a ripe papaya to the injury to help quick recovery.
5 . Reduces Unwanted Hair
Papain in papaya is a powerful enzyme that can help reduce the growth of unwanted hair. The peel of a raw papaya is packed with this enzyme and is most effective in this form.
How to use
Rub the peel of a raw papaya to the areas with unwanted hair. Rub the peel gently for a minute and leave on for 15-20 minutes and rinse with cold water. Use daily to see results in 2-3 weeks.
A word of caution though, papaya can irritate those with sensitive skin. A patch test is recommended before you use ripe or raw papaya for its skin benefits. Rub the peel of a ripe or raw papaya to the inside of your forearm and leave on for 10-15 minutes. If you feel discomfort, irritation, redness or rashes during the patch test, it is best that you do not use papaya on your skin.