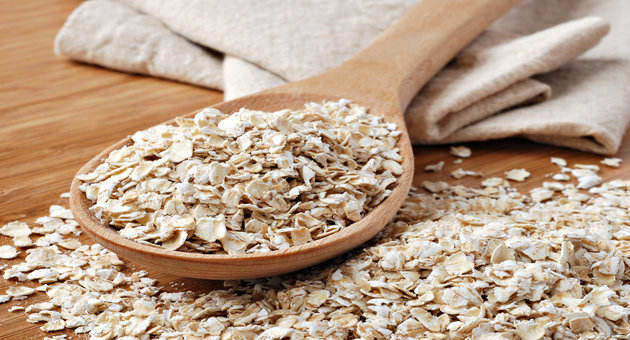 Oats are known to aid in the process of weight loss.They are  filled with fiber and that in itself has been known to promote weight loss.They are the most filling cereal known. Not only do they beat doughnuts and white bread in satiety rankings, but they also outshine eggs and high-bran cereal.They are low in fat which ensures that your diet is just right without any extra fat in it.
WAYS TO HAVE OATS FOR WEIGHT LOSS
Because oats are known for helping with weight loss and making you feel full for longer hours, it is a great idea to add oats to your weight loss regimen.
Here are ways by which you can have oats to promote weight loss:
1 . As Breakfast
Mix half a cup of regular unprocessed oats with 1 cup of skimmed milk. Have this for breakfast 3-4 times a week for best results. You can replace milk with water for added benefits.
2 . As A Healthy Meal
Take a cup full of oats, pour half a cup of almond milk or soya milk. Add all your favourite fruits like berries, peaches, apple to it to make it nutrient-rich. This ensures your stomach is full for atleast 3 hours.
3 . As A Delicious Snack
Take plain oats, dry fruits, a little water, pea-nut butter and mix it in a thick dough. Take bread and put the paste inside. Roll it and put in the oven for Rolled Bread Sticks that is a healthy snack option.You can carry them to work and munch on them for your snack cravings.
4 .  As Khichdi 
In a bowl, boil water, add half a tsp of salt, turmeric, chilly powder to taste. Also, mix boiled vegetables like peas, carrot, lettuce leaves and finally oats. Stir till the oats are soft and ready to eat. Here is your healthy khichdi ready to eat!
THINGS TO REMEMBER
It is important to choose the right kind of oats if you want to achieve desired benefits.
-Make sure you buy plain oats without any added flavorings.
-The packaged oats are generally loaded with sugar which adds a lot of calories without any additional nutritional benefit.
– One packet of  flavoured oats has around 160 kcal with around 8-10 gm of sugar while 1/3rd cup serving of plain rolled oats enough to make roughly a half-cup of cooked oatmeal has just 102 calories and less than 1 gram of sugar.
-If you switch from flavored oats to plain oats every morning, you can cut down upto 20,000 calories in a year. This means losing around 3 kg without making any other changes in your diet.
-Avoid adding honey, peanut butter and sugary toppings.
-Boost your oats fiber content by adding a handful of berries like  blueberries or strawberries (25 to 40 calories per half-cup).
People are also Reading:
3 Rules To help You Choose Your Carbs Wisely
1200 Kcal Diet Plan For Weight Loss
So, go ahead and make oats a part of your daily diet to help you shed those extra kilos. Stay Healthy, Stay Happy!