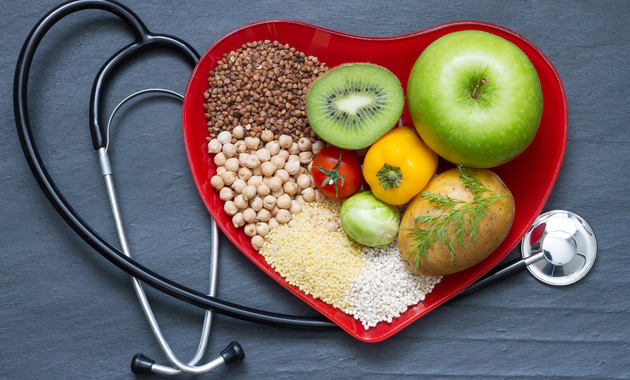 Diet plays a key role in maintaining your overall health. A healthy diet rich in vitamins, minerals, proteins, fiber, and fats can help you keep your heart healthy. If you have already suffered a heart attack or have undergone heart surgery, it goes without saying that strict diet control is needed. So to help you eat healthily and wisely this World Heart day, we have asked the Mumbai based nutritionist Pritisha Jadhav, Indian Dietary Association (IDA) and SRV Hospital, for a diet plan for heart patients. Before we give a sample Indian diet chart for heart patients, here are heart-healthy diet tips to follow.
1. Incorporate more of fiber in your diet. Include foods such as whole wheat grains or cereals, peas, pulses, fruits such as oranges, pears, melons and vegetables such as carrots and broccoli. There is more fiber in a single fruit than a glass of fruit juice which is made using 3 – 4 whole fruits.
2. Limit fruits especially if you are diabetic. Choose whole fruits and vegetables to up your intake of fiber and other nutrients. But, fruit should be limited, especially for people who are diabetic. Incorporate berries, oranges, sweet limes, apple and pear which contain less sugar and more fiber.
3. Salads are a must in every meal. Vegetables are a great source of nutrients and including raw vegetables in the form of salad is a healthy idea. One big bowl of salad that contains vegetables and sprouts is mandatory for a complete meal. Sprouts are rich in proteins and fiber so two servings per day is a must.
4. Add fenugreek (methi) seeds to your food. It is a rich source of soluble fiber and contains active compounds which reduce cholesterol and are good for the heart. Moreover, if you suffer from diabetes along with heart problems, incorporating methi in the form of raw seeds in curries, dal or curd can keep the heart healthy.
5. Restrict intake of salt. For healthy individuals, the daily recommended dose of salt is 5-6 g per day. But if you have a history of heart disease or have undergone heart surgery, then the daily intake of salt should not exceed 2 g, which is about half a teaspoon.
Always Trust For Better Heart Care. Check Our Store Now!
6. Choose cooking oils wisely. Opt for the ones that contain high amounts of essential fatty acids such as monounsaturated fatty acids (MUFA) and polyunsaturated fatty acids (PUFA). Most of the oils available in the market such as groundnut oil, sunflower oil, safflower oil, mustard oil, sesame oil, rice bran oil, etc. are good for the heart. However, instead of using one type of cooking oil, use different oils every month for added benefits.
7. Keep a tab on the amount of cooking oil. Whichever cooking oil you are using, it is important to keep a tab on the amount. Ensure that it should not be more than 15 ml per day, which is about three teaspoons of oil. You can also incorporate ghee along with cooking oils but make sure it should not exceed the daily limit of 15 ml. For example, instead of three teaspoons of oil, you can include one teaspoon of ghee and two teaspoons of oil per day.
8. Follow portion control. Whatever you eat spread it across the entire day and eat in limited amounts. Eating three full course meals can add pressure on the stomach and other organs of the body including the heart. It is wise to have six small meals per day or have two meals with breaks such as breakfast, mid-morning snack, mid-afternoon snack, and evening snack. Moreover, dinner should be light and easy-to-digest food. Avoid heavy foods and gas-forming foods such as beans, cauliflower, etc at dinner time.
9. Nuts are good for the heart. They are the best and rich source of omega-3 fatty acids, which is an essential fatty acid that plays a key role in maintaining your heart health. It helps to maintain blood pressure, lower triglyceride level, reduce cholesterol, lower the risk of inflammation and prevent heart disease. Almonds are rich in MUFA and walnuts in PUFA, both of which are good for the heart.
10. Snack wisely. Include light foods such as boiled corn, puffed rice (kurmura) or bhel,  sprouts chaat, vegetable chaat or boiled corn chaat. Packaged foods are a strict no-no for heart patients. Freshly cooked homemade food is your best bet. Fruits should be eaten as a mid-morning snack. Avoid fruits after lunch and dinner.
Here Are Best Ayurveda Supplements For A Healthy Heart.
Here is a sample diet chart* for a person who has heart disease and/ or has undergone heart surgery and weighs around 60 kgs. You can follow this chart if you have a moderately active life.
Morning (on an empty stomach): Have 5-6 almonds and 4-5 walnuts with a glass of warm water.
Breakfast: A bowl (30 g) of any Indian traditional homemade breakfast such as upma, poha, idli, boiled moong, dosa, dhokla, khandvi, thepla, paratha, etc. Cook it with very little oil and supplement it with a glass of milk or curd, or any protein-rich food like egg whites in the form of a boiled egg or an omelet (max 2 egg whites).
Mid-morning: Have 100 g of any seasonal fruit. If you are a diabetic, then avoid or limit fruits such as bananas, mangoes, chickoos, grapes, and custard apples.
Lunch: It should comprise of 2 rotis (without oil/ghee) or 3 phulkas or 1 medium bowl of rice. It should also include a big plate of salad, 1 cup of vegetable curry, 1 medium bowl of curd and 1 medium bowl of dal. If you are non-vegetarian, dal can be replaced with chicken (curry, grilled or roasted but not fried) or fish such as mackerel (curry but not fried). If you have to follow a fluid-restricted diet, then eating curd is better than drinking buttermilk or chaas.
Evening: Drink a cup of green tea/coffee with a small bowl (50 g) of kurmura/bhel/chaat/khakra.
Late evening: Have a bowl of soup or fruit. If you are a diabetic, soup is a better option.
Dinner: Have 2 multigrain rotis or 2 jowar/bajra bhakris or a bowl of khichdi or kadi rice. A bowl of vegetable curry, a plate of salad, and a bowl of dal or curd.
Bedtime: 1 cup of turmeric milk (haldi doodh) or turmeric latte, which is nothing but a glass of warm milk with a pinch of turmeric and dry ginger powder.
**Consult India's best doctors here**
*The diet chart might vary based on the severity of your condition and other health risks such as diabetes, hypertension, or thyroid disease. Hence, it is advised to talk to your dietician to get a customized diet plan based on your diet pattern, health condition, and risk factors.
(The article is reviewed by Dr. Lalit Kanodia, General Physician)
Recommended Reads:
Are Eggs Good For Heart Health?
7 Easy To Do Exercises For Healthy Heart